Rising Star Bhavana Iyer - by Lakshmi Venkatraman
16 August, 2012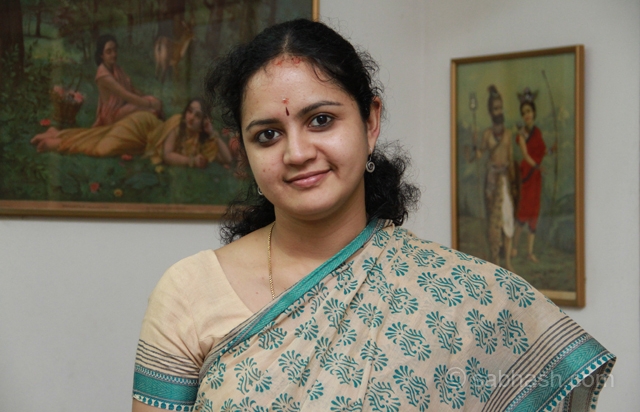 Bhavana Iyer ne Viswanathan was started on Sarali Varisai by her mother like any typical young girl from a TamBrahm family of Chennai. At that point she was quite playful and had to be forced to sing. When she was six years old she came under the tutelage of Kallidaikurichi Mahadeva Bhagavatar, who taught her quite a few Kritis; that started her getting interested in music. After that Bombay Ramachandran, who was known to be a very good but strict teacher began tutoring her. He was very particular about following the Patantharams properly. She was able learn several different types of Kritis by various composers from him.

Real enjoyment of music began for Bhavana when she began to learn from S. Rajam, who would say that one should enjoy one's own singing in order to flower into a good artiste. Her first stage appearance was with him in 1997 for a lec-dem on Koteeswara Iyer's compositions. But even then she had no idea of becoming a serious musician and performing on stage.

Bhavana had in 2001 an occasion to listen to the recording of a session of music of Semmangudi Srinivasa Iyer and M.S. Subbalakshmi singing together at a private gathering. This triggered in her an urge to learn the Semmangudi bani of Carnatic music. She approached Vidwan V. Subramaniam, a disciple of the veteran, who was with his Guru till his end. He started her off with 'Mahaganapathi' in Natanarayanai Raga, as he would for any new student. His approach to teaching was very different; he would insist on giving full throw of one's voice. It was really a great leap for the youngster and she began to gain confidence; the Semmangudi bani, she feels, has a lot of soukyam . The Sarvalagu singing of Swaras gives better grip to one's singing, she thinks. Suddenly one day to her surprise Subramaniam invited her to accompany him in a concert and she managed to do reasonably well.

Bhavana learnt from him how to plan a concert; he advised her it should be in such a way that the programme did not sag at any point. Her first solo concert was under the auspices of Music Circle and Semmangudi Trust. She began getting a few opportunities and her concert for the HCL series at the Music Academy got her good reviews.

From her father Viswanathan Bhavana inherited an interest in horticulture and went to study B.Sc. Botany after her +2. After a few years she proceeded to the USA to do M.S. in Horticultural Science in Texas. There were quite a number of South Indian students and professors interested in music; in fact there was a lot of encouragement from the professors.

The students listened to a lot of recordings of veteran musicians. College Station, where they were, was a small place and there was not much distraction. Weekends were spent on singing; Bhavana almost became obsessed with music then. They would listen to K.V.Narayanaswamy, Brinda-Muktha, M.D. Ramanathan, Madurai Mani Iyer and so on and discuss about them; there was happy sharing of the deep enjoyment and excitement of music; there would be concerts and though the audience was small, it was serious interest in music and not just as an entertainment or past time. There would be analyses of Ragas, alapanas and what not. Singing swaras together competitively was challenging and improved ideas of improvisations; mistakes would be pointed by each other without hesitation and without any bad feelings; everyone was willing to share.

Bhavana's Guru Subramaniam was not too happy when she went to the USA; but on her return after two years, he himself said she had improved considerably. Earlier in Chennai S.V. Krishnan of Ragasudha encouraged her and gave her opportunities to perform and now the same support is extended by his daughter. She had a few concerts during the December season in 2011 and looks forward to 2012 season.

Bhavana is married to Jai Iyer and lives in Bengaluru, where she also works as a landscape designer. Fortunately she has an understanding boss, who does not mind her taking off when she has concerts. There is commendable support from family too. Bhavana, though does not have any particular favourite Ragas, Pantuvarali and Poorvikalyani seem to work a special charm on her. Her favourite musicians? Sanjay Subramaniam, Ranjani-Gayatri, Vijay Siva and Rama Ravi. Every now and then she would get hooked to some of the past masters as she did to Brinda-Muktha and Ramnad Krishnan.

About
Sabhash
- Everything about classical music, dance, drama and a platform for inclusive entertainment
Sabhash.com is the one-stop destination for the latest news and information on the performing arts of India - classical music and dance, theatre, bhajans, discourses, folk performances, and other lesser known art forms. Institutions that revolve around the performing arts have exploded in numbers, and thanks to the Internet which has made information easily accessible, the number of rasikas has grown too. Corporate patronage has played a big part in increasing the world-wide reach of the Indian arts. Sabhash wishes to be a platform for inclusive growth giving an equal opportunity and recognition to not only the main performer but also the artistes who accompany them on stage, and the people who work backstage and play the role of unsung heroes.