Dr. Meeta Pandit
02 December, 2013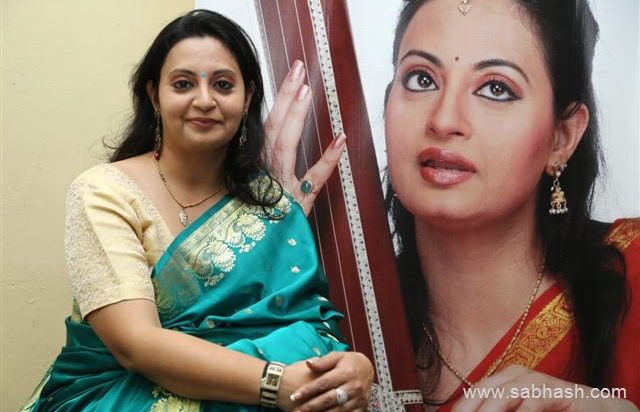 - V.V. Ramani
"I switched on my TV and spent an hour listening to her. It was exhilarating. How could one so young in years acquire so much maturity in her voice and flawless rendering of a variety of Ragas? ….with so much achieved in her 20's, it is a safe bet that by the time she is 30, Dr. Meeta Pandit will be reckoned amongst the best singers of classical Hindustani music in the country." This quote by Khuswhant Singh in the Hindustan Times talks about the young talented scion of the Gwalior Gharana,'MeetaPandit'.
Meeta has the rare distinction of the being first female singer to make to the fore as a sixth generation artist in an unbroken lineage of musicians belonging to legendary Pandit family of Gwalior.
Talking about ancestors,Meeta went back in time to her ancestor, Ramachandra Chinthwadker, kirtankar who moved along with many other musicians moved to Pune from Gwalior when the rulers the Scindias also moved. A turning point again came into the family's life when with advent of British rule, the legendary musician Ustad Nissan Husain Khan came to live with the family. The Ustad with great generosity shared his knowledge and the Pandit family's musical horizon and repertoire widened.
Meeta was steered in anatmosphere of music from childhood, surrounded all the time by the sound of swaras and aakar, discussion and debates on music by visiting musicians which was all absorbed unconsciously like a sponge by this young girl. She even jovially says "Such is the atmosphere in our household that even as they cook some servants automatically learn musical compositions by being there."
She continued her academic pursuit with B.ComHons degree from Lady Sriram College, Delhi. She was groomed by her grandfather, the late PadmaBhushan awardee Pt. Krishna Rao Shankar Pandit and also her father Pt. L.K. Pandit. It was then that destiny played a role which transformed her life and she moved on to pursue music full time to carry forward the legacy of her ancestors, immersing herself totally into the world of music Meeta decided to pursue music as a career. This decision has been reaffirmed with the critical acclaim that she has received as one of the finest artists of the Hindustani style of music.
Endowed with a deep, rich and powerful voice,Meeta has captivated the audience with her soulful music and khayal which is acknowledged as a jewel in the crown of Hindustani music. Besides Singing Bajans, Tarana, Thumri she is also adept a singing Tappa which has brought her critical acclaim. The accolade from PanditKishan Maharaj, Tabla Maestro "she had the rightswar and laya and is training to become the torch bearer of the great Gwalior Gharana" says it all.
Having settled in Delhi, continues to teach music at the school started by her grandfather called 'Shankar Gandharva Vidhyalaya' in Gwalior which completes its centenary in 2014. She has performed widely in India and abroad as an 'A' Grade artist of All India Radio and Doordashan. Meeta has a doctorate in music with a thesis on "contribution of the Pandit family of Gwalior Gharanato Hindustani Music. A three months residency programme in France resulted in a project titled 'gift' which isacollaboration between two artistes - vocal and piano. She also released albums with music today group titled Footsteps, Tansen and Young maestros. A film titled 'Meeta Pandit – Linking a tradition with today' directed by Shukla Das has been made by PSDT in 2004. She has also lent a voice to a Pakistani film 'KshamoshPani'.
Meeta today is happy that music is part and parcel of her life and she continues a journey towards reaching new frontiers and spread the joy of music to one and all.
Dr. Meeta Pandit is presenting a Hindustani vocal today at Narada Gana Sabha at 6.45pm under the auspicious of Kartik Fine Arts.

About
Sabhash
- Everything about classical music, dance, drama and a platform for inclusive entertainment
Sabhash.com is the one-stop destination for the latest news and information on the performing arts of India - classical music and dance, theatre, bhajans, discourses, folk performances, and other lesser known art forms. Institutions that revolve around the performing arts have exploded in numbers, and thanks to the Internet which has made information easily accessible, the number of rasikas has grown too. Corporate patronage has played a big part in increasing the world-wide reach of the Indian arts. Sabhash wishes to be a platform for inclusive growth giving an equal opportunity and recognition to not only the main performer but also the artistes who accompany them on stage, and the people who work backstage and play the role of unsung heroes.