Kamya - Keerthana - An indepth interview
06 December, 2013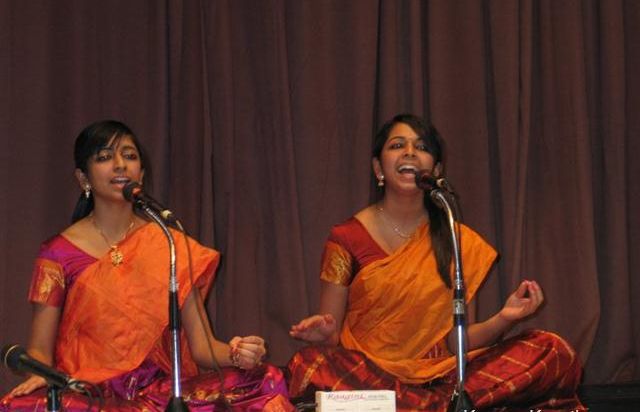 How easy is it to practice a genre of music so far away from its roots?
Kamya: We are a part of a big Carnatic music community in the U.S., which helps us feel closer to its roots. We are lucky to have a Guru like Sri Madurai R. Sundar, (or Sundar Uncle, as we call him), who is a disciple of Sri Madurai T.N. Seshagopalan. Numerous seasoned artists frequently perform concerts here on tour, and attending these helps us to keep in touch with upcoming artists and gain new and creative ideas. Also, we host many visiting artists from India in our house, and chatting with them about being a performing artist and how they engage their creativity into their music helps!
Who has the strongest influence on your music?
Keerthana: Our guru, Sundar uncle has the greatest influence on our music. We try to replicate his krithi rendering style as much as we can. He has paved the way for us to succeed and given us so much encouragement and advice. Besides our guru, Sri TN Seshagopalan has always been a huge influence in our music. Ever since we were little, we've always listened to his concerts and have been amazed by his unique style and the excitement he brings to anything and everything he sings.
What do you think is the place of a Guru in today's Carnatic music scene?
Kamya: A Guru must be able to adapt to a student's way of singing and way of learning. A Guru must also push a student to his/her furthest limits and not hold them back in any way. Also, the guru must genuinely have the student's best interests at heart and do everything possible in order to encourage and motivate their students into furthering their skills and abilities. Fortunately, we have a guru with all these attributes and more.
Compare performing vocal vis-à-vis instrumental music? If you learn vocal music before learning instrumental, is there an upper hand?
Keerthana: I prefer performing vocal instead of violin because I like having full control on stage. There is definitely an advantage to learning vocal before instrumental or the other way around because it is always good to have some experience and a feel for the art. Right now, vocal and violin both benefit each other because I can try things on violin that I have sung or I can sing things that I have done on violin. Either way, there is more room to explore and more room to try different things.
How's the Carnatic music scene in the place you live in? Lots of opportunities to perform?
Kamya: There are numerous opportunities. The metro Detroit area is filled with many artists who are proficient in the Indian classical arts. The interest is high, and there are organizations such as the Great Lakes Aradhana Committee which serve to foster this interest by hosting concerts by senior artists from India, and also events such as annual Tyagaraja Aradhana's and a 3 day music festival in the spring which collaborates with local universities. Also, every year in March, a week-long Tyagaraja Aradhana celebration is held in Cleveland, Ohio where young musicians and dancers from all over the nation gather. Competitions, concerts, workshops, and lecture demonstrations are held. We've been attending the Cleveland Aradhana every year since the year 2000 and it's played a huge role in motivating us.
So, will coming down to Chennai during December become a permanent fixture in your annual calendar? Can you elaborate on this year's fixtures, and what you hope to achieve in the season?
Kamya: This year, we are performing in 7 different venues in a period of 10 days. Also, Keerthana is scheduled for violin accompaniment for 5 concerts. We have never performed this many concerts in this short of a time. But, we are excited! I'm not sure if it would be feasible to come to Chennai during the December season annually, but we will take the opportunity any chance we get. More than anything, I'm excited to be in that atmosphere and listen to some great concerts as well!
How hard is it to fit in music (especially in such a dedicated way) in American college/school schedules?
Kamya: I'm in my second year of medical school now, and I usually practice 4-5 times a week for about an hour each. Since my sister and I are at school in different cities, finding time to practice together and having class with Sundar uncle has become more of an issue. But, we try hard to take whatever time we do get to practice together, and do music lessons over Skype whenever possible.
Keerthana: Although school schedules are extremely busy here, I practice whenever I get the chance or need a break from studying! Even 20 minutes to practice a ragam or revise a song is helpful to improving as a whole. Although it is difficult to find long stretches of time to practice, I will devote at least an hour a day to either violin or vocal.
Is music something you want to pursue as a career?
Kamya: I am on track to becoming a physician. Though music will always be in my life and singing will be a passion of mine that I enjoy doing in my free time, I cannot say that performing will be something that I pursue as a career.
Keerthana: Music is something that takes up my entire life and I enjoy every minute of it. Although I aspire to be a doctor, I believe that it is possible to have a career in music while pursuing another job.
Singing in pairs- advantages? Disadvantages? Does it snatch away individuality? And how do you establish co-ordination?
Kamya: Although singing with someone else is definitely more challenging than singing individually, in terms of coordination, blending voices, and cooperation, it makes me happy that my sister and I share something that is so important to both of us. The major advantages are that we each contribute something unique, which at the end provides variety in our music and makes it more interesting. Our krithi renditions are very coordinated and identical, and this works because our "paatandharam" is essentially set by our guru. However, when it comes to manodharmam, Keerthana and I sing the same style with different approaches. This is evident during raagam rendition especially, and also when we sing korrappu patterns during kalpana swarams. We sing together, without sacrificing each of our individual creativities.
Keerthana: There are definitely advantages and disadvantages to singing together. One advantage is that it gives off a more powerful sound when two people are singing. It also makes for a more interesting stage because you never know what the other person could do. A disadvantage is that everything has to be perfectly coordinated and voices have to blend nicely for it to sound good. Even if one person is slightly off, the music will not sound good. Singing together does not take away individuality because there are so many opportunities on stage for manodharmam such as ragam, neraval, and swaram. Essentially, the only thing we do together is sing the songs. Establishing coordination is not difficult because we learn the songs together and remembering which sangathi comes after which is not a problem.

About
Sabhash
- Everything about classical music, dance, drama and a platform for inclusive entertainment
Sabhash.com is the one-stop destination for the latest news and information on the performing arts of India - classical music and dance, theatre, bhajans, discourses, folk performances, and other lesser known art forms. Institutions that revolve around the performing arts have exploded in numbers, and thanks to the Internet which has made information easily accessible, the number of rasikas has grown too. Corporate patronage has played a big part in increasing the world-wide reach of the Indian arts. Sabhash wishes to be a platform for inclusive growth giving an equal opportunity and recognition to not only the main performer but also the artistes who accompany them on stage, and the people who work backstage and play the role of unsung heroes.