Variety, thy name is O S Arun
09 December, 2013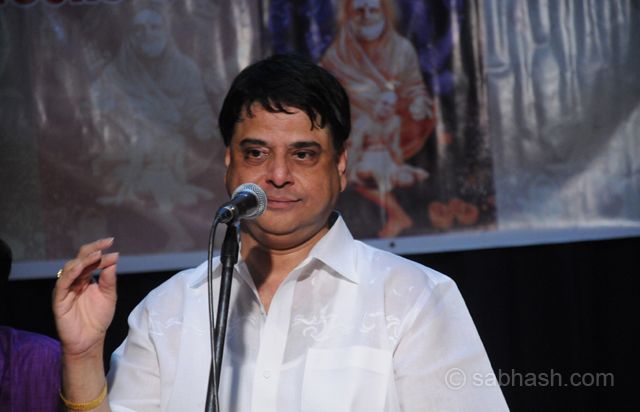 How true? Look at the languages he knows! Tamil, English, Hindi, Telugu, Punjabi, Marathi ………
And the music genres he has probed and mastered…Carnatic, Hindustani, Ghazals per se', Jazz, Bhajans both Hindustani and our Sampradaya Bhajans, even music from Odisha….
And the way in which he communicates - both musically and verbally…..
Sabhash talked to him for a while (talk time was for about an hour and a half)
Some excerpts………..
You will have to crack this…O S T (O S Thiagarajan), O S Sundar and O S Arun…..3 different streams from a single source, Sri O V Subramaniam(O V S) - your father……
We were 6 brothers and have a sister too. One brother Sridhar is no more and he had the best of voices. When we analyze the various paths we have taken, which is all by the Grace of God, OSTs is pure and chaste carnatic music genre'. Sundar who is into Bhajans is bhava-oriented, with a diction as impeccable as it could be. I happened to be the last in the "brothers-list". The age difference between mine and that of, say OST is a good 20 years and that possibly shows in our varied orientations and gets reflected in the music we present. I can call mine a kind of a mixed bag. I have had the fortune of listening to all those genres - padams, javalis, thumris, ghazals et al and the greats like Alathur Brothers, GNB and Madurai Mani Iyer, ever since childhood. And also Mallikarjun Mansur and Pandit Ramnarayan on the Sarangi. I was a Delhi-based personality from my toddler days. As I grew up and matured in music, I have done some self-analysis and a different kind analysis of various aspects of our music and tried to find my "own". This is characteristic with its methodical and meaningful gaps, modulation categories and a degree of softness. My sangathis would be built based more on the overall meaning of the songs than anything else. The advantage with me is that I know quite a few Indian languages.
You have treaded the path that angels fear to tread? What kind of criticism did you face initially?
Plenty. At the beginning, when I was shuttling between Delhi and Chennai, I too performed carnatic music classical concert in its own traditional manner. (Here we remind of the winsome manner in which he presented the raga alapana of Nilambari, at a concert of his some 20 years back at Rani Seethai Hall, which he acknowledges with a certain glee) The first criticism I faced when I worked at and worked towards my new kind of presentations were - "what is this guy up to?" But, when presenting "music" in a novel way I had the splendid support of both my father, who was an uncompromising believer in our rich tradition and performed traditional concerts and that of my brother OST, who till this day does perform only cutcheris of the classical mould. I did welcome constructive criticism but harsh criticism about my ways and methods was hard to digest. Meaningless talk like - "Why sruthi bedam? Why not something else? He sings for dance and that is affecting his music?"- These adjective-prone critics functioned with a closed-mind, came to concerts with some pre-conceived notions or were pleasing someone else, perhaps. The full-fledged and unstinted caring care that my father and brother together afforded served to strengthen my ways - was a morale booster and gave all the fillip to my approach. All else, did not matter at all. Mind you, this is not a haughty statement, but I was glad that these two (OVS and OST) understood what was in my mind and saw "eye-to-eye" with me and comprehended the diversity in my applications and methods.
Facing and countering criticism apart, youngsters were always my target. My programmes have youngsters as its mainstay and in numbers too. In fact, this has been my victory. But I have had to do my job with a different focus. Yes. It has taken a while. But I am indeed happy about the outcome. My music has become the "easily accessible to all kind". Arun's music - and I owe it to the greatness inherent in our system of music – performs a de-stress function. Basically youngsters from the audience make certain demands on me to sing a particular number and very well now know what to expect from Arun.
How are your shows taken?
After passing through the phase in which I was neither fish, flesh nor fowl (Na Ghar Ka Na Ghat Ka) and then having decided to finally settle down in Chennai, say in the year 2000 I started targeting my goal and have successfully hit the post. Today, I am glad to tell you that my performances (bhajan slots) are ticketed shows , occupy prime-time and have an overflowing audience patronage. The terms and tone has changed altogether.
In fact there are a few fond remembrances that I would like to recall here. The marvel that Sri Balamuralikrishna is, the great innovator that he is, once after listening to my concert, wondered "Whether Naradar would have sung in this manner?" According to him mine "marks a new style that gives importance to bhava and simultaneously bestows immense care on sahithya," Then once I was stopped in the middle of two concerts of mine by two people. One was P B Srinivas (PBS) and the other was Ms S Janaki. Honestly I did not know who PBS was, at that time, as I had been brought up in Delhi all along (my wife had to prompt me regarding what a gentle giant this man was and sometimes ignorance is bliss, if you like). PBS took the mike and "let himself go". He had never heard of music of this kind. On another occasion as soon as I finished singing "Nagumomu" Janakimma came on to the stage and "that melody queen showered currency notes on O S Arun". Another who "fell" for my music was Late Sri V Gopalakrishnan, the actor. He started to even lobby for holding my concerts at Indian Fine Arts, Bharath Kalachar and many other places and I had a tough time restricting him in this act of his.
Experiments… are your way….
I have done Jugal Bandhis with Sri Sanjeev Abhayankar. I have played to the accompaniment of both the Thavil with Haridwaramangalam Sri A K Palanivel and with the Ghatam with Sri Vikku Vinayakaram. Interestingly enough I have sung with OST and the contrast in our styles became a big hit. Mind you. I had shifted base from Delhi to Chennai, when I was at my peak, where sometimes it was 2 or 3 concerts were happening per day. That itself was experimental enough.
I have this God-given ability where I can be singing for a Bajaj-mixie ad, then a jingle after a few minutes and then latch on to a 100% serious Darbar ragam. This ability to change track successfully at the drop of a hat, is my asset.
You have introduced the concept of Ghazals in Tamil….And why did you not think of becoming a music director of films….
Tamil Ghazals. It was all the work of Sri P B Srinivas. I was on a tour in the US when this idea struck him. You remember the serial Sahana. I had sung all the Ghazals for it. It all had to happen through email. I mean the preparatory work. The sessions were held only for about a week or so, and I had to steal time from my tour. I had learnt all the 8 ghazals in Tamil. Some of them were mine. I mean the lyrics. You know I can read, write and obviously speak tamil fluently, though I was Delhiite. My whole collection of Tamil Ghazals was released at a really big function got up by Mudhra. There were nearly 18 speakers who held the mike and that included Ms Padma Subramanyam, Sri S V Sekhar and others. The CD came under the title "Mudhal Paarvai". That was in 1999. And you know what? OST took the entire family out to dinner after the function got over. Such then was our relationship.
And more than my singing it was the way Prakash Raj had "enacted" these ghazals. For every single shot in which these ghazals were made Prakash used to get himself into the art of "practising" the ghazals.The other day when he met me in a marriage he started singing the ghazal "Enakken Veen Vambu…Naan Solla Maatten" .
Regarding music direction I got a great offer from Sri Balaji Sakthivel to make the score for the film "Veyyil". Prior to this request I had agreed to do a particular project with someone else, a jazz festival, and that precluded me from nodding my head for "Veyyil". Commitments made earlier had to be honoured, you know and my presence was required at "Veyyil" for about 45 days here. It was a reluctant no, all the same. I have sung for Raja sir, a bhajan, in the film Bharathi, and given many solos in Malayalam films. The time-match and need-match perhaps between the tinsel world's requirements and my presence in it as a music director did not match. Can I say that? I will.
Dance…Have you done any choreography…and your International circuits and their/your attitude
I have sung for many dancers from the age groups 6 to 60. Ms. Yamini Krishnamurthy, Sonal Mansingh, Leela Samson, Raja/Radha Reddy, Swapna Sundari and the like. I was the most sought after dance-singer. "If Arun is singing, let us go for the dance." I myself have heard these statements. I sing and develop my sangathis that would suit the footwork of the dancer. I have taken part in huge dance festivals held at many places. They say my singing had elevated dance music. All that is Almighty's work.
I am constantly on international tours. I will have to remember how during a gathering at France, in front of a French audience, I had sung "Kamakshi", the compositon in Varali. That had put them in a meditative atmosphere. So they said. All this may be fun. Nevertheless it has its own serious element attached to it. It is not that Arun is doing something different for its own sake. I am only making a point here. How do you give music as a whole, blending everything, but retain each style's particular flavor. Serenity associated with Bhajans, the romantic aspect of those ghazals, the sringara aspect of dance and when it comes to a raga alapana it has to be a picturesque image of that raga.
Alapana Trust and Projects in the pipeline
Alapana Trust was started with an event, "Samarpan" that was held at the Music Academy. It is a forum that gives opportunity to youngsters to exhibit their talents, a forum for fine arts. The Trust organizes art festivals, not merely music and dance festivals, but of other disciplines too. It is ably assisted by a resource-foundation based in Malaysia.
I also perform at orphanages and old-age homes. I do not as a matter of principle, charge for these. They are unable to stir out. We have to perforce reach them. Which I try to do. I have interacted with autistic children and was more than thrilled and amazed to know that they could sing. Yes. SING. That Madhava and Govindha and Krishna they are able to utter. The warmth in their embrace and the fondling they do has to be felt, to be believed. We also take care of their basic necessities. I have some new ideas in mind that would soon materialize. We learn many things in our syllabuses but fail to implement or follow them. I want to get into the act of performing some of these. A concept? Yes. The name is yet to arrive. It could be a case of absolute and applied music, roughly.
Some words to youngsters who are into their performing stint….
I have to state what I have found after years of research here. The RTP (Ragam, Thanam, Pallavi) has its prescriptions and proscriptions. In the same manner Bhakthi Sangeetham also has its rules. Yes. In fact I am votary who constantly fights for the removal of the word "Thukkada". It is as important as the main item(s).
Youngsters, please to not try to rush or to hurry. There are a lot of attractions available to make you do this, especially from the media. Becoming successful in one of those reality shows does not mean that you are on top of the world. There is much more to be done.
Respect elders. Learn from them. Theirs is a dwindling population and "get to learn" the best out of them. Take anything that is good and positive from someone else. Do not imitate. Find out your own way and carve out a niche for yourself. Let that be your own. Do not give up your sadhana and combine it always with sincerity. And God Bless You!
O S Arun as he signed off left us with a political statement of sorts
Understand this:
"Music was more like a democracy for me and that should be the case with you too"
aarvalan (aarvalan@yahoo.com)
Sri O S Arun will be performing on December 18th at 6 p.m. at the Russian Cultural Centre.
The Theme of the Concert : INDIAN MUSICAL JOURNEY.
He will be presenting compositions in several languages.

About
Sabhash
- Everything about classical music, dance, drama and a platform for inclusive entertainment
Sabhash.com is the one-stop destination for the latest news and information on the performing arts of India - classical music and dance, theatre, bhajans, discourses, folk performances, and other lesser known art forms. Institutions that revolve around the performing arts have exploded in numbers, and thanks to the Internet which has made information easily accessible, the number of rasikas has grown too. Corporate patronage has played a big part in increasing the world-wide reach of the Indian arts. Sabhash wishes to be a platform for inclusive growth giving an equal opportunity and recognition to not only the main performer but also the artistes who accompany them on stage, and the people who work backstage and play the role of unsung heroes.