Hamsaa - the arts movement
19 December, 2013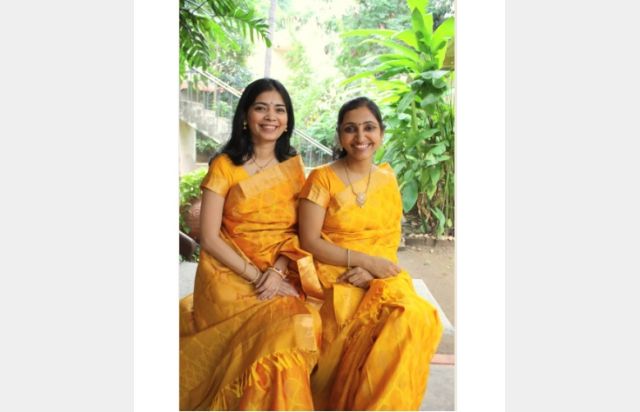 Aparna Rao and Ramya Rajaraman are upbeat in their mood when they talk about their arts- movement, hamsaa. Their concept and aim are very futuristic and carries conviction, apart being an innovative initiative. Remember Civilizations owed a lot to Independent Human Initiatives. (Capitals intended)
Hamsaa seeks to broaden the exposure and appreciation of performing arts by creating avenues for interaction and then education that would lead to an exchange of information. These are online on-ground opportunities offered to both artistes and art-interested humans.
More of hamsaa……
First things first……What is in the offing…..
We are to organize a "hamsaa artroom" with the well-established singer, Sikkil Gurucharan. This will be held on January, 11, 2014 at Rain-tree, St. Mary's Road, Chennai. Come there and join us and you will live for a day in the world of an artiste - with the artiste. You will come to realize how the artiste takes into account and then manages audience needs. What is going on in their (the artiste) minds, before, during and after each concert? You will be able to spend your time with Sikkil, find answers to your questions and would also get a genuine feel of all this. What goes into the development of his manodharma? A concert if it is to be successful has to be a successful joint venture - chemistry on stage. Like it or not, it is necessarily an ensemble where each one has a relevant part to play. It has to be a collaborative effort. Wondered how would it happen? One of India's leading carnatic musicians will be there with you and for you to tell you more. (We are happy that Gurucharan had agreed to our idea).
And your other concepts…..
Yes. We have "creative conversations". We look a little beyond concerts. We are interested in educating the audience. Doubts at the back of their minds which they would have hesitated to ask can be put forth here. Will I look like a fool? , this they may have thought to themselves. Here it will be an open session, and you can ask, and ask and ask. These conversations are "free". We still would like to call it a monthly series in performing arts. It caters to the requirements of art-enthusiasts, pros, students and anyone for that matter interested in learning more about the arts. The enquirers would go through these sessions and get to engage themselves in a spontaneous and informative discussion(s) with the artistes. It is a coming together of the known, unknown and not so known. Even the uninitiated can participate as also the discerning rasika too.
We are also into "productions" where we are in conjunction with the arts-community and undertake creative management of music and dance productions. We have with us extensive professional experience across event management, new business development, fundraising and marketing. We carry things from its very idea to its logical end, implementation.
How did you land on this name, hamsaa?
(Laughs!) That is one answer everyone wants to know. We are associating ourself with an artful exercise. So we wanted a name that would at once spell grace. So the swan or the hamsaa. It has different connotations too. Paramahamsa, for instance. Who can forget that and the name in connection, Ramakrishana Paramahamsa. And more so…We liked the sound of the word hamsaa as it is being said. We said it again and again to realize its graceful utterance.
And they add this…..
We are very young and started only last year. Bhavamna enna? Manodharmamna Enna? We want the audience to ask and find out and thus make them appreciate arts in a better manner after all this. We do not want to be too technical in our attempts that would only tend to turn this into a conversation of an exclusive group. Yet we do not want to make this a personal chat that would tend to become directionless at times. We have observed that the audience, specially at cutcheris does not have a mix of the old and young. It is mainly those grey-haired gentlemen and ladies who already must have had a lot of concert-experience. Our idea is to draw youngsters. And the response has been encouraging and amazing. We have had 6 conversation-sessions that were real eye-openers. The ones featuring Saketha Raman and Akkarai Sisters were "super-hits". We wish the others that follow would "get" at the audience and "catch" them for their good!
And to sum up….
Hamsaa has this as its motto: To foster the understanding of music by taking it to the audience gently but purposefully and thereby spreading the fragrance of music with the noblest of intentions. The two protagonists of hamsaa spoke with amazing clarity about this.
Let us wish them all success. As the saying goes, Nothing succeeds like Success. (Capitals intended, very much)
aarvalan (aarvalan@yahoo.com)

About
Sabhash
- Everything about classical music, dance, drama and a platform for inclusive entertainment
Sabhash.com is the one-stop destination for the latest news and information on the performing arts of India - classical music and dance, theatre, bhajans, discourses, folk performances, and other lesser known art forms. Institutions that revolve around the performing arts have exploded in numbers, and thanks to the Internet which has made information easily accessible, the number of rasikas has grown too. Corporate patronage has played a big part in increasing the world-wide reach of the Indian arts. Sabhash wishes to be a platform for inclusive growth giving an equal opportunity and recognition to not only the main performer but also the artistes who accompany them on stage, and the people who work backstage and play the role of unsung heroes.