Arkay Convention Centre and Madhuradwani
11 December, 2014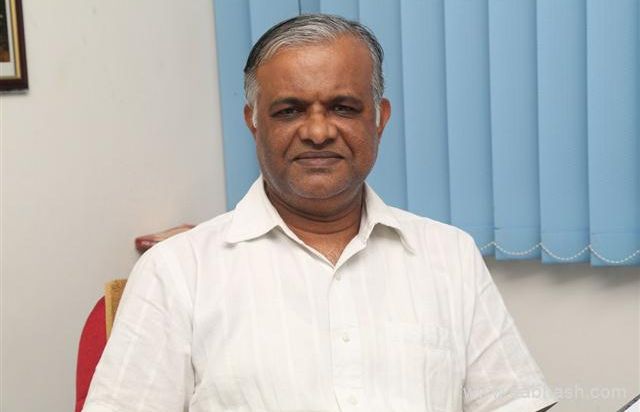 In conversation with Sri Ramakrishnan:
Though not a musician himself, he often used to be with his father when he was conducting music classes. That was during his school days. The conversation begins with this introduction and we are talking to Sri Ramakrishnan, an amiable and composed personality and he welcomes us to his hall. He is the one who has got up yet another famous landmark for music in the city. It is Arkay Convention Centre and is on Royapettah High Road (opposite Anjaneyar Temple, Luz and a few compounds away from Sapthaswara Musicals.)
He continues talking about his father:
My father Sri A Sivaswamy Bhagavathar, who lived up to the ripe old age of 98 hailed from Anayampatti, a small village near Attur, Salem, known for its musical richness. He was a student of Sri Anayampatti Subbaiar (disciple of Kunnakudi Venkatrama Iyer) the famous Jalatharangam player. When Subbaiar was made Aasthana Vidwan of Mysore, my father had accompanied him to Mysore. Subbaiar's elder brother Narayana Iyer, was a very fine violinist and my father learnt violin from him. Anayampatti Ganesan was also a student of Narayana Iyer. In fact, initially Ganesan was a violinist and later on took to Jalatharangam playing. My father later studied music at Annamalai University (1937-1939). During that period T S Sabesaiar was the principal. You know - My father learnt violin at Annamalai University from Madurai Subramanaya Iyer, GNB's guru. At that time many stalwarts like Komathi Sankara Iyer, Ponnaiah Pillai, K P Sivanandam were there too. Later after marriage my father had moved to Krishnagiri and became a music teacher. He even started a sabha - Venu Gana Sabha. This was inaugurated by Kripananda Variyar and my father had invited musicians like Balamuralikrishna, S Balachander, D K Pattammal, MLV, Madurai Somu and N Ramani. It was a flourishing sabha that was functional for a decade. Then we moved out of our home town. My father did not become a performer, but dedicated himself fully to teaching.
Location-wise this centre is ideally placed. The reason behind the name Arkay Convention Center:
Initially, we wanted to name it - Arkay's Chamber owing to its size. But I felt it would be too personal a name. This venue, as you would have seen is best suited for book/cd release functions and Corporate/ HR meetings. Hence, the name Arkay Convention Center. However, we avoid letting it out for personal functions. Being a man interested in literature, especially Tamil writings, I try to organize functions like Bharathiyar Day, some lectures on our epics and pravachanams here. It also serves as a mini theatre and for the past three years we have held video screenings of Hollywood Classics which is put on show by Vintage Hollywood Movie Club. Each movie is prefaced by an introduction by Mr. Randor Guy, film historian.
And, you have started a sabha too, Madhuradhwani:
Yes. There are many sabhas around, but there are very few who arrange programs throughout the year. Madhuradhwani was started with a view to have concerts throughout the year. It provides a platform for the youngsters with talent and seniors whom we do not get to listen to often. This sabha also arranges lecture-demonstrations on many subjects with a view to make rasikas more informed or serve as refresher to others. These lectures are of great help to interested students. "Nadopasana" by Swamini Satyavartananda on Thyagaraja's Advaitha Margam or Chitravina Ravikaran's CMCM(Common Mistakes in Carnatic Music) became great hits. Dr. Nagaswamy has handled six sessions here and the subjects have been like Origin of Music and Dance, Bharata Natya Sastra and Silappathigaram which have been of immense value to all. We also look forward to the fresh Ph D candidates and encourage them to present themselves here, with their theses. And for all these activities to continuously happen, one needs to be present throughout the year, constantly looking for possibilities.
This place is admittedly a small venue. Is this an advantage…..:
The place is small. Yes I agree. We can't afford to hold big programs here. But look at it in this manner. The smallness is in consonance with our vision. Without second thoughts, we are in a position to hold concerts for promoting youngsters and hold lec-dems on a regular basis. The rasika attendance could be small say, 40 or 50, and the hall would have had its full strength. The presenter is satisfied. This, I find is one of the positive sides of this venue. In fact all the musicians, barring a few, have performed here. Fortunately, all musicians have a good word about this place, for its acoustics and its ambience. I think I can go one step further and quote an organizer who had said - one finds it easy to book the artiste, if the venue happens to be Arkay Convention Centre.
And about the state-of-the-art acoustics and other facilities available at this venue:
The sound or dhwani in music is an important part of music. The aim of any amplification of sound should not distort the original sound. When one practices at home one is able to get the feel of the original natural voice without the help of the mic. However when the singer uses the mic and the voice comes through the speakers, there is a big change in the reproduction. While it is true that some changes are inevitable, we need to see if the reproduced sound is at least somewhere 70%-75% of the original. To make this happen the hall has to be designed where sound will not bounce back or get reflected and charge your ears. Instead the sound should get absorbed by the surface or get diffused. All these things have to be taken into account when designing or constructing an auditorium .Then, we will have to use reputed brands of mic-sets and this has to be true especially of the speakers.
In olden days only the simplest of rooms was used as green room. But I have a feeling that there is a need to provide a decent place for artistes, for them to tune their instruments as well as to relax until the concert begins. Keeping all in this in mind we have provided adequate facilities here.
Like most of us, I have also been listening to concerts for the last three/ four decades. I have moved into Mylapore 25 years back to be in touch with music. In the last one decade we found technology has made appreciable inroads into our lives; but to my surprise most venues have not updated the technology at their disposal, for some unknown reasons, as much as they have improved the canteen facilities. There are certain exceptions to this, of course. And regarding the quality of the sound systems, the less said the better. Somewhere in my mind I always wanted to set up a small place to listen to and discuss matters relating to music and other allied subjects. The current venue used to be my office space and I had about 2500sq.ft. I realized one fine morning that I had too much office space and most of it remained unused. So I reduced my office area drastically to 800 sq.ft. and the rest I worked with an architect, my good friend and an interior designer and sound engineer to convert it to find this centre. The whole thing got ready in two months' time. I planned for it in August and was able to inaugurate in the month of November i.e. 2010. By almighty's grace Arkay Convention Center came into being.
I am possibly one of the first to venture into webcasting of programs live, investing in the equipments and owning it. It is now slowly building up. May be in future, it will become the order of the day. In such a scenario a small place like ACC will become a more practicable venue to host the music concerts.
As one concerned about music, a few words to youngsters:
Candidates who approach this sabha should be able to present themselves to me. Instead I find only their mothers do the talking most of the time. I would like a change in this trend. I feel that the musician should be able to talk for himself/herself, after all he/she is the best judge here.
Aspiring musicians should not confine themselves to small circles. They should try to make an attempt to know more and more. For instance they ought to know who was the guru of Sangeetha Kalanidhi Vedavalli or get to know who is PS Narayanasamy, (These are only examples) They should also know more about music. By this I do not mean the theory part alone. They should know about what is happening to the music world. Get interested in lectures. After all the future belongs to them and the more well-equipped they are the better it is for them. Peer reputation will also increase by all this.
They should not think of performing as an end in itself. They should never be looking only to sing, but listen more and practice more as there is plenty of time left for them. They should create the habit of listening to the greats who have performed. After all technology has given us the chance to listen to all these greats. And as they do this listening slowly but surely many aspects would sink in and gradually get well formed in their minds. People who do music courses in the Universities, especially should mainly create the habit of attending concerts. They will thus get to know about time management, how the concert is planned and what are the things to avoid. Youngsters of today should listen to singers who have established themselves well in this field like Vijay Siva, Gayatri Venkatraghavan, for example and imbibe what is essential in them.
Let them remember that "God has perfect timing, never early, never late. It takes a little patience and faith. Your chance is bound to come"
aarvalan (aarvalan@yahoo.com)

About
Sabhash
- Everything about classical music, dance, drama and a platform for inclusive entertainment
Sabhash.com is the one-stop destination for the latest news and information on the performing arts of India - classical music and dance, theatre, bhajans, discourses, folk performances, and other lesser known art forms. Institutions that revolve around the performing arts have exploded in numbers, and thanks to the Internet which has made information easily accessible, the number of rasikas has grown too. Corporate patronage has played a big part in increasing the world-wide reach of the Indian arts. Sabhash wishes to be a platform for inclusive growth giving an equal opportunity and recognition to not only the main performer but also the artistes who accompany them on stage, and the people who work backstage and play the role of unsung heroes.