Lakshmi Devnath and her Pictorial Project
15 September, 2012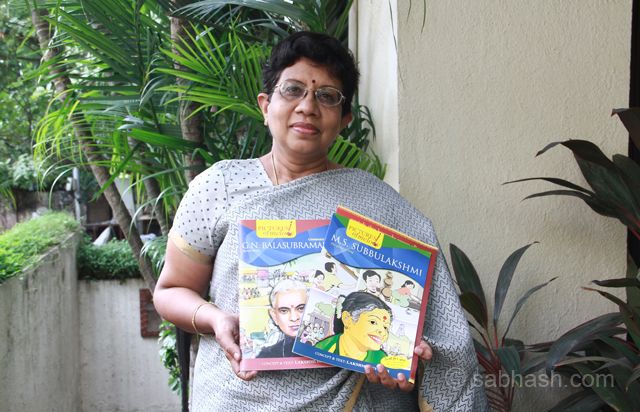 - by Lakshmi Venkatraman
Most of her current projects seem to be aimed at making our children aware of the richness and intrinsic value of our traditions, so that they grow up appreciating our heritage and culture, be it our philosophy, customs, music, arts and what have you. Take for instance Lakshmi Devnath's two books, published not too long ago, "Pictures of Melody" on renowned Carnatic musicians Smt. M.S. Subbhalakshmi and Sri G.N.Balasubramaniam. In a simple readable format for children Lakshmi gives the entire life of the musicians without missing any of the important events, with clear illustrations in the comics format. It is obviously a labour of love, because each book is a result of extensive reading and research into the biography of these artistes. These books of 24 pages and 120 visuals each, are read by adults too. "If they lead people to read more about them, I'd only be happy", she declares. Scripts for two more books in this series are ready, one on Madurai Mani Iyer and the other on Smt. T. Brinda. She pays great attention to the complete concept of the illustration too; "I enact every scene to be illustrated in each frame, so that the individual mannerisms of the person is properly depicted", she adds. Perhaps for the first time there are also a few photographs along with the drawings. A signed poster of the musician is also offered along with each book.
A book, perhaps it could be a tome, on the violin maestro Lalgudi Jayaraman is almost ready for publication; this is so far the only authorized biography,
Lakshmi has had a deep interest in music and musicology since childhood. She obtained a degree in music with Veena as main. But she also learnt vocal music from Sri Bombay Ramachandran. While in Delhi she learnt Veena from Emani Sankara Sastry and later in Chennai from Smt. Ranganayaki Rajagopalan. That is not all; actually she graduated in History Hons. from Lady Sriram College, New Delhi and got admission for .M.A. though she could not join the course. Besides all this she has also learnt Sanskirt from well known scholars and has a very good command of the language.
She used to write a series on music again aimed at children in 'the Hindu' as well as 'Sruti' magazine; she hopes to bring them all together in a book form. "Poorva" is a kind of fantasy seen through the eyes of a young girl Poorva, who goes back in time to the magical, miraculous and mystical lives of the twelve Vaishanvite Alwars. In the pipeline is "Poorva in the Vedic Age".
As if these are not enough Lakshmi was also the managing editor of "Nrisimhapriya" for a few years and gave the magazine a totally new design; she also added a children's section to it.

About
Sabhash
- Everything about classical music, dance, drama and a platform for inclusive entertainment
Sabhash.com is the one-stop destination for the latest news and information on the performing arts of India - classical music and dance, theatre, bhajans, discourses, folk performances, and other lesser known art forms. Institutions that revolve around the performing arts have exploded in numbers, and thanks to the Internet which has made information easily accessible, the number of rasikas has grown too. Corporate patronage has played a big part in increasing the world-wide reach of the Indian arts. Sabhash wishes to be a platform for inclusive growth giving an equal opportunity and recognition to not only the main performer but also the artistes who accompany them on stage, and the people who work backstage and play the role of unsung heroes.