The human element - That is India
20 December, 2014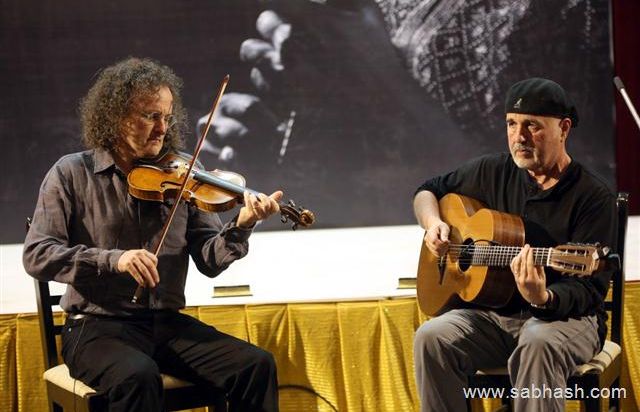 Martin Hayes and Dennis Cahill, Irish Musicians, as they talk…….
Martin Hayes the fiddle player and Dennis Cahill the guitarist spoke a few words exclusively to Sabhash. They had to leave for Mumbai early morning the next day. One was happy that they were able to spare some moments in spite of their busy schedule. And this is what they had to say:
We are enjoying the lovely weather here at this moment. We are told that summer will be extremely hot over here.
And though our website and wiki says we are in Connecticut, but actually we are back in Ireland and we are glad that we have been able to give 7 concerts in all - at Bangalore, New Delhi, Chennai and Mumbai. Mumbai will happen soon.
Actually my (Martin) instrument though called the fiddle, is much the same as the violin and probably is intended to separate it from the rest. The tapping of my feet as I perform, is to get hold of the rhythm and a Metronome is running virtually inside me and is probably centred around my body.
Initially I had difficulty understanding Carnatic (Indian) music, and did not even have a clue. But bit by bit I have been able to put it together. Now slowly but surely I have a much better idea and can feel how it is all coming together in your music. We also understand how tala is an element prominent to your music. I guess some complicated counting system is running all the while in the mind of the performer. I am more than amazed how they are able to synch so well when it finally arrives. They seem to have internalized the whole thing. Don't they?
About the violin, yes the seated position gives them the advantage of being able to use the violin "more". Here they play as lovely scales by going up and down the violin. This is unlike our method where the focus is always playing shall we say, in a horizontal manner, from one string to the other. Here, you ascend and descend on the scale with grace, speed and everything. We always concentrate on working up melodies working from one string to the other.
There are rhythm instruments in traditional Irish music and we can mention the Bodhran but what you have here is much more complex. Furthermore Irish players operate with a stick.
And Fusion music between the West and the East - That is fine. And as the saying goes there should be no confusion. Whatever attempts are made towards this end there should be no compromise from any quarter on the matter of quality or of basic principles. That is my feeling.
On Technology and music – I agree that everything including music is getting more and more mechanized. But I still value the human presence however simple that part occupies. The energy that is behind this human effort establishes human connections and the machine does not have a heart. Does it? Music has to sink in to give pleasure.
And of the people here - They have a great deal of innocence unlike those in the West. They at once seem to be less cynical and do not look at everything around with suspicion. For instance, if you look at someone in the face that look is faithfully returned. This is hard to find in the West. People have a trust when it comes to human interaction here. There are some exceptions that exist in the West too.
The guitarist Dennis Cahill is also an Irish citizen. For both the Fiddle player and the Guitarist this is their first visit to India though Dennis' wife has been to India before. This duo has been performing at various places all over the world for the past 20 years and finds that the Indian audience is a well informed one.
And they wish to sign off and acknowledge that their friend Mathew, a sarod player, has played a vital role in helping us connect our Irish Music with Indian Classical Music.
aarvalan (aarvalan@yahoo.com)

About
Sabhash
- Everything about classical music, dance, drama and a platform for inclusive entertainment
Sabhash.com is the one-stop destination for the latest news and information on the performing arts of India - classical music and dance, theatre, bhajans, discourses, folk performances, and other lesser known art forms. Institutions that revolve around the performing arts have exploded in numbers, and thanks to the Internet which has made information easily accessible, the number of rasikas has grown too. Corporate patronage has played a big part in increasing the world-wide reach of the Indian arts. Sabhash wishes to be a platform for inclusive growth giving an equal opportunity and recognition to not only the main performer but also the artistes who accompany them on stage, and the people who work backstage and play the role of unsung heroes.