Vocal Music = Fusion Music
01 December, 2012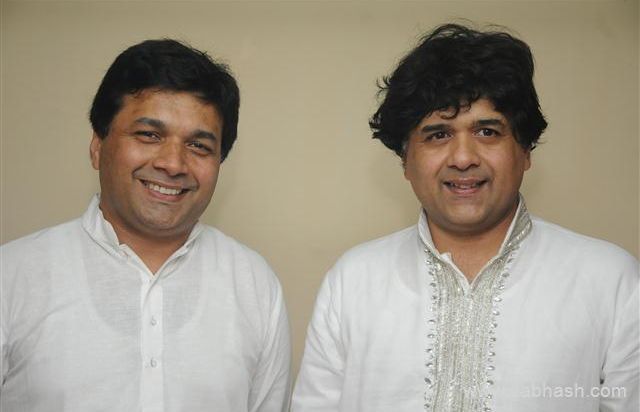 The need of the hour, "Contemporary Music"
Read on…..
Proud recipients of the Sri P Obul Reddy and Smt P Gnanambal Memorial awards, Violin Duo Ganesh and Kumaresh were beaming with contagious smiles. An Irresistible charm was in the air.
They talked to Sabhash exclusively.
And they began thus:
"First and foremost, we are indeed very happy to have been bestowed with this prestigious award, especially during the season. We are doubly honoured by the fact an institution of the stature of Bharatiya Vidya Bhavan, has found us fit enough to be given this award. This is only the second award we are receiving; the earlier one was given away to us by The Vazuvoorar Institution.
We have to remember Sri Obul Reddy here. Sri P Obul Reddy was a Thyagaraja Premi. Any function that was organized to celebrate Thyagaraja and his compositions would find Reddy Garu's presence there. He had attended a session in which we made an analysis about the structure and form of Thyagaraja Krithis under the auspices of Saraswathi Vaggeyakara Trust. He was also present in a concert of ours where the theme was "contemporary music". We, musicians and rasikas, do not miss Obul Reddy at all. Such has been his influence and he has left that kind of a noble trace of himself. We deeply cherish his memory"
The interview:
Gurubyo Namaha! Who really was your formal guru……..
Actually the choice of violin is directly interlinked to our Guru. Our father Sri T S Rajagopalan was our guru, obviously a violinist, a student of his brother, Sri Harihara Iyer. The violin was thus given to us can you believe, at a very tender age. In fact, I did not choose to be a violinist. The violin chose me instead. Got the point? That applies to both of us. My father belonged to Thirupanithura (Kerala) and was always passionate about the violin. Kumaresh and me are Kanpur-wallahs. (Laughs, heartily).
And the story goes like this. Chembai on listening to my father had wanted him to "go with him" (En pinnoda vandhudu). Our grandfather on the other hand, had other ideas. "My son has to be educated, and that is my priority", he ruled. My thatha was a headmaster and academics was always at the top of his mind. So….. Result one: My father could not get into that right kind of league to be in the company of musicians. Result two: That left a long passion in him that saw the nurturing of his two sons to become prominent violinists. His regimen was the strictest by any standards. He himself used to wake up at 3 a.m. get songs recorded for us. Results were expected of us by around 5.30 p.m. in the evening. His infinite interest in the violin continues and will continue for ever. He also got himself transferred to Chennai (United India Insurance) for the sake of his sons and for the sake of music. He saw us grow and when we had reached a particular stage decided to take the back seat. His duty then became a task unto himself; to impart whatever he knew to us fully. He is 78 today and is a proficient singer too. In our house we have had the fortune of listening to Sarvashri K V Krishnan, Tirupparkadal Veeraraghavan, Vellore Ramabadhran and the likes of Thiruvengadu Jayaraman and a chance to observe them closely. Emulating our father…………Well……..That will be a distant dream for us………
About milestones………..
One can talk of milestones in one's personal life and one's musical life as well. When it comes to personal life getting married, seeing our children arrive on mother earth (I have a son and a daughter) are all happy occasions. Kumaresh getting married to Jayanthi was another memorable event in our lives.
Then of course our meeting with Dr. MGR and Kalaignar cannot be forgotten. Kalaignar had come once to Muthamizh Mandram and took pains to come on stage and appreciate us. MGR made us play for an hour when the Astronauts had come to Chennai (India) and pointing to us had made an announcement, that the State would honour these two youngsters soon. We had sung Paarukkulle Nalla Nadu then.
We have to mention the call we received from NT Rama Rao.(At first I thought it was a crank call). In his stentorian voice he addressed us as "Brother". We had performed with him in the film, BrahmaRishi Vishwamitra and acted as Rama and Lakshmana. It was a historical moment for us. Even when he was out of power he took us personally to meet the then President R Venkatraman and introduced us, kids, to all those present. These happenings in our lives are truly extraordinary. Then K B Sir and Sri Ananthu had booked us for the award winning film "Oru Veedu Oru Vaasal". The selection was based on certain reports that had appeared in Ananda Vikatan magazine that had talked high of our histrionic potential. There incidentally I played your role, that of a journalist.
We have to remember the circuits we made with Zakhir Bhai and the unexpected entry of Pandit Ravishanker to a concert of ours.
But then have you sat through any crises points in your life……..
Oh Yes! It was in Aalappuzha, in Kerala. Normally we make a thorough check of our vadhyams and get the sruthi aligned perfectly. In the evening when we set out, my violin had developed a crack because of some odd temperature variations. A total crisis point, as you had said. No cooperation from the instrument. The fact that I had learnt vocal music and was a fit and trained singer stood me in good stead. I gave a vocal concert to the accompaniment of Kumaresh on the violin, whose violin fortuitously was in tact. We had never faced a crisis of this kind in our lives. Every crisis should become an opportunity. It was, for us.
The second was on a recent tour to the USA. The flight we had to take got cancelled and we had to travel a good 100 kilometres by a rented vehicle. There were about 10,000 people waiting at the boarding Airport, even at 6 a.m. We had to change our route to reach our destination and lo and behold! our luggage that had all our special equipments had not arrived. The violins were with us. We had to keep our organizers informed of the changes that were taking place. That luggage had an important diary of mine. Important because it had loads of sahithya which I had carefully collected. Needless to say I never had a backup. Fortunately the luggage was restored to us after considerable time. So far so good. Total distress and ultimately God was on our side, and is always is.
This Voco-Violin tradition of yours………..
Instrumentalists have to necessarily be aware of the sahithya and sing-along should not be a problem. Here again I have to recall my father's dictum. If you sing along, people get to know the sahithya. A rapport is established with the rasika. This would apply to familiar and unfamiliar songs too. It has caught on and we are happy with it.
What prompted you to compose Dhuns….Jayanthi Kumaresh always includes one in her concerts……
Let me explain. Carnatic music has a heavy grammar which is well-learnt over the years. Our music arose around 3 traditions – the veena, the nagaswaram and the violin. The nagaswaram bhani was adapted to suit vocal concerts but the alapana was taken from the veena. The meettus could be called as fine muthaippus. During those mikeless days the nagaswaram was popular because of its high pitch. What I am trying to establish is that a genre of music, sans sahithya must have existed in the past years. Do you agree? Now the question is can compositions therefore be formed in our system presently, without sahithya? An open question to all! Each instrumentalist could get to form his own compositions that are specially attuned to accommodate the nuances each instrument is heir to. Isn't this a possibility? Myself, Jayanthi and Kumaresh have discussed these issues and hence the concept of Dhun. A kind of crystallization of this new form, we can say. It had to be called by a different name, you know. Such "Dhuns' we should form and gather to a database or a bank of compositions…says a 1000 compositions. By adopting this technique, compositions have been formed by us in the raga YadukulaKhambodi or say Saveri which will appear like a krithi, but will exist without the sahithya. It has no sahithya attached to it. This would pave the way for certain gamaka-ideas to be preserved. Some have gone out use almost. The Thribinna Gamaka, for instance,of the veena is known by this name as three notes are sounded simultaneously. Permissible! Yes! Yes! Let us not therefore restrict carnatic music and tie it down with the sahithya alone. I am not in any way belittling an "O! Rangasayee" or a "Meenakshi Memudham Dehi". But let us engage ourself in such serious thought for once on these lines.
International appeal … Did this happen consciously……
I would attribute it to the universal sound of the violin that is recognized the world over. And to the enormous freedom afforded by my father in experimentation. I could form new sangathis and he would okay it. That surge(vetkai) to excel and to find new things in music was instilled in us. Please remember that what has been said of the violin does not hold well with respect to either the veena or the nagaswaram. They are traditional "Oriental" sounds. The international audience likes our approach as we take care in sound adjustments and have our own customized equipments. We have tested umpteen contact mikes and speakers and finally have chosen the best.
How do you decide on your Sruthi?
Invariably we listen to our concerts. Only then will we get to know what has gone to the public and what the audience had experienced. (One remembers Sirkazhi Govindarajan in this context) . 3 kattai itself if jacked up a bit sounded rather shrill. So we reduced to 1.5 as it was comfortable for the vocal sing-along. Finally we arrived at a happy compromise and have settled for 2 kattai. A break-even point, shall we say. And the mridanga nadham in this pitch would be entirely soothing on the ear. Wouldn't it?
Your Albums………….
Our motto is to do something out of the way. Of course we have cut albums where Sivaraman Sir had accompanied us and played with flourish for the song Ninnujoochi. He later has stated that this was one of the best albums of his. Then we have given albums containing Kovoor Pancharathna Krithis (first album – Sangeetha). The most loved album is with the name Manoranjani where various "Ranjani" scales are explored. There is an out of the world "Paamara Ranjani" which is less of a scale and more folkish in its orientation. Aksharam is the album that concentrates on the thala aksharams. There is one on sruthi with its graha bedam concepts and the more recent one has been Raga Pravaham.
On Indian Music getting there
Indian music is popular there (abroad) and we are accepted as performers of certain form, abroad. It is our bounden duty to take music forward. A Saveri phrase should be able to rest on its own and must get recognized on its own. Remember here in Chennai too, we have an International Audience that has accepted the Mandolin, The Clarionet, The Piano and the Sax. People who talk of fusion music should understand our very vocal singing is a fusion of a kind. There is sahithya that could be recited independently and music is associated with it. But when it comes to instrumental it is pure music or can be assigned the name absolute music.
A word to the youngsters of today……….
One cannot put the blame entirely on them. These distractions - the cell and even the computer becomes a distraction. We have news and news, what for I do not know? Abundance for what? We never underwent such "tortures" during our formative years. Still the situation is not bad. You need focus. (manasu idhile porundhanum)
The end has not come yet. A sweet and lilting rendering of the raga Saraswathi brings this interview to a close! And what about the sruthi? Ah! That resides in them!!!
aarvalan
(aarvalan.sabhash@gmail.com)

About
Sabhash
- Everything about classical music, dance, drama and a platform for inclusive entertainment
Sabhash.com is the one-stop destination for the latest news and information on the performing arts of India - classical music and dance, theatre, bhajans, discourses, folk performances, and other lesser known art forms. Institutions that revolve around the performing arts have exploded in numbers, and thanks to the Internet which has made information easily accessible, the number of rasikas has grown too. Corporate patronage has played a big part in increasing the world-wide reach of the Indian arts. Sabhash wishes to be a platform for inclusive growth giving an equal opportunity and recognition to not only the main performer but also the artistes who accompany them on stage, and the people who work backstage and play the role of unsung heroes.