Sikkil Gurucharan - From Isai Chudar to Isai Peroli
02 December, 2012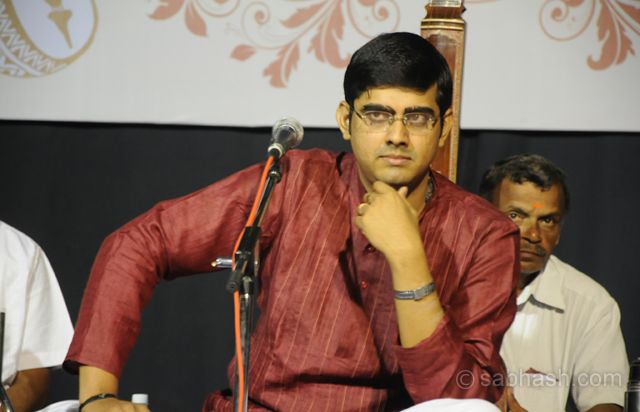 Sikkil Gurucharan, is the grandson of Sikkil Sisters who had made waves with their unified performances. Gurucharan thus belongs to a great musical tradition. He has learnt from Sri Vaigal Gnanaskandan who has had a long career with AIR.
Gurucharan was into an absorbing conversation with Sabhash.
Read further………….
Your voice is your greatest asset, you would agree. Have you made any special effort to get to "such" a voice, described as being soft, malleable and pleasant by many?
No. Not so. It must have been bestowed upon me by the Almighty. Moreover converting one kind of a gruff voice to a smoother type with a kind of "imparted nalinam" is not all that easy. You will find that various styles of voices exist in this world. Take for instance the voices of Semmangudi sir, or OST sir or that of TVS sir. Each one of them is inimitable. Each one has its own mentionable, recognizable and distinct timbre. This timbre is more natural than what we think it to be. I, though, have not made any conscious effort nor indulged in any extraordinary training to develop this "kind" of a voice.
I should be thankful in this case to my Guru, Sri Vaigal Gnanaskandan and the choice of my Guru by my Paattis, Sikkil Neela and Kunjumani. I was initially, when I was a boy, singing at 6 kattai. It came down gradually to 3 and now has settled at 2. I have to mention here about my Guru who could sing comfortably at all octaves at the same sruthi (2) – compatible with mine - and that was of great advantage to me. The characteristic male "voice-breaking" did not affect my voice-culture greatly. My attempts at a sruthi higher than this (2) had resulted in the cracking of my voice. Strangely enough and contrary to common experience, I have difficulty even if I reduce the sruthi. As a result of this attempted reduction I am unable to reach the higher octaves with comfort.
How much care do you take about voice-maintenance?
The maximum that I can and should. I am not however too strict on placing an embargo on any particular food item. I eat well and with fine taste, of course, as all sangeetha vidwans are prone to. Taking warm water helps in the long run. It is far more hygienic and is readily available. If concerts are in sight I avoid taking cold items as a rule. (கண்ணுக்கு எட்டிய தூரத்தில் கச்சேரி இருக்குமேயானால் இந்த முறையைக் கடைபிடிக்கிறேன்) I also indulge in voice exercises. Those entire beginner's varisais, sarali, thattu, jantai etc. are not mere bala padams. One would do well to practice them on a daily basis. Going through them over and over again - there is nothing to equal that. And Akaara Saadhagam! My Guru always used to ask "Did you do akaara saadhagam today?" Whenever those two words are uttered, I always remember him. Again maintenance of silence (mounam) is a good voice-exercise. The state of one's voice gets easily known at concerts. Certain sangathis which would have been delivered comfortably on a previous occasion will not get through with 100% perfection on another day. Realize therefore that there is something wrong somewhere with your voice.
Do you have some icon in your mind whose musical status you wish to attain?
Paati always used to warn me that a single person should not affect you wholly. You would tend to become an imitation of him. The name and fame would ultimately accrue to that particular person and not to you. Once imitation is allowed to creep in, your creativity will get affected greatly. I would rather take musical ideas and ideals from the past masters. Sri S Kalyanaraman could give you a Kalyani for 2 minutes or for 20 minutes. What an impact it would create in you? There would be a degree of wholesomeness in both. These I look for and look to grasp to the extent possible. I do not try as a rule to get hold of sangathis or patterns and try memorizing or reproducing them. It just won't work for me, at least. Whoever has attained excellence in art should be inspired by another's performance, get its jeevan and find its tempo and put it in some corner of your mind for it to work in you and work you on your journey towards perfection.
Have you ever made a self-rating of yourself? Levels attained….
The moment you use the word level I think it keeps on rising. It is an ever rising bar for me. Added to this is a fact of my life - I am one of those who is very hard to please. I remember an incident in this connection. I was summoned to sing the prayer song at KGS, by Sri Yagnya Raman, in the year 1998. The entire galaxy of musicians was on stage and that included Semmangudi sir and Lalgudi sir. My grandmother could not be present for the function. I received rich compliments from everyone. After reaching home the question was asked by my Paatti - "How did it go?" I was brimming with confidence and answered "Oh! I sang very well". She clutched my hand gently. "Never say that my son! Use the words it happened well. There are too many factors that are out of your control. Take the mike system or your voice-cooperation or a sudden sense of fear or anxiety. Any one of these could make or mar the event, and hence your singing. You will get to know the value of these words as the climb up happens" - What Golden Words, worth saying as a daily prayer! Have I answered your question? Yes!
You belong to a rich tradition and the demands placed on you would be high. How in the first place do your family members feel?
They are truly impartial. If I perform well I am told to do better with a compliment. Innum Therchi Vendum, they would say. Amma, Paati and Mrs. Mala Chandrasekar would always want me to keep improving.
To what extent are your concerts pre-determined? Is a list prepared?
(He carefully watches the list of questions I had prepared to ask him.) Paatti used to prepare the lists in the beginning. It used to begin with Vinayaga talisman and a pencil-portrait of the flute. I still have them under my preservation. They used to prepare this list in my very presence. They would insist on a healthy mix. Raga mix – anthara gandahram and suddha gandharam, suddha madhyamam and prathi madhyamam, scale mix, thala mix – 2 kalais, 1 kalai, chaapu, roopakam and the regular aadhi. These would serve to build and sustain audience interest in any concert. Variety as they say is the spice of life. This list would well extend to thukkadas and even to the mangalam. But audience requests will always have to be considered. Recently in Hyderabad, I had made up my mind to sing Madhyamavathi and had even murmured this to the accompanists. Then, there was a chit which read, "Sri Chamundewari" and that was in Bilahari. I always heed these requests. So I had to go for Plan B.
But now all that has changed. Now I am able to have a mental idea. Just before I get on to the stage I make a decision on-the-go. Now during the season as we would be singing back-to-back concerts we would seek to find out what was rendered earlier. Sometimes even Secretaries enlighten us. There has been a flood of Thodi today, could be the remark. It all depends. I am able to help myself into this selection, based on experience and know how well to avoid a Bilahari/Kalyani combination and go for a Hindolam/Kalyani gel. Avoid the former would have been the suggestion of Paatti, my cutcheri framer.
Sometimes, now that I play to the accompaniment of senior vidwans, those vidwans give some valuable suggestions regarding song selection. Their intelligence comes into play and helps me too.
If I may ask this question, why haven't you approached the tinsel world? Or haven't they sought you? And Acting….
While at college I was handling/riding both horses - carnatic and cinema music. Later Carnatic music occupied me entirely. There was that "pressure" from the carnatic music side. Learning these songs, more and more songs and all this was exacting. Then I decided to confine myself to this world alone. When I had the opportunity to perform at Ilayaraja sir's house he wanted me to sing a number for him in a film. It is a lovely melody and is yet to be released. I have been brought up listening to Ilayaraja's songs all the while and have a passion for them. I am yet to fully enter into that world, tinsel world, I mean. I may or may not. I have been singing quite a few jingles and some Christian devotional songs. I have done some work teaming with Ms. Subashree Thanikachalam also. I have sung in some films under Vidyasagar and Harris Jayaraj. I am open, but let us see.
Regarding acting a firm no. My father is already into it. And I would prefer to watch him. That stands good for TV serials also.
Reality shows that are on TV, what is your take on those?
These are good for "TV-Obsessed" people and has become a fad these days. The whole family assembles at the happening spot. The finalists can brighten up as good singers. But this is not the end of it. This could only serve as a stepping stone. I know one Sathya Prakash who had performed very well.
I have my own doubts regarding the voting system that is being followed. All along the candidates take and agree to the justice rendered by the sitting judges. But that rule is changed for the finals alone. The voting system and all that. My question is "Why is that so?" Those who constantly aspire for it are a different kind of fish. They, of course stand to get world-wide exposure but it is not possible to push them beyond a certain point. That then is my humble opinion.
Have you tried to learn Hindusthani Music, by any chance? And a few words about your Sangeet Natak Akademi fellowship?
I have had musical dialogues on stage with Murad Ali Khan on the Sarangi and we used to play similar ragas. Pandit Jasraj ji is one with whom I had worked with. Another was with Arshad Khan and another with Supradip Das, a Bengali singer. Thus I got to know the varieties of compositions of that school, the thaal dimensions and many such. As you get to know one another school, you realize the immense potential in your own school. May be compulsions may come and I may have to learn Hindusthani music also.
I was on concert trips often and there happened to be gap in the lessons schedule, due to non-availabilty of the Guru at certain times and the sishya at other times. The Sangeet Natak Akademi fellowship came as a boon as I was badly in need of a Guru, and Sri Vaigal Gnanaskandan had almost stopped teaching. I was managing from cassettes and through my grand mother's lessons for about a year and a half. Then came my tutelage under Sri B. Krishnamurthy (BK). Though Kunnakudy Balamuralikrishna and I were to cover RTPs under the grant, BK sir took us through many krithis. We were given undivided attention for 4 to 5 hours a day and by this I was able to get back my focus. I re-realized even more, the immense value that is being attached to learning from a Guru directly.
What has been you ventures with Anil Srinivas?
The concept is to simply present carnatic music in a different framework. This was not a need-based exercise but occurred as it were. We take up verses from classical scriptures tune them or get to the original tunes and present them to the public. Fine annotation is done before the presentation. If it is say "Chitranj Chiru Kale", a Thiruppavai verse, then the context is explained, with due reference to Aandal and the raga used is also explained. Anil for his part - influenced as he has been by Mozart and Beethoven - would explain the western concept of the scale employed together with the thought processes involved and we would gel finally. The point to be made here is this: Even non-carnatic buffs tend to appreciate these presentation and the response has been exceptionally good.
Do you teach? And what are your other interests?
Competence? Well I feel I am not fully competent to teach. Some odd particular songs people get to learn from me. Beyond that…….I give suggestions and some demonstrations regarding vocal exercises. I think I had better wait.
My other interests are many. I watch movies. Language – No bar. I have a special liking to get into the working of gadgets. I explore them in and out. I am interested in cricket. Based on my height people ask me whether I got interested in Basket Ball. I may have played some games at the school level (Vidya Mandir). Proficiency in that game – No.
A word to youngsters, if you will......
What others – well-wishers, ardent rasikas, and great men – have told me, I will have to parrot out to youngsters. When I was on the horns of dilemma, "To go or not to go the full hog in music", Sri Umayalpuram Sivaraman recounted to me what he had told a disciple of his. "Give yourself fully to music. It shall never let you down. Never will it leave you on the road alone." I thought that applied to me too. I took the cue and here I am. Even my Paatti wanted that kind of dedication and commitment from me towards this art (arpanippu). Do not look back. The rest would happen willy-nilly. She used to say "Sing what is best suited to you and what you like most. And note to carry out necessary corrections wherever you can and must. Else……You would only stagnate, but not grow…." And, in music if 60% is performing, well…the remaining 40% is listening. Develop a presence of mind to adjust and correct your mistakes on the spot. Friends, learning thro' Skype is fine. But get to the teacher during the music season. Be with him. Seek corrections and be guided by them. Skype-learning has to be supplemented and supported by real-life learning. It is also meant for those who have "graduated" in music and have already arrived. Hidden pleasures will come before you only then and as you keep singing.
The Best……..
Another feather in his cap:
The RITZ Awards for the year 2012, instituted by RITZ - South India's premier lifestyle magazine, was given to 23 Iconic South Indians for their work in various fields. Sikkil Gurucharan was given this award for Music. Director Prabhu Deva, an awardee was deeply moved by the profile of the awardees and heartily congratulated RITZ Magazine for its efforts.
aarvalan
(aarvalan.sabhash@gmail.com)

About
Sabhash
- Everything about classical music, dance, drama and a platform for inclusive entertainment
Sabhash.com is the one-stop destination for the latest news and information on the performing arts of India - classical music and dance, theatre, bhajans, discourses, folk performances, and other lesser known art forms. Institutions that revolve around the performing arts have exploded in numbers, and thanks to the Internet which has made information easily accessible, the number of rasikas has grown too. Corporate patronage has played a big part in increasing the world-wide reach of the Indian arts. Sabhash wishes to be a platform for inclusive growth giving an equal opportunity and recognition to not only the main performer but also the artistes who accompany them on stage, and the people who work backstage and play the role of unsung heroes.