Muthuswami Dikshithar - spoke so sweetly and so well
13 November, 2012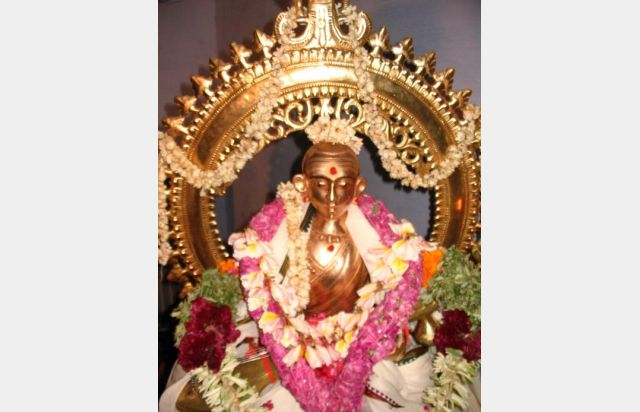 Less than a God, they thought, could not dwell
Within the hollow of that shell (the Indian Veena)
That spoke so sweetly and so well.
What passion cannot music raise and quell?
(Dryden)

Mudduswami Dikshithar merged with the Almighty as he was listening to his own composition "Meenakshi Memudham Dehi" set in the raga Gamakakriya. This song says that Goddess Meenakshi resides in the Dasa Gamakas of Veena music. In fact he is said to have asked for a repeat of this self-same song even as it was getting completed. When the words "paasa mochani" were being sounded, he seemed to realize that he had been released from the bondage that had got him into this world as a mere mortal. He could thus "free" himself from this planet as willingly as he had composed his gems in the form of krithis. He knew he had attained his "time".
He was 60 when God had thus acquired him ; the tamil era was Manmadh Samvasram and the year 1835 A. D. This day happened to be the eve of the Deepavali Festival and all this took place at Ettayapuram.
Saint Chidhambhara Nadha Swami spotted the genius in Dikshithar and took him away with him to Banares. He was initiated into "Sri Vidya" and then spent 5 years there becoming proficient in Sanskrit lore and the high branches of the art of music. His sojourn in the North was beneficial in another direction also. Dikshithar's discerning mind caught some of the northern airs and were charmed by their unusual melody. The influence of the northern style could therefore be observed in many of his compositions.
Early in life, Mudduswami Dikshithar became well-versed in Sanskrit Kavyya, Nataka, Alankara and Astrology. He also displayed a premature aptitude in music. He was a polyglot as was Bharathiyar. Ettayapuram was the place they shared in common. Dikshithar possessed marvellous powers of intellect and learnt everything by hearing it once ("eka santha grahi"). He used to meet Thyagayya and Syama Sastri, whenever he happened to visit their abodes.
Dikshithar's life is replete with miraculous incidents - the vouchsafing of a divine veena by Goddess herself, at the banks of a river as he finished his prayers - being the most famous of all.
All his compositions, about 500, are in Sanskrit except a few. There is a manipravalam piece on God Venkatesa and a few in Telugu including some varnas and darus. His compositions are the perfect concord that could exist between the syllable and the swara. The dhatu seems inseparable from the Matu. Incongruity between sound and sense is never in existence. The emphasis of the time measure employed surely falls on appropriate syllables.
This composer stood out for having composed 27 songs on Ganesa and the sixteen Ganapathis called "Shodasha Ganapathy" form this series. The famous and evenly-paced "Kamalamba Nava Avarnas" were composed on the lady deity of Thyagesa temple. Though this is called Navavarnas (9 units), it has a Dyana song at the beginning and a Mangala song at the end, making it into a total of eleven songs.
Each one of his compositions are rich in raga bhava and are full of gamakas and graces and exhibit majesty, mastery and wisdom. He was a vocalist and a veena player and one who was all serenity and poise.
aarvalan
(aarvalan56@gmail.com)

About
Sabhash
- Everything about classical music, dance, drama and a platform for inclusive entertainment
Sabhash.com is the one-stop destination for the latest news and information on the performing arts of India - classical music and dance, theatre, bhajans, discourses, folk performances, and other lesser known art forms. Institutions that revolve around the performing arts have exploded in numbers, and thanks to the Internet which has made information easily accessible, the number of rasikas has grown too. Corporate patronage has played a big part in increasing the world-wide reach of the Indian arts. Sabhash wishes to be a platform for inclusive growth giving an equal opportunity and recognition to not only the main performer but also the artistes who accompany them on stage, and the people who work backstage and play the role of unsung heroes.