S. Rajam - Artiste-cum-Artist
21 July, 2012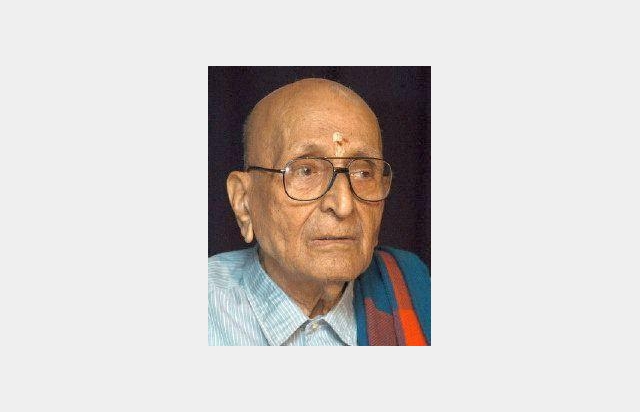 - by Lakshmi Venkatraman
S.Rajam – a multifaceted artiste if there was one; call him a Carnatic musician, it would encompass a whole gamut of things about it – he was a trained singer, a teacher, musicologist and he has also set to music lyrics now and then and produced orchestral music for All India Radio. Besides this, he was an actor and a trained painter- a student of Debi Prasad Roy Choudhury at the Govt. School of Arts &Crafts, Madras (now known as Govt. College of Fine Arts).
Ramachandran aka Lalitha Ram (LR) has had the opportunity to move with him closely for about seven years before his passing away two years ago, having met him almost every week end. He considers Rajam as his Guru for showing how to live life. He shared his thoughts about Rajam with the members of Tamil Heritage Trust recently in Chennai.
LR lives and works in Bengaluru in a multinational company but he is deeply interested in Carnatic music and has been writing books on some of the stalwarts in the past several years.
LR had the opportunity to meet Rajam when he was researching for his book on G.N. Balasubramaniam. When he wanted to know something about Madurai Subramania Iyer, who was known as GNB's Guru, he was advised to meet Rajam. On that occasion Rajam was painting and he spoke at length about Saptamatrikas, the theme of his paintings at that time. LR was just hooked from that very first meeting. He had learnt a lot more about various aspects of Rajam's life than so many people who had known the veteran for many years just as Mr.Maniam Selven mentioned when introducing the speaker.
No one, including myself, could have seen Rajam idle at any time; till almost his last days he was either painting at the little table next to the sky light in his old house on Nadu Street in Mylapore, or he would be teaching music to his students, or he would be reading or writing on music; he could also be reading on various subjects he was painting on, because he was very particular not to miss any details or draw wrong ones when he painted deities or mythological characters.
LR considered Rajam as a golden link between the past and the present. He was very frank almost to the point of being blunt, never hesitated to express his views openly even in front of an audience; but when talking about people he would mention the good things about them and pass off negative points. Talking of musicians, whom he had the opportunity to meet since his childhood – his father advocate Sundaram Iyer of Nadu Street, was a patron of music and many Vidwans used to visit him – Rajam would talk not just about their music alone, but describe their physical appearance and also come out with a lot of information about the times.
His major impetus for music was his father Sundram Iyer; as many well known musicians used to visit their home Rajam had the opportunity to learn directly from them. Mylapore Sangeetha Sabha was being run on the same Nadu Street and Rajam naturally could attend several concerts there. The audience was lucky during the speech by LR to listen to a recording of a young Rajam singing a song 'Nadopasanaye' in the same tune as 'Nadathanumanisam', a composition by Thyagaraja in Raga Siddharanjani.
Rajam was very fortunate to have learnt directly from legends like Ambi Dikshitar; in fact he was Papanasam Sivan's first student in Chennai. Sivan got his first break as a lyricist in the film 'Seethakalyanam' in which the entire family of Rajam acted – Rajam acted as Rama, his sister was Seetha, his father was Janaka and his versatile young brother, at that time a young boy, Veena Vidwan S.Balachandar played the Ganjira in the court of Ravana. Rajam actually wanted to learn from Kanchipuram Naina Pillai, Veena Dhanammal and GNB.
For three years continuously he won the first prize at the Music Academy competitions; his picture appeared in 'the Hindu', which led Shantharam inviting him to act in 'Seethakalyanam' at Kohlapur. Around that time he had performed concerts along with his brother Balachandar, who would play the harmonium or Ganjira and they were known as Prabhat prodigies. Rajam had acted as hero in two more films – Rukminikalyanam and Radhakalyanam – after getting married he gave up acting, though he did appear in three small roles in 'Sivakavi' in which his sister was the heroine. Shortly before his death he was honored as the oldest living Tamil film hero by the Tamil Nadu Government.
Rajam was employed at the All India Radio for many years; when AIR started in Madras, the first concert was by D.K.Pattammal and the second was Rajam's. His job earned him a steady living, thus allowing him the freedom to do what he liked in music and art. He was known as an authority on 'Pataantharaas'- that is, the proper way to sing the compositions of various Vaggeyakaras. AIR also gave him a lot of opportunities to produce different types of programmes. He had produced 'Vadyavrindams'- orchestral compositions -; even today his notations are being used by AIR. He had a role in achieving 'Amaratvam' for the compositions of Koteeswara Iyer; T. Sankaran's requests made him learn the 72 Melakarta Raga Kritis of Koteeswara Iyer and present them in AIR's national programmes. He has been popularizing them through the years; he has added ornamentation's to Iyer's compositions; out of the 72 Melakartas 40 are 'vivadi' Ragas, which many musicians used to avoid handling. But Rajam used to say they were not 'dosham' but 'visesham'; perhaps they were avoided as it was difficult to sing them.
If his father was his inspiration for music, it was his mother who inspired him in art, who was quite artistic and young Rajam was attracted by her drawings of Goddess Varalakshmi. Another person who inspired and encouraged him was Lingaiah, artist Maniam Selven's grand uncle. The two used to work together. Lingaiah died rather young, but Rajam remembered him till his own end. He had joined the Govt. School of Arts& Crafts, after schooling and followed the academic style like all the others. He often used to narrate how some of them would go by the boats carrying firewood and charcoal by Buckingham canal to Mahabalipuram for doing live studies. At the end of the first year he won Dr. Rangachari scholarship of Rs. 8, which was a big amount those days. This writer has had fascinating experience listening to his accounts of his student days in the School of Arts and his fellow students like Maniam and Silpi.
The major influence after this to Rajam was poet Lewis Thompson, who lived in Thiruvannamalai; he suggested that the young artist should adopt Indian style; thus Rajam evolved an Indian style, which was all his own. The very first creation of his to be published was in the Tamil magazine 'Kalaimagal' in 1937, when he was still a student. This turned out to be a great motivation for him. K.V.Jagannathan, popularly known as Ki.Va.Ja., who was the editor of 'Kalaiamagal' used Rajam's illustrations quite a lot, also for his own books.
In 1940 he got an opportunity to paint the 'Sangeetha Mummoorthys', Saint Thyagaraja, Muthuswamy Dikshithar and Shyama Sastri. Since then his version had become the accepted norm for the portraiture of the three great composers; Rajam had done a number of them from a very small to a large scale. It was not as if he could not paint realistic portraits; he had done them following the academic style. His specific style was a deliberate decision, based on many rules given in the Chithrasutra of Vishnudharmottara, the Sanskrit treatise on Indian art. For him the ideal was more important that the real.
In his water colour paintings he followed his own technique too applying a layers of transparent and opaque colours; the whole thing would be given a water wash, often even dipped in water after one coating. After it dried another layer of colour would be applied, thus achieving a beautiful translucency. He has painted a whole range of subjects based on our Puranas, Ithihasas and Carnatic music. His illustrations of Swara Devatas are unique. He had understood the importance of line in art, which was an important aspect of Indian tradition of art. In fact the Madras School is known for the strength in line. His line drawings are very clear, graceful and delicate; a standing example for this is the letter pad he had printed with themes on music, which he used to gift to friends and which were also on sale.
Lalitha Ram could play a few recordings of Rajam's speech and his singing at different stages of his life. His book on the veteran is expected to be published soon.
Personally I feel that if there was one person who deserved the title of Sangeethakalanidhi it was S.Rajam, which strangely was not conferred on him.

About
Sabhash
- Everything about classical music, dance, drama and a platform for inclusive entertainment
Sabhash.com is the one-stop destination for the latest news and information on the performing arts of India - classical music and dance, theatre, bhajans, discourses, folk performances, and other lesser known art forms. Institutions that revolve around the performing arts have exploded in numbers, and thanks to the Internet which has made information easily accessible, the number of rasikas has grown too. Corporate patronage has played a big part in increasing the world-wide reach of the Indian arts. Sabhash wishes to be a platform for inclusive growth giving an equal opportunity and recognition to not only the main performer but also the artistes who accompany them on stage, and the people who work backstage and play the role of unsung heroes.