Sounds different Eh
30 August, 2012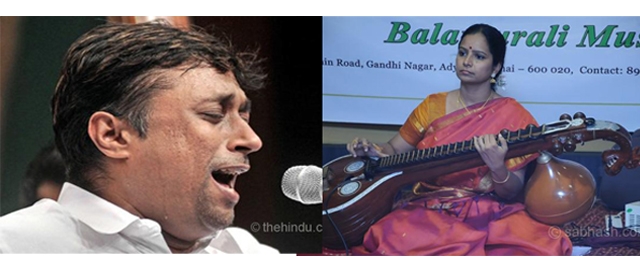 - contributed by aarvalan
On 24th August I had the fortune of listening to a veena concert by Jayanthi Kumaresh. I was destined to listen to an RTP in Saraswathi. It was, in fact my request. I mean the main raga. Then, what is special about Jayanthi? Imagination, boundless. And all of SB's (that stands for S Balachandar, the genius nonpareil) best would be presented as its melodious best.

And again what I have found special in her is this: swara avarthanas, swara combinations would flow without a flaw. While this is true, when she arrives at the pallavi or the anupallavi as the case may be, the original pace and that unique sanctity of that particular sahithya would be produced faithfully, and kept intact. I have observed this time and again of her. I used to wait for this. This came as an enlightenment to me years back in Sastri Hall, when she gave a sweet round of swaras for Maravakave O Manasa, in Sama, for the pallavi.
The line still is appropriate as it constantly keeps reminding me of this particular feature of hers.
The pleasant shock of that evening, of course, was the inclusion of Bindumalini in the ragamalika swaras. Believe me it was the first raga in the line-up. I very well remember Sanjay beginning his set of swaras with the raga Kapinarayani, at Bharath Kalachar.
What confidence levels both have attained! E-Swar's Ramji was by my side and he clutched my hand with an expression "Ah!", when Sanjay did this.

About
Sabhash
- Everything about classical music, dance, drama and a platform for inclusive entertainment
Sabhash.com is the one-stop destination for the latest news and information on the performing arts of India - classical music and dance, theatre, bhajans, discourses, folk performances, and other lesser known art forms. Institutions that revolve around the performing arts have exploded in numbers, and thanks to the Internet which has made information easily accessible, the number of rasikas has grown too. Corporate patronage has played a big part in increasing the world-wide reach of the Indian arts. Sabhash wishes to be a platform for inclusive growth giving an equal opportunity and recognition to not only the main performer but also the artistes who accompany them on stage, and the people who work backstage and play the role of unsung heroes.