Dr. Pinakapani is 100. Day-long celebrations at KGS
31 August, 2012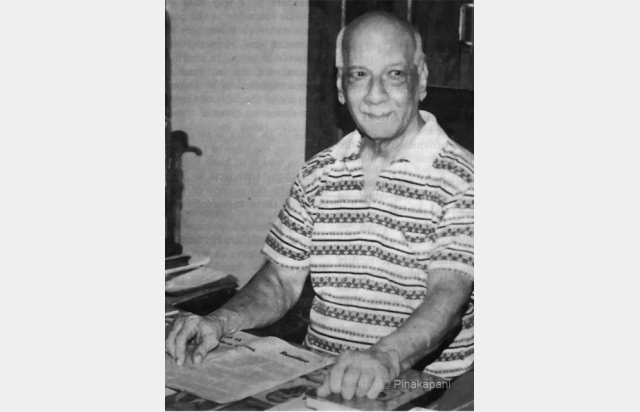 -by aarvalan
(aarvalan56@gmail.com)
Last Saturday a towering musical personality entered his 100th year- Dr. Sripada Pinakapani. He was remembered with much awe by two front ranking disciples of his, Nedunuri Krishnamurthy and Malladi Suribabu. Malladi Suribabu is the father of the Malladi brothers and learnt music from both Pinakapani and Voleti Venkateswaralu. Pinakapani was the guru of Srirangam Gopalarathnam also.
It was a day-full festival and was held at Nalli Gana Vihar, Krishna Gana Sabha(KGS). First came a documentary on Pinakapani produced by Mala Mohan, all by herself, that was as lively as its protagonist, Sri Pinakapani. It had an interesting bag of the experience Pani had had, both with himself and with others. Pani as he was fondly called was a doctor by profession ("singing doctor"), a musician by his own choice, a body builder and a tennis player to some. Well! What was he not? Strangely enough, Pani initially thought this kind of music was meant only for "ladies". Later he happened to correct his sister when she struck a wrong note, and then was born a musical genius. His talent and abilities won accolades from stalwarts like violinist Chowdaiah, Mudikondan Venkatrama Iyer and many such. He won the Sangeetha Kalanidhi award of the Music Academy in 1983 and the Padma Vibushan in 1984. All these and more were graphically presented to perfection in this documentary that had been made with abundant care and feeling. Pani has also authored many books on Music and notated as many as 1,000 krithis of various composers. Annamayya's compositions, he held close to his heart and had tuned as many as 108 of them. Flowing musical excerpts of his, the documentary presented in a sumptuous measure. At the end one was left wondering whether Voleti sang like Pinakapani or Pinakapani sang like Voleti.
What followed was a presentation by a group of students, - Vasavi, Nagalakshmi, Shraddha Mohan and Sowmya Sri - who delighted the audience with some compositions of Annamayya. A varnam of Dr. Pinakapani was sung to start with. Akkarai Swaranalatha (violin) and Arjun Ganesh (mridangam) were in-team.
Malladi Suri Babu then spoke of his "living" with Panigaru. Pinakapani is a synonym for Patanthara which and only which, could pave the way to take you to ineffable alapanas and kalpanaswaras. The first krithi he had learnt directly from Pinakapani in 1984, was "Sathatham Taavaka" (Swathi Thirunal, Karaharapriya). SuriBabu sang it for the audience. As SuriBabu sang only with the Sruthi and without any other accompaniment, it put one through a unique experience. Remember MS had sung many times with the sruthi alone! SuriBabu said Panigarau had mastered the art of singing alapanas commencing from the middle swaras, not the adhara shadjama showing his penchant for innovation.
A panel discussion was also held to trace the "bhani of Pani." It was more like a Q & A session where questions were directed to Nedunuri Krishnamurthy by the other panelists, viz. Spencer Venugopal, Suribabu, the Malladi brothers and Prabhu, Secretary of KGS. "Did Pani's voice sound at times like that of the veena?" Nedunuri repeatedly asked himself this question.
A CD conceptualized and made by Mala Mohan, "Sathavasantham", of a memorable concert by Dr. Pinakapani held in 1984 at The Shanmukanandha Hall (Mumbai) was also released. The accompanists then were, M Chandrasekharan(violin) and Palakkadu Raghu (mridangam) .
After all this, Nedunuri took one to great aesthetic heights as he gave a lec-dem cum concert. What stamina and what breath-control! He seemed virtually unstoppable. Compositions of various vaggeyakaras were sung with exceptional vigour. Yes - Age cannot wither nor custom stale His infinite variety: others may cloy the appetites they feed: but he makes hungry where most he satisfies. (Partly Shakespeare and partly mine). Nedunuri was in the company of the Malladi brothers (vocal support), H N Bhaskar (violin). K V Prasad (mridangam) and Guruprasad (Ghatam).
Please click: http://www.sabhash.com/music/events/595/sri-krishna-gana-sabha---57th-gokulashtami-sangeetha-utsavam.html

About
Sabhash
- Everything about classical music, dance, drama and a platform for inclusive entertainment
Sabhash.com is the one-stop destination for the latest news and information on the performing arts of India - classical music and dance, theatre, bhajans, discourses, folk performances, and other lesser known art forms. Institutions that revolve around the performing arts have exploded in numbers, and thanks to the Internet which has made information easily accessible, the number of rasikas has grown too. Corporate patronage has played a big part in increasing the world-wide reach of the Indian arts. Sabhash wishes to be a platform for inclusive growth giving an equal opportunity and recognition to not only the main performer but also the artistes who accompany them on stage, and the people who work backstage and play the role of unsung heroes.