Manakkal Rangarajan touches 90, today.
13 September, 2012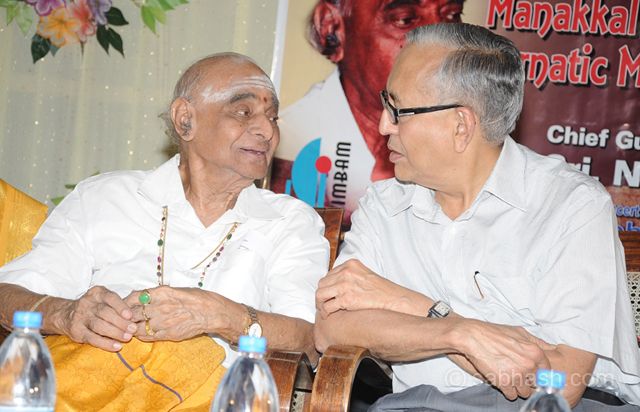 - contributed by aarvalan
Sabhash.com celebrates this occasion by carrying a write-up about a documentary on him.
Our Namaskarams to the Great Master.
Could Ninnuvina Namadendhu, the Navarasa Kannada krithi, a Mali special, be sung vocally? Will it take off at all? Listen to Manakkal Rangarajan and don't say you were not baffled!
Manakkal Rangarajan is a name associated primarily with briga sangathis. He dared to take up songs that were in the exclusive domain of instrumentalists, and made bold to present them vocally. Such was the felicity of his voice. But he never compromised on bhava which forms the basis of our carnatic music.
A documentary on this vidwan - titled "Carnatic Musician of the Era" was screened at Alliance Francaise auditorium, Chennai last Sunday. Made with fine cinematic sense by Amshan Kumar this film captured some moments in his life, his performances, his private renderings and few of his classroom sessions. Scores of vidwans told us through this film how he was a genius extraordinaire. While T K Govinda Rao mentioned how a concert of Manakkal started at 9.30 p.m. and extended well into the small hours of the morning, TVG recalled how he could give non-stop concerts without any sense of fatigue. Varnam had to be sung in 4 tempos. Manakkal had implicit control over his own performances, TVG added. Voice- researcher Dr. S A K Durga called his voice a matchless one and T N Krishnan talked of his long association with Manakkal that extended for a period of over 70 years. Kunnakkudi's age was ten when he listened to Manakkal for the first time. Narmadha was stunned by Manakkal's unique ability to sing in 3 sthayis. Other musicians who were enthralled by his music were T K Murthy, Suryaprakash, Nandini Muthuswamy, Gnanadesigan, TM Krishna, Swamimalai K Manimaran. For Chitravina Ravikiran there was verve, energy and vitality in Manakkal's music. (The list is only illustrative and not exhaustive by any means.)
The documentary took us to his place, Manakkal. It showed his ancestral home. One could see the pial (thinnai) where he used to practice - hours on end. Born to Seethalakshmi Ammal and Santhana Krishna Bagavathar, on September, 13th 1922, Rangarajan was the last of the five sons. Padma his wife, said with unique pride that theirs was a love-marriage. They were married in the year 1958. Padma is the daughter of noted writer Thumilan. Manakkal used to hold practice sessions for her and would suddenly disappear if she faulted on a sangathi. Alathur Subbayyar got entranced by his voice and so did Chembai. He was awarded the title Sangeetha Simham by Chembai who understood the fact that Manakkal had the ability to traverse both at 5 kmph and 50 kmph when it came to vocal rendition.
The film also showed us a special nostalgic session he had with the pioneer on the clarionet, AKC Natarajan and how they were competitive only in terms of vidhdhai but great friends personally. There was an abiding sense of camaraderie in their talk. Both had started singing at the age of 15/16 and continue to perform till this day. Both had to come up against odds and in the face of stiff competition that had existed then. For Nandini Muthuswamy there was a distinct flavour in his kampitha gamaka in Begada, as he hovered around the madhyama. That he could handle Hindusthani ragas in their own style, Brindavana Saranga for instance, was given to us, courtesy Kulkarni, the mammoth gatherer of music. Manakkal's son Sriram explained how on one occasion his father was able to clinch the attention of the audience, when he had to perforce sing after M S. at Thiruvayyaru. Manakkal unleashed Nenarunchinanu, Vararagalaya, Ninnuvina and Sarasasama Dhana in quick succession. Then to crown it all he turned back and asked how much time was left for him. As he came before the mike, Thelisi Rama had commenced. A shower of quick-silvers, if you like. Should I add here that the audience were spellbound and had stayed put! (Manakkal had sung at Thirvayyaru Aaradhana for the past 75 years without a gap and thus carries with him some positive musical vibrations.) Sriram further delineated and demonstrated how he built the raga and the krithi in a step-by-step fashion.
Manakkal in his own words says that he got his first major break when he sang for R R Sabha. "Rajamanickam Pillai excelled as a violinist and encouraged youngsters whereas Chowdiah was rather choosy." Both had accompanied Manakkal in many concerts. Cleveland Sundaram and Srinivasan of IFAS (Indian Fine Arts Society) remembered him with awe. For Srinivasan, Manakkal lacked "those self-propelling techniques." Prof T R Subramaniam (TRS) makes a critical comparison of GNB with Manakkal, though Manakkal belonged to a later generation. Did the GNB wave eclipse Manakkal? "May be" was TRS' answer. In the eyes of TRS, both Manakkal and GNB were "too much for their generation". It was not merely speed but innovations in speed that distinguished Manakkal's music - TRS opined.
Dr. Parameswara Iyer Ambikapathy has presented this film in association with Nada of London and Rasikalaya. It has been produced by R Pathmanaba Iyer. The producer recalled specifically how the song Rajarajeswari (Garudadhwani) invited Manakkal to experiment with special gamakas that were practiced hitherto on western instruments only.
The film also included happy remembrances from his daughter-in law, daughter and Manakkal's other family members. "When do you practice?", the director perhaps had ventured to ask Manakkal. Pat comes the answer "When do I don't". Chuckle 3 times! And then he slowly relents. It is 7 a.m. to 3 p.m., semi colon, 4 p.m. to 8 p.m. He had won many awards and the prestigious TTK award instituted by the Music Academy was one among them.
One observed that his hand gave a characteristic swirl while doing the dhrutham. He went on to make such statements: "One should always sing with Shraddai (can we say integrity). And deep feeling. Music is beyond everything. World will dance to it. There is no need for making compromises. Involve yourself fully. Its echo would be on the rasika who would come nearer to you. Nearest."
The credits: Camera - Senthil, Kumar, Madan Deva, Sound - Bala , Editor - Goutham, Graphics - Rajah
Two scenes, and there could be many based on each one's predilections and subjective experiences, stood out for this reviewer. One was stunning, the other gentle. The former was the speedy movement of the train, first the rails, then the surroundings, then the coaches, now flashing light and now hiding, with a grandeur as grand as the speed and music of Manakkal. Had the bullet train arrived long ago? The gentler element came when Manakkal sir and Padmaji get atop the swing (oonjal) and sing Sivan's song, Vandarulvai Muruga in Devamanohari. One's eyes were left moist. Reason? Love seemed endless and boundless for this couple and the amount of mutual respect one had for the other was truly exemplary. When you see such seniors lead such wholesome and holistic lives, you get the feeling that life is certainly worth living, again and again and again! The equanimity and grace that prevailed after the film, had to be felt to be believed.
Even this could be "joy forever for me" (Keats should excuse me here!)
DVD is available for a price of Rs.250/- Contact Director Amshan Kumar at 9884332244.

About
Sabhash
- Everything about classical music, dance, drama and a platform for inclusive entertainment
Sabhash.com is the one-stop destination for the latest news and information on the performing arts of India - classical music and dance, theatre, bhajans, discourses, folk performances, and other lesser known art forms. Institutions that revolve around the performing arts have exploded in numbers, and thanks to the Internet which has made information easily accessible, the number of rasikas has grown too. Corporate patronage has played a big part in increasing the world-wide reach of the Indian arts. Sabhash wishes to be a platform for inclusive growth giving an equal opportunity and recognition to not only the main performer but also the artistes who accompany them on stage, and the people who work backstage and play the role of unsung heroes.