Madras Youth Choir Remembers Writer R. Chudamani
01 October, 2012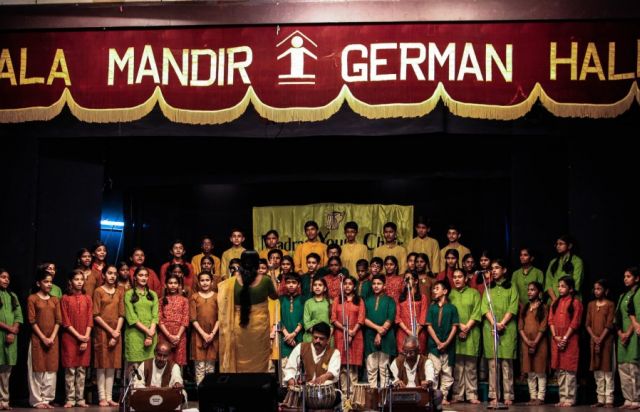 Maestro (Late) M.B. Srinivasan's Madras Youth Choir (MYC) struck the perfect chord yet again, when its members paid a musical tribute to the memory of eminent Tamil writer-painter-philanthropist R. Chudamani on the second anniversary of her passing away. Organised under the auspices of the R. Chudamani Memorial Trust, the event, "Remembering Chudamani", was held on 16 September 2012 at the Ramakrishna Mission Students' Home, Mylapore.
The programme was presided over by Dr. V. Irai Anbu, I.A.S, along with Dr. K.S. Subramanian, one of the founding members of MYC and himself a former student of Ramakrishna Mission Students' Home. Both Dr Irai Anbu and Dr Subramanian spoke about Chudamani's positivity in the face of her many personal tribulations; her sensitivity, commitment and concern for fellow human beings; and above all, how she 'walked the talk' of her writing in real life by donating all her wealth to charity. Incidentally, the Ramakrishna Mission Students' Home is the single largest beneficiary of R. Chudamani's generosity.
Young members of the Sub-junior wing of MYC (comprising children in the age group 6-9 years) then made their stage debut with a simple, delightful song on the building blocks of Indian music titled "Sa sa sa endru shadjamathil paadu". This was followed by Subramania's Bharathi's enchanting "Odi vilayaadu paapa" and the rousing "Jayaberikai Kottada", sung by members of the year-old Junior Choir (comprising children in the age group of 10-15) with just the right touch of fire and fervour. The repertoire of the Senior Choir, which performed next, included Bharatidasan's poignant "Amma unthan kai valaiyaai aaga mattena"; the sombre "Paadhai mudiyum munne"; the complex, dazzling "Raga thala bhava sangamam" in ragam Rasikapriya; the insightful, unsentimental "Ullathile oonamillai engalukku"; and a grand finale that seamlessly wove Bharatiyar's philosophical "Thedi choru nitham thindru" with his spirited anthem "Achamillai achamillai."
Each of these songs was introduced by D. Ramachandran, Secretary, MYC, and contextualised with a particular watershed in R. Chudamani's own life, and this lent a special resonance and meaning to the renditions themselves. The thoughtful selection, the meaningful lyrics and the pitch-perfect performance of all songs was proof once again that music, when sung with conviction and hope, can indeed be the most eloquent expression of thanksgiving, respect and remembrance.
MYC invites children to join its newly-formed Sub-junior wing. Practice sessions are conducted every Saturday from 2 to 3 p.m. at Bala Mandir School, Off G.N. Chetty Road, T. Nagar for both the Sub-junior and Junior Choirs, and every Sunday from 3 to 6 p.m. at Children'sGardenSchool, Mylapore for the Senior Choir.
Plans are also afoot to launch an exclusive choir for college students. For further details, please call Gayathree Krishna at 94440 49492 or Kalavathy Krishnamoorthy at +91.94449.30517.

About
Sabhash
- Everything about classical music, dance, drama and a platform for inclusive entertainment
Sabhash.com is the one-stop destination for the latest news and information on the performing arts of India - classical music and dance, theatre, bhajans, discourses, folk performances, and other lesser known art forms. Institutions that revolve around the performing arts have exploded in numbers, and thanks to the Internet which has made information easily accessible, the number of rasikas has grown too. Corporate patronage has played a big part in increasing the world-wide reach of the Indian arts. Sabhash wishes to be a platform for inclusive growth giving an equal opportunity and recognition to not only the main performer but also the artistes who accompany them on stage, and the people who work backstage and play the role of unsung heroes.