The Doctrine of Thyagaraja : Smt. Vedavalli shares her Svanubhava
16 October, 2012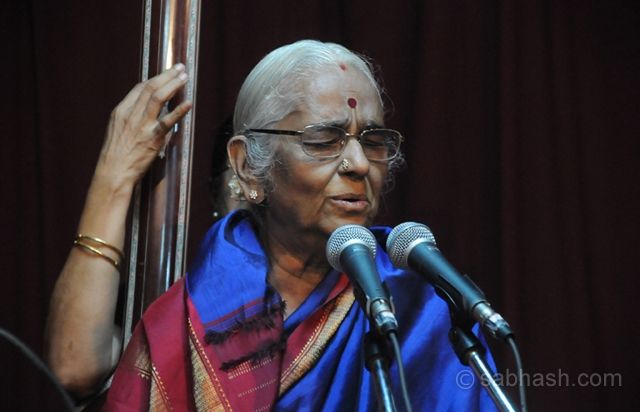 Smt. Vedavalli shares her Svanubhava
Smt. Vedavalli made an unusual confession as she began her session. She proposed that the day's presentation would be neither a concert nor a kathakalakshepam nor a harikatha. That apart, it would only seek to bring out her experience, the svanubhava she had had undergone, while "living through" an amazing range of Thyagaraja Krithis.
The stage itself was studded with her students - Sumithra Vasudev, Aarathi and Archana sisters, Dhaarini and Rathipriya. Each one of them rendered a krithi that was chosen and allotted to them.
Dilip Veeraraghavan remembered
Smt. Vedavalli remembered Sri Dilip Veeraraghavan, on this occasion, in whose memory this lec-dem was arranged by Nadha Inbam, at the Ragasudha Hall. She called him a rasika of immense stature (uththama rasika). Though 3 years have gone by since his passing away, his loss still remained irreconcilable to many. "That includes me too", she said. Dilip was well known and valued as an authority in his own discipline. Vedavalli recalled: "Retaining his anonymity, Dilip had made several requests to me over the phone for the inclusion of particular songs in my concerts." She had kindly obliged him.
Sadgurus Krithis
Talking of Sadgurus krithis, which was the subject proper, she said that they offered infinite scope for exploration. Each one of them deserves to "be chewed and digested ; to be sung/ read wholly, with diligence and attention." (Francis Bacon to excuse me for omitting the other prescriptions/proscriptions of his.). One cannot say with an air of finality about the Sadguru's views or perspectives. "Whatever I have understood over the years, I only wanted to share with rasikas". Was she making an understatement?
The Trinity
Vedavalli here made mention about the individuality maintained by each of the three colossuses who strode the world of music. If Shyama Sastri could engage himself in a one to one conversation with the "Devi" (remember Bharathi's own Kannamma? Who or what was she? - this thought is mine), Dikshithar was known to the world as a Srividya Upasakar. His songs on deities and places of worship in which they reside, virtually told us stories about the particular sthalam. It was sheer kshetrapuranam and could by itself, become the guide map to that area. The Sadguru, and that was the manner in which Thyagaraja was addressed, displayed a variety of emotions in his songs. He was with Rama and Rama was with him on a 24X7x365(366) basis.
Pancharathna Krithis
Infinite number of "aradhanas" are organized these days and people chant his Pancharathna krithis. Are listeners aware that each one of them are statements of self-curse made by Thyagaraja? She then took time off to explain the meaning of the song Dudukugala (Gowlai) to substantiate her argument. She wondered whether the Sadguru would have been as bad as he had depicted himself to be. He was the one who had carved the path to moksha through sangeetha upasana. He was the one who had announced to the world, that mere singing, nay mere listening, would assure one of an exalted status, both in this world and the other.
All embracing, infinite variety and the very definition
Did he leave out any dimension (paarvai) unseen in his songs? No. His rich musical experiences, life's unparalleled moments, oozed out through his songs. He had portrayed the entire dasavathara (ten avatharams) through his songs. His krithis, thus defined in certain terms what a krithi ought to be. His handling of ragas was on a par with his proficiency in music. He was devotion personified as he sung these krithis. They had both lakshana and lakhshaya aspects built into them. It is said that a vaageyakara should take responsibility for both the lyrics (sahithya) and the tune. He reached unattainable zenith points, on both of these.
World awareness, not too many words and the use of local dialect
And what is more! He was never oblivious to the happenings around him. He had in him that unique world consciousness (loka sradhdhai). His erudition was of the highest standards. He was a polyglot. Vedavalli continued to say that a keerthana should not be burdened with too many words, tending to be verbose. The ultimate idea is that these have to be sung. All songs of his, especially those that are set to two kalai are never imposed with words. You can enjoy the "kaarvais". Did the lyrics match the notes or was it vice-versa? Probing these would leave us in a state of bliss. Yes. He was well aware of and put to use terms from the local dialect. Examples could be cited in plenty. (If you take up Sakkani Raja Maargamu the Anupallavi has the line "Ganga Sagara Mele" which in local parlance would mean the despicable toddy. The poet-composer asks thus: "Why do you go in search of such stuff, when wholesome milk is available?", in this song.) Yes. His compositions were extempore, came as outpourings and were composed and sung here and now. Yes. He was truly an uthamothama vaageyakara. (A pundit among composers). His krithis had to be sung wholly if you desire to obtain their full meaning and realize their profundity.
Kharaharapriya
All of us know that he assigned the raga Kharaharapriya a special status, which continued after him. This thus became a tradition with Konerirajapuram and Papanasam Sivan. She remembered another song in Kharaharapriya viz. "Mithri Bhagayame". "Lakshmana is fortunate enough to be by your side and serve you, O Rama! He is also enjoying certain "riches". Rama, who has been worshipped by Thyagaraja, has made songs in rare ragas. Lakshmana again is lucky enough to serve the self-same Rama who is in cloud nine as he is listening to the krithis of Thyagaraja. What vicarious thrills for Thyagaraja! He narrates to us Lakshmana's state of mind and the privileges he is enjoying.
Was he a performer? - Thodi raga and Nadopasana
In reality Thyagaraja had performed concerts, but later he chose to traverse the bhakthi-way-of-living and his priorities got changed. Understandably so. Isn't it glorious that in the raga Thodi, the song count is about 30. There is not a single rasa that has been left untouched by the saint, in these Thodi krithis which bear the many stamps of this raga. Then he talks of Nadopasana in the krithi Sangeetha Sastra Gnanau (Mukhari) and also mentions in an exhaustive manner what are the benefits that would accrue, on acquiring Sangeetha Sastra Gnanam. Highlighting how Rama had a desire for Nadha (Nadha Loludai - Kalyana Vasantham),Vedavalli offered an explanation saying that one needs to forget oneself and get immersed in this Nadha and obtain Brahmanandam through it, as sangeetham is seen to be a crowd of ragas and the joining of the seven swaras that make each musical experience as sublime as the other. In Mokshamu Galadha (Saramathi - You should listen to it being played on the Nagaswaram by Namagiripettai Krishnan - comment, mine) he is able to tell us the scientific manner in which sound gets produced. In fact he tends to ask in Sogasuga (Sriranjani) where is the person, where is the most able person who could beguile you with a combination of that lilting sukham from the swaras and the fine sound and tala from the mridangam? Wasn't he the protagonist?, we are inclined to ask. In another song the Sadguru says that each song should contain the quintessence of the Upanishads. He has sung about Thiruvayyaru and the flowing Cauvery river. The whole place (Thiruvayyaru) was reverberating with Vedha Gosham, he says.
Raga Mukhari and a Proper Understanding of Krithis
Vedavalli took an interesting aside and sought to dispel certain wrong notions about the raga Mukhari. It is held to be an exclusive pathos-raga. She reminded rasikas about the lovely krithi, KaruBaru in this raga which praises the rule of Rama, which is devoid of anything remorseful. On the krithi Thelisi Rama Chinthanatho, she wondered how many of us have bothered to dwell on the song's meaning. The song says, for instance, that the word Rama could mean the real Rama or a woman. What do you wish to orient yourself with? The supreme or the other, he(she) ventured to ask. The song Nee Padha Pankaja (Begada) calls Rama's feet as the incarnation of the lotus flower. "But it was also otherwise capable. These were the feet that relieved Agaligai of the curse inflicted upon her; these were the ones that gave Dundhubi his real destiny; these are those noble feet that your Thyagaraja is firmly holding on to."
The Sadguru he was, he himself had accorded an unimpeachable status to the concept of the Guru. Guruleka Etuvanti (Gowri Manohari) comes to one's mind immediately. He had treated sage Naradha as his Guru and had sung many krithis in praise of him. When it comes to the many margas of bhakthi, Thyagaraja has handled each one of these in separate krithis. He had also composed many krithis for the common, the unlettered. While the Utsava Sampradaya Krithis were supposedly sung when he performed puja at home, the Divya Nama Krithis had many charanams which had similar tunes. These were the sing-by-all category. In singing these, all and sundry could involve themselves heartily.
Ultimately.....
But the Sadguru had also made an ultimate statement regarding Gnanam in the song, Seethavara Sangeetha Gnanamu (Devagandhari). "The creator Brahma should have written it on your forehead even before you were born into this world. Then and only then, will music reach you and you can think of Jeevan Mukthi as your final destination".
One kept wondering! Did the evening belong to the Sadguru or to Mrs. Vedavalli?
Vox populi!
by aarvalan (aarvalan56@gmail.com)

About
Sabhash
- Everything about classical music, dance, drama and a platform for inclusive entertainment
Sabhash.com is the one-stop destination for the latest news and information on the performing arts of India - classical music and dance, theatre, bhajans, discourses, folk performances, and other lesser known art forms. Institutions that revolve around the performing arts have exploded in numbers, and thanks to the Internet which has made information easily accessible, the number of rasikas has grown too. Corporate patronage has played a big part in increasing the world-wide reach of the Indian arts. Sabhash wishes to be a platform for inclusive growth giving an equal opportunity and recognition to not only the main performer but also the artistes who accompany them on stage, and the people who work backstage and play the role of unsung heroes.