The Magic works again
31 December, 2013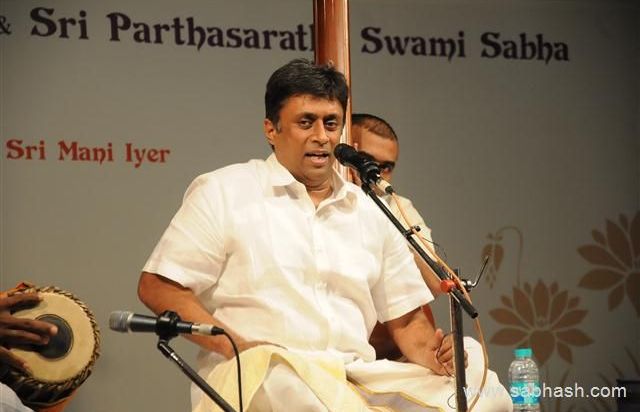 - Janaki Lakshman

Sanjay Subramanian's concert at Parthasarathy Swami Sabha, on December 30 with Nagai Muralidharan(Violin) Neyveli B Venkatesh (Mridangam)and Alathur Rajaganesh(Ganjira)
Sanjay's concerts whip up a great amount of anticipation,expectations and excitement,and the heartening factor is that almost always he delivers what is expected from him. Each of his concert has something novel ,some unexpected treat,some particular Raga being dished out of oblivion,dusted polished to perfection,and presented to the Rasika like a dazzling diamond set in a fine piece of jewelry. His Aalapanas are inspiring too where he helps us see the Raga in a totally new colour, gliding over Sancharas hitherto unknown or never thought of.
And no need to mention his repertoire,be it rarely attempted Krithis by the Saint composer,or some unheard Swathi Tirunal krithis, compositions from Thamizh religious literature...each acquire charm and glory at his hands and served with great fervor.
His concert for Parthasarathy Swami Sabha on 30-12 -13 too did not disappoint his ardent admirers. Starting the recital with a Varnam maguva Ninne in Narayanagowlai he played true to his reputation. Brochevarevare in Sriranjini came with a frenzy of heady Kalpana Swarams . After this I observed my neighbor write "Ferocity" in a piece of paper and hand it to his wife sitting next to him!
An Alapana in Begada showed flashes of his genius that could make the ordinary sound so grand! He sang Dikshithar's Thyagarajaya namasthe and did a brilliant Neraval at Kathyayani pathe Pasupathe Simhasana pathe paying attention to the diction,topping it with some great Swarams too! Kadai kaNN nOkki Kavaadhadhumeno in Thodi came without any Raga prelude. Papanasam Sivan's lyrics and Sanjay's earnest way of rendering! What else would the listener ask for!

After this Sanjay presented a Kedara gowlai Aalaapana. It is blasphemy to simply call it an Aalaap.The celebrated Nadaswaram Bani came alive in this. The long winding Pidis giving way to more long winding Sancharas came one after the other. It was as if the Devatha of Kedaragowlai was bedecked with fine ornaments, celebrated,being taken out in procession. The glowing lamps on the way throwing light on to her form, bathing her features with brilliance and bringing out her exquisite beauty in detail.... so that the devotees could have a vision of her grandeur from every angle possible. Nagai Muralidharan's version of tha Aalaapana proved his mettle as a veteran Violinist who has accompanied great stalwarts of yesteryear at his very young age. Saraguna Palimpa by Poochi Srinivasa Iyengar was the composition chosen for the evening. The Kalpana Swarams were at the Pallavi and the kuraippus at Panchamam were very absorbing. A thunderous Thani was played by Neyveli B Venkatesh and Alathur Rajaganesh. If Sanjay's singing has influence of the Nadaswaram Bani, B Venkatesh complemented it by playing in Thavil Bani!

Next came Vidhisakradulaku in Yamunakalyani which is not very commonly sung. In this Krithi Thyagaraja describes the splendor of the Sevas to Mother Dharmambika on Friday at Panchanadapuram (Tiruvayyaru) Now it is time for the much awaited main course RTP. Sanjay chose Manavathi which is the 5th Melam. He announced it as 11 but his disciple pointed out subtly that it was not,and the singer corrected himself,and jocularly asked him 'am I at least singing the Ragam correctly or is it wrong too!' The Pallavi was in Misra Chapu Thalam with Eduppu after 4 aksharams. Manavathiyaai Iruppaai...Parama sukha Gnanavathiyai Ninaippaai maname was the words. He executed the Pallavi efficiently and went on to sing a delightful Ragamalika Swaram in Thandavam,Andholika,Panthuvarali and in the end glided on to a composition in Panthuvarali (Adi Thalam )Nithhiraiyil Soppanathhil by Ghanam Krishna Iyer to the surprise of the audience !

Srirangam Ranganathar Thudhi Onrum marandhariyen was rendered in his own inimitable way as Viruthham in Kambhoji,Kalyani, Sindhu bhairavi, and he ended the exercise by singing a Krithi on Parthasarathi at Thiruvallikkeni. Sanjay Subramanian's Thamizh renditions have a charm of their own. While most singers keep the open book or I Pad in front of them even for Varnams, he is the one sings from memory, sings from his intellect, sings from his heart. His impeccable diction is one of his many strengths. Another typical unforgettable classic evening from Sanjay Subramanian!

About
Sabhash
- Everything about classical music, dance, drama and a platform for inclusive entertainment
Sabhash.com is the one-stop destination for the latest news and information on the performing arts of India - classical music and dance, theatre, bhajans, discourses, folk performances, and other lesser known art forms. Institutions that revolve around the performing arts have exploded in numbers, and thanks to the Internet which has made information easily accessible, the number of rasikas has grown too. Corporate patronage has played a big part in increasing the world-wide reach of the Indian arts. Sabhash wishes to be a platform for inclusive growth giving an equal opportunity and recognition to not only the main performer but also the artistes who accompany them on stage, and the people who work backstage and play the role of unsung heroes.