Concert by Kunnakkudi Balamuralikrishna, Sherthalai Ananthakrishnan, Sanjeev, Venkataraman
02 January, 2014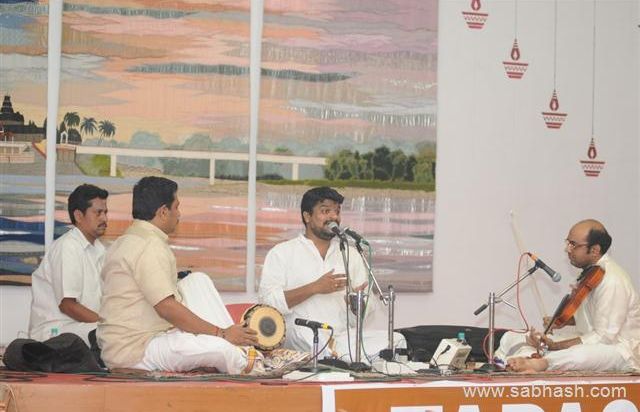 - by Janaki Lakshman
Kunnakkudi M Balamuralikrishna is a youngster who showed great promise at a very young age. Under the tutelage and guidance of Sri P S Narayanaswami he bloomed into a fine musician, never compromising on classicism and Sampradayam. His singing has an intensity that is also conveyed through his animated body language,and when his voice is not co-operating with his musical intellect the frustration invariably shows through.
His bad voice condition that day did not mar the performance quality thanks to the rigorous training and his musical genius. Starting his concert at Tapas Academy on 27-12-13 with a Bhairavi Ata Thala Varnam Balamuralikrishna he laid a strong foundation for what was going to come as RTP, adhering to the tradition of singing the Varnam in the same Ragam as that of the day's Pallavi.
After a brief Kedaragowlai Aalaap he sang a Thiruppavai,and Mari Vere gathi in Anandabhairavi that came next sounded very pleasing to the senses. He did not leave any Swaram or Sancharam unevoked and the total effect was so powerful and intriguing. Naganandini is the 6th Ragam in Bana chakram(5th) ,also known as Nagabharanam in Dikshithar school. Satthaleni Dinamu Vachana is a lovely Composition by Saint Thyagaraja. Balamuralikrishna sang an extensive and exhaustive Aalaapana in this with remarkable ease, bringing out the beauty and ethos of this Ragam. The Swarams were to the point and full of spirit and vigor. Sanjiv played in a very supportive manner and his Raga and Neraval essays were scholarly.
Now was the turn of the Pallavi for the evening, which followed an elaborate treatise on the mighty Bhairavi. The Pallavi was set to Chatusra Jathi Rupakam in Khanda Nadai.(The Rupakam was done in reverse with the Laghu coming first,followed by the Drutham.)Kumara Guruparane Guhane Karunakarane started after one Aksharam. He rendered it well with the Thrikalam, Anulomam and Prathilomam exercises well executed,which again is a casualty these days,with Pallavis reduced to nothing more than a mere ritual. Singers excel in long winding Ragamalika Swarams after Pallavi but very few attempt the technical adventure! Even many veteran artists are guilty of this. The Thani played by Anantha Krishnan on the Mridangam and Vankataraman on the Ganjira was proof to the fact that loudness does not necessarily make good music. Their playing was very subdued and aesthetic.
The recital concluded with a kapi composition by Ambujam Krishna Aravinda Padamalar Nogumo. A neat concert.
If Balamuralikrishna gives his voice some well deserved rest it would stand him in good stead. Like the saying goes,there is no picture without the wall. He might as well make an effort to preserve and cherish it well so that he can enjoy a long innings of many more decades of great singing,with his Vidwat and excellent training.
For more photos : http://www.sabhash.com/music/events/6344/tapas-academy-of-fine-arts.html

About
Sabhash
- Everything about classical music, dance, drama and a platform for inclusive entertainment
Sabhash.com is the one-stop destination for the latest news and information on the performing arts of India - classical music and dance, theatre, bhajans, discourses, folk performances, and other lesser known art forms. Institutions that revolve around the performing arts have exploded in numbers, and thanks to the Internet which has made information easily accessible, the number of rasikas has grown too. Corporate patronage has played a big part in increasing the world-wide reach of the Indian arts. Sabhash wishes to be a platform for inclusive growth giving an equal opportunity and recognition to not only the main performer but also the artistes who accompany them on stage, and the people who work backstage and play the role of unsung heroes.