R K Srikantan 94th Birthday Celebrations
15 January, 2014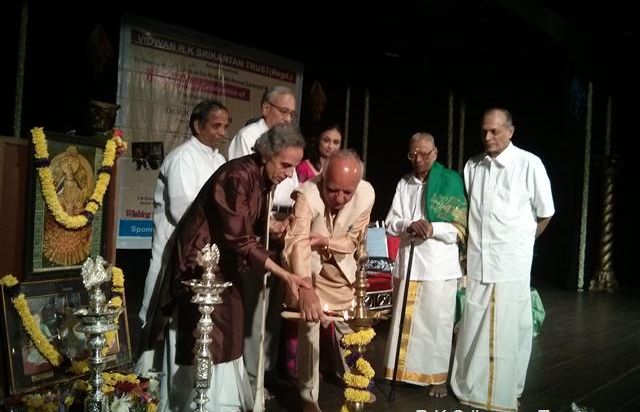 - Venkatesh A R
It is auspicious to invoke the year 2014, the Carnatic music way, with R K Srikantan Trust's Annual Makara Sankaranti Festival, celebrating 94th Birthday of Sangeetha Kalanidhi Vidwan Sri R K Srikantan.
Vid Sri R K Srikantan is fondly referred as 'Semmangudi of Karnataka'.
He is a Living Legend at 94, still actively giving concerts, teaching. His lineage from Rudrapatnam, a quiet place in Karnataka is huge. On his 94th Birthday, meeting the Guru and take his blessings was really special. It was also an occasion to release his Autobiography along with a CD.
The dais was decorated by Connoisseurs of Carnatic Music, Sri N Murali, President of Madras Music Academy, Cleveland Sri V V Sundaram, Sri N S Krishnamurthy, Retd Director of AIR, Prof Balasubramanyam, Principal of RLV College of Music & Fine Arts at Tirupunithura along with Veteran, Living Legend Sangeetha Kalanidhi Vid Sri R K Srikantan.
Smt Ranjani Govind of The Hindu had the pleasure and delight of writing Legend's Biography. The book was released by Sri N Murali, President of Music Academy and Joint Managing Director, The Hindu.

About
Sabhash
- Everything about classical music, dance, drama and a platform for inclusive entertainment
Sabhash.com is the one-stop destination for the latest news and information on the performing arts of India - classical music and dance, theatre, bhajans, discourses, folk performances, and other lesser known art forms. Institutions that revolve around the performing arts have exploded in numbers, and thanks to the Internet which has made information easily accessible, the number of rasikas has grown too. Corporate patronage has played a big part in increasing the world-wide reach of the Indian arts. Sabhash wishes to be a platform for inclusive growth giving an equal opportunity and recognition to not only the main performer but also the artistes who accompany them on stage, and the people who work backstage and play the role of unsung heroes.