Showcasing Swati Tirunal krithi's beauty
15 January, 2014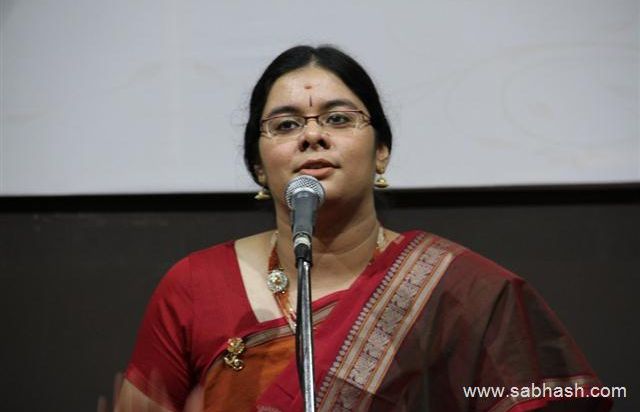 The only performing disciple of Prince Rama Varma, Amrutha Venkatesh sang for an hour and forty minutes. Though short, it had all the ingredients of a wholesome concert. Enriched with delectable krithis, she impressed the audience with a variety. The Bhavan's mini hall, full for a 5pm concert on a working day speaks for itself.
The main krithi was Aradhyami, a navavidha bhakthi krithi in Bilahari - a gem from Swati Tirunal, sung with total involvement. The alapana was vibrant and relaxed and the kalpanaswarams were a treat as well.
Earlier, Aadikkondar in MaayamaaLava gowlai gave the concert a majestic start, followed by a classic and solemn Budhamasrayami in Nattakurinji – a Dikshidar compositon. Enati nomu phalamo in Bhairavi was another enjoyable piece. A quick interlude Vara narada in Vijayashree raga was a good break.
The support she got from Karaikal S. Venkatasubramanian on the violin deserves praise. Arjun Ganesh on the mridangam added flavour.
She concluded her concert with a Thirupaavai in Sindhubhairavi. Ahir Bhairav Thillana of Dr BMK showed her prowess in singing and as well left an indelible effect on the rasikas.

Inputs: Bhaskaran Shivaraman
For more photos : http://www.sabhash.com/music/events/7283/twin-celebration-music-series.html

About
Sabhash
- Everything about classical music, dance, drama and a platform for inclusive entertainment
Sabhash.com is the one-stop destination for the latest news and information on the performing arts of India - classical music and dance, theatre, bhajans, discourses, folk performances, and other lesser known art forms. Institutions that revolve around the performing arts have exploded in numbers, and thanks to the Internet which has made information easily accessible, the number of rasikas has grown too. Corporate patronage has played a big part in increasing the world-wide reach of the Indian arts. Sabhash wishes to be a platform for inclusive growth giving an equal opportunity and recognition to not only the main performer but also the artistes who accompany them on stage, and the people who work backstage and play the role of unsung heroes.