Young Abhilash - Artiste, NexGen
17 January, 2014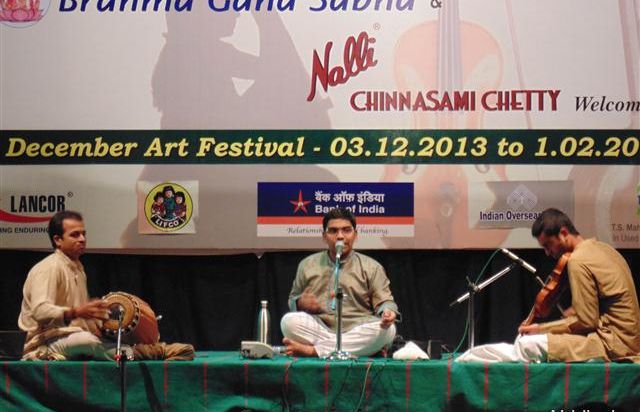 Abhilash is just 18. He presented music that had a recognizable maturity that belied his age. He exhibited exemplary nidhanam in singing the kriti Dwaithamu Sukhama of Thyagaraja (Rithigowlai). That he is too young to comprehend the dilemma that the Sadguru had faced and expressed through this song, is another issue. Abhilash gave all that he could to render this krithi at its most ideal pace. Earlier the breezy number, Sudha Maye Sudha Nidhi, made popular by GN sir, a song of Harikeshanallu Muthiah Bhagavathar in Amrithavarshini, was sung with enough verve. Imagination attained its peak when Abhilash got himself involved in offering various interpretations for the chittai swaram too, that comes with this song. The creative element in him also came to the fore when he presented kalapanaswaras for the kriti, yet again.
Bhajare Re Manasa of Mysore Vasudevachar was taken as the main item. This had a fulfilling alapana that was replete with lightning brigas that form part of this ragas syllabus. And long karvai sangathis that were presented were sung with amazing clarity - faultlessly with full alignment with the sruthi.
If Abhilash's voice lacks ghambiram (with a capital G), that often tends to linger as an after-concert experience, it is definitely acquirable. The world is wide open to him and he does know that listening is the key. (I have seen him attending many concerts - of many varieties and of many singers.). He is in the safe hands of a caring Guru. There is another moot point here - maybe he is going through the "voice-breaking and then settling ordeal", which male singers often face at this particular age. Time will tell.
Arun Ramamurthy on the violin served both as a guide and provided support to the extent required, never indulging in any overdo acts. His alapanas had both range and depth.
Guru Raghavendra on the mridangam, made his mark at many points. Particular mention needs to be made for his accompanying style for the Rithigowlai krithi and for adopting adept methods in following the chittai swaram for the Amrithavarshini kriti.
aarvalan (aarvalan@yahoo.com)

About
Sabhash
- Everything about classical music, dance, drama and a platform for inclusive entertainment
Sabhash.com is the one-stop destination for the latest news and information on the performing arts of India - classical music and dance, theatre, bhajans, discourses, folk performances, and other lesser known art forms. Institutions that revolve around the performing arts have exploded in numbers, and thanks to the Internet which has made information easily accessible, the number of rasikas has grown too. Corporate patronage has played a big part in increasing the world-wide reach of the Indian arts. Sabhash wishes to be a platform for inclusive growth giving an equal opportunity and recognition to not only the main performer but also the artistes who accompany them on stage, and the people who work backstage and play the role of unsung heroes.