Kuzhaloodhi manamellam kollai konda Jayanth
21 January, 2014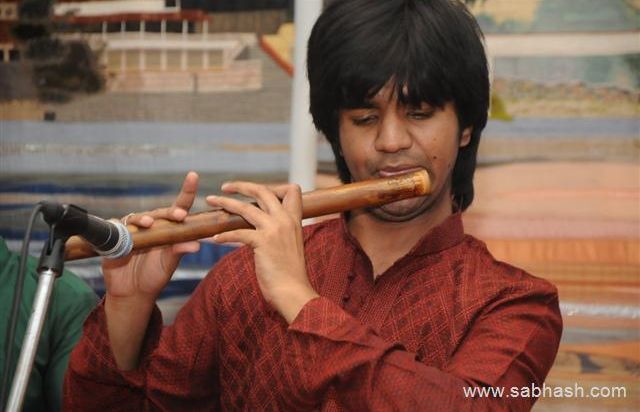 J A Jayanth's Flute concert for the 28th Anniverary of Sarvani Sangeetha Sabha Trust was mesmerising. The festival as such was dedicated to Saint Thyagaraja, and Jayanth showcased his rich repertoire with a lovely mix of the Saint's krithis.

The highlight of the concert was, how Jayanth went on explaining the essence, the importance of the krithis he played and the divine power possessed in them.

He began his concert with Manasaamana ( Vardhani) followed by a beautiful Nivaadane gaana in Saranga. Then the popular number, Maa jaanakee was taken up. The richness of Khambhoji in flute filled the air. Next was Jaanaki ramana (Suddha seemantini) and Ee vasuda (Sahana).

The main krithi for the evening was Thanayuni brova (Bhairavi) where he displayed his exquisite skills, as rightly pointed out by the organisers that Jayanth followed the tradition of the genius Flute Mali in his style. Jayanth later was expressing that he brought in a few of Rajarathnam Pillai's sangathis from Nadaswaram during the raga elaboration. The Swaram korraipu with korvai were intelligently executed. The note worthy, and a matter for praise was that he ended the Bhairavi raga alapanai with his double base flute. It was a portrayal of a bit of his multi tasking skills, and was a totally entertaining show, added to his style of handling the vadhyam.

The penultimate song was Naarayana hari (Yamuna Kalyaani) and the end piece for the evening was Vara Leela Gana – one of the 17 Notes of Saint Thyagaraja, as mentioned by Jayanth during his concert - where he made the audience literally dance to his flute by the finesse in his rendering. Marvelous piece indeed.

Jayanth was accompanied by B.Anantakrishnan in Violin, S J Arjun Ganesh on the Mrudangam and Sunil Kumar on the Ganjira

The concluding announcement was that, Jayanth so far has given over 800 concerts, not an ordinary task for an youngster of the age, and this is also a testimony to how far he will surely go!
Inputs - Bhaskaran Shivaraman

About
Sabhash
- Everything about classical music, dance, drama and a platform for inclusive entertainment
Sabhash.com is the one-stop destination for the latest news and information on the performing arts of India - classical music and dance, theatre, bhajans, discourses, folk performances, and other lesser known art forms. Institutions that revolve around the performing arts have exploded in numbers, and thanks to the Internet which has made information easily accessible, the number of rasikas has grown too. Corporate patronage has played a big part in increasing the world-wide reach of the Indian arts. Sabhash wishes to be a platform for inclusive growth giving an equal opportunity and recognition to not only the main performer but also the artistes who accompany them on stage, and the people who work backstage and play the role of unsung heroes.