Vyasarpadi Kothandaraman - Bhava Sangeetham at Nalli Nadhaswara Thavilisai Thiruvizha
30 January, 2014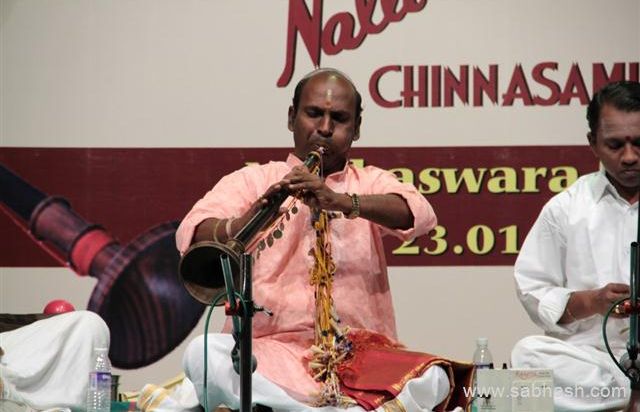 Nagaswara Vidwan Vyasarpadi Kothandaraman, was bestowed with the Amarar Kalki Memorial award in 2013 and as one listened to him at Sivagami Pethachi Hall one understood how well he had deserved it.
Kothandaraman teaches Nagaswaram at the Government Music College, Chennai and owes it to his Guru Latchappa Pillai who had given him this honour. As with all Nagaswara Vidwans his initial classes commenced with his father Gopalasami and further development in his musical career occurred when he came under the tutelage of Vidwan Latchappa Pillai. Both his father and his Guru always wanted the latent talent in Kothandaraman to flower and thus carve a niche for himself in this competitive field.
On the day's concert he gave an unsullied alapana of Begada as a preface to Thyagaraja's Nadopasana. What carried more conviction in the song's rendering was the kaalapramaanam that he chose which reminded very much of the vocal-rendering style. Dharmavathi came next. This is a scale that varies from Kalyani by just one swara. That is a matter of academic interest. But the raga (Dharmavathi) when played in its alapana form, never gives you a hint of Kalyani. The entire gamut of Dharmavathi was on display with ample stress on the Gandharam that distinguishes it from Kalyani in the hands of Kothandaraman. Though the support Nayana Vidwan, Palani, began the alapana proceedings, Kothandaraman quickly took charge and maintained the tempo, heightened the bhava aspects of this raga and played like an accomplished vidwan.
Two stunners were in store. Karpooram Narumo a lovely piece in Khamas (Naachiyar Thirumozhi), where the Azhwar talks to the conch held by the Lord, occupied one's mind fully as it was perfectly rendered. And the Kaanada alapana that followed, perhaps suggested a listener's request - Alai Paayudhe. But then Kothandaraman had other ideas. What came up was Brihadeeswara Mahadeva, a composition of Mangalampalli Balamuralikrishna(MBK). One had only heard Nookalla Chinna Sathayanarayana, a voice-alike of MBK, render this song. Kothandaraman acquitted himself creditably while playing this number with all its gamakas and sangathis. More nectar came in the form of a Thillana in Bindumalini that drew the concert to a close.
Kothandaraman yet again proved the compelling necessity for instrumentalists to learn, practice and get into their minds, the lyrics of the songs. That then is the way to bring sahithya bhava into your playing. He made his point in his own exemplary way.
Kothandaraman was provided Nayanam support by Kanchipuram M K Palani. The Thavil accompanists were Thirupathur Sri T C Palani and Sendhamangalam Sri A Manikandan who delighted the many Thavil vidwans who had assembled at the hall, with a clever mixture of kaarvai sollus and rolling sangathis that were executed with finesse.
This cutcheri was held on 28th January 2014, at Brahma Gana Sabha and was part of the Nalli Nadhaswara Thavilisai Thiruvizha that had been organized under the auspices of Brahma Gana Sabha and Sri Nalli Chinnasami Chetty.
aarvalan (aarvalan@yahoo.com)
For more photos :http://www.sabhash.com/music/events/7353/brahma-gana-sabha.html

About
Sabhash
- Everything about classical music, dance, drama and a platform for inclusive entertainment
Sabhash.com is the one-stop destination for the latest news and information on the performing arts of India - classical music and dance, theatre, bhajans, discourses, folk performances, and other lesser known art forms. Institutions that revolve around the performing arts have exploded in numbers, and thanks to the Internet which has made information easily accessible, the number of rasikas has grown too. Corporate patronage has played a big part in increasing the world-wide reach of the Indian arts. Sabhash wishes to be a platform for inclusive growth giving an equal opportunity and recognition to not only the main performer but also the artistes who accompany them on stage, and the people who work backstage and play the role of unsung heroes.