Myriad Forms of Lord Siva - A Round up
21 March, 2014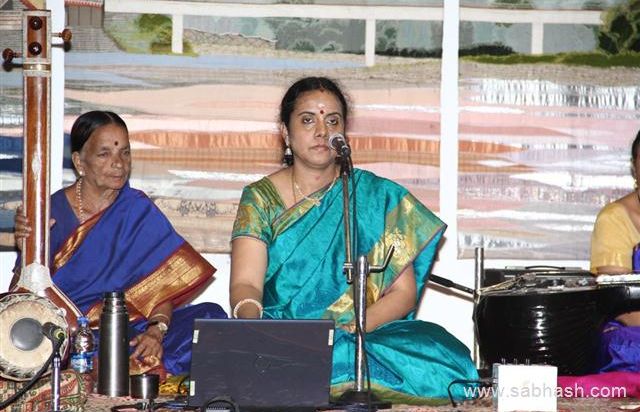 Gayathri Girish's 12th episode of "Myriad Forms of Lord Siva" was well presented, to a packed hall, with rapt attention from the audience. After welcoming the guests, she gave a short video presentation from the earlier 11 episodes. She explained how Mudduswamy Dikshitar has handled the various forms of Siva in his 132 kritis on Him. In those episodes, she had chosen kritis pertaining to Saguna Brahman, with Eka Rupa and Aneka Rupa Murthy, and also Arupa Murthy and explained how these have been incorporated in his kritis along with iconography, stala puranam, advaita philosophy, raga mudra etc.
The 12th episode was about the Nirguna Brahman, the formless God as in Aavudaiyar koil (where Manicka Vasagar got enlightenment) and Akasa lingam in Cidambaram. She said the basis used by her for these explanations was Kaivalya Upanishad. In the course of the songs presented by her, from Vatapi Ganapatim on Lord Ganesa to Sri Viswanatham, the Caturdasa Ragamalika, the explanations were awesome and crisp. The beauty of Dikshitar compositions and his scholarly approach were brought out well in her presentation.
The amount of hard work and dedication which has gone into this is unimaginable. Here is Gayathri Girish sharing her experience.
What prompted you to take up such a project? And what does it involve? Did you have to give public performance every month?
I came to know about the production grant by chance, when I went to meet Smt. Nandini Ramani for something else. Then she told me about this scheme and the grant, and suggested that I apply for it. Then I went to her with three themes out of which she suggested that this "Myriad Forms of Lord Siva" would be appealing. Then I thought why not I do it with Muthuswamy Dikshitar's kritis as a base.
The grant is for one year and to be completed in twelve parts. I had to take pictures, videos, and document the whole thing. I have to submit it to the Ministry along with paper clippings of the presentations to show them that the event had actually happened.
The twelve performances I gave were out of my own interest. The stalams covered were Tirukadaiyur, Tiruvarur, Kanchipuram, Tiruvannamalai, Tiruvidaimarudhur, Kuzhikkarai, Chidambaram, Srivanchiyam, Jeevalur, Thanjavur, Kulithalai.
How many of Dikshitar's compositions, and which other composers did you include?
I have covered about 90 kritis of Dikshitar (out of about 132 on Siva) The other composers are Kalamega pulavar, Papavinasa Mudaliar, Gopalakrishna Bharathi, Subramanya Bharathi etc. and also songs from Tevaram and Tiruvasagam. I would say 90% was Dikshitar and 10% would be rest of the composers.
For this kind of a project both Sanskrit and Vedantic knowledge is required. How did you manage?
I have studied Sanskrit both in school and college. Hence, understanding the meaning and memorising Dikshitar kritis was easy. I was always interested in Vedantic knowledge, and acquired it by reading Advaita philosophy and Ramana's teachings, and also books on Mahaperiyaval. My father also helped me with the concepts since he attends Paramarthanandaji's classes. I have cleared lots of doubts from Swamiji. He also verified that the interpretations were correct. Above all, it is God's will that it has happened.
Did you have any rehearsals?
Accompanists were mostly different every time. There were no rehearsals as such. Since most of the kritis were not popular, I would record and send it to them in advance. They would learn independently, and the team work was really important since there were a lot of rare kritis in these episodes.
Except for the songs I had to learn, and practise, so as to internalise them before singing, I never had any rehearsal for any of the episodes. It was only on the spot presentation. Since I prepared everything myself, I could reproduce it to an extent. Frankly, I didn't have time for rehearsals. As soon as one episode got over I had to prepare for the next one.
Did you have to learn a lot of songs for this purpose and with whom did you learn? How did you select song from Thevaram etc?
I had to learn about 60% of the songs. Prof B Krishnamurthy taught me most of the Dikshitar kritis and some I learnt from Prof S R Janakiraman, and some from recordings. Thiru Kotilingam and Thiru Sivalingam helped me select songs from Tevaram etc. and I also learnt the original "pann" from them. Since everything is documented, it has to be authentic.
What gave you immense satisfaction in the whole project?
I have learnt a lot and, this one year has been fruitfully spent. I have now learnt in-depth meaning of these songs with puranic reference et al. And also it has helped me acquire more knowledge on Advaita philosophy, and spirituality, and my outlook has really grown. I can feel the difference. It has given me a lot of contentment. Not only have I learnt a lot, but it has also been useful to the listeners. This kind of an overwhelming response has made me think that it is a nice way to reach out to people with visual aids rather than just singing. It has also been a self discovery that I could do this kind of a project.
If you were to do this all over again, how would you look at it? Any improvements? Are you ready for the next project?
Lots of kritis were left out because of paucity of time. Definitely I can bring out a better version since my comfort level also improved with every episode.
Frankly speaking, it is all destiny. Before this I never thought I would do such a project. I feel that something will definitely come up. I am just doing what He is asking me to do I have to submit this project at the end of the month, and then I am ready to take up something else.
Did you encounter any strange or rather, divine experiences?
To mention a few, in the last episode for "Sri Viswanatham", I was looking for some material. I was not satisfied with whatever information I had, and I thought I needed to convey something more. I did not get convincing matter from any source. Suddenly just 4/5 days before the episode, I was looking into my files for something else and I suddenly found some notes on "Caturdasa Ragamalika"! which contained a huge amt of information. I don't even remember when and from whom I took this photocopy. I could incorporate a few things from it. For the Gangadhara episode, an Aanmika magazine came by post that day and it had in it some information which I shared that very evening. I feel that these are small indications from God.
What about the logistics for the program as well as in the home front?
Guest list was prepared with Smt. Nandini Ramani's help. From booking the hall, to printing invitations, arranging accompanists etc., I had to do everything myself.
For instance, for the 15 minute video which I presented in the last episode, I had to spend six hours in the studio. I had to personally go for the audio coordination.
My parents helped me by taking some pictures, making a couple of trips to temples. Since this involved a lot of my time, my husband and children had to do a lot of adjustment. My husband also helped me technically in power point presentation etc. My daughter learnt kritis from me and sang along with me in most of the episodes. This whole project was possible because of the help I got from different quarters.
What are you other interests?
Music and reading, especially, the Advaita philosophy, take up all my time. I am also busy with my Ph D.
It is very evident that her focussed approach has given very good dividend. The guests for the last episode had this to say about Gayathri Girish. Smt. Nandini Ramani praised the dimension of her spiritual journey, and also the level to which she has taken the audience. The presentation even once didn't go to the discourse level, and with clear demarcation, the musical aspect was maintained. She also said that the grant was well utilised and the 12 episodes came out like 12 jewels!
Smt. Saroja of Bombay sisters said that both explanations and the singing were so good that even a lay person could understand. It is commendable that such a busy concert artist could bring out such monumental work with sincerity.
Sri Vaidyanathan, Editor Dinamani, said that there 2 types of artistes. The first one makes others happy. The second type, not only does that, but also leaves something for posterity. He said this is a big achievement and a record for research students. In a lighter vein he said that his tax money has not been wasted!!
Sri A R Srinivasan, theatre personality, who has attended all the 12 episodes, said that it was interesting even for a novice. He also said that all the music institutions should have a copy of this in their library.
There were blessings from everyone including the repeat audience, and there was unanimous vote for her next project.

About
Sabhash
- Everything about classical music, dance, drama and a platform for inclusive entertainment
Sabhash.com is the one-stop destination for the latest news and information on the performing arts of India - classical music and dance, theatre, bhajans, discourses, folk performances, and other lesser known art forms. Institutions that revolve around the performing arts have exploded in numbers, and thanks to the Internet which has made information easily accessible, the number of rasikas has grown too. Corporate patronage has played a big part in increasing the world-wide reach of the Indian arts. Sabhash wishes to be a platform for inclusive growth giving an equal opportunity and recognition to not only the main performer but also the artistes who accompany them on stage, and the people who work backstage and play the role of unsung heroes.