Radha Parthasarathy highlights Mannargudi Sambasiva Bhavgavathar's Compositions
03 April, 2014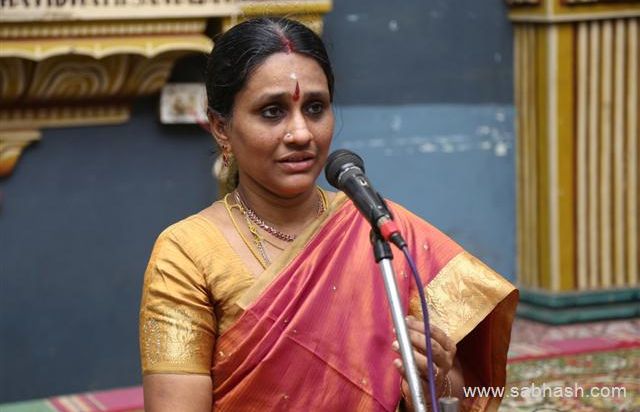 Radha Parthasarathy, not greatly popular among performers has an impressive CV. Her gurus have been Sarvashri S Rajam, Thanjavur Sankara Iyer and Dr. Rukmini Ramani. She is presently under the tutelage of Padma Bhushan Sri P S Narayanasami (PSN). All these streams appeared well assimilated and got reflected in her performance at Thyagaraja Vidwat Samajam, Mylapore.
Hamsadhwani and Naattai have come to be understood as thumping beginners for any concert. By choosing Eka Dhantham Asreyeham, a krithi of Mannargudi Sambasiva Bhagavathar in the raga Hamsadhwani, Radha made a rousing start. The song that followed was Theliyaleru Rama (Dhenuka, Thyagarajar), the tune of which when combined with the lyrics is bound to convey its meaning even to a person not greatly lettered in the Telugu language. Radha sang it to capture and convey the mood of the song.
The Vasantha alapana (HariharaPuthram, Dikshithar) and the swarams showed perseverance, diligence and good absorption of a rich tradition and resembled that of PSN's means and methods in many ways. (This was specifically mentioned by Ms. Namagiri Ramesh who gave an informed and musically engaging talk immediately after the thani). Panthuvarali saw a chaste alapana for the less-known, less-sung, krithi, Saarasa Sambhava also composed by Mannargudi Sambasiva Bhagavathar. And all this led to a winsome and fulfilling Kharaharapriya raga delineation that was marked by an amazing range and depth and the krithi was another of the Sadguru - Nadachi Nadachi.
Violin accompaniment was provided by Jayanthi Kesav and Kumbakonam Swaminathan was on the mridangam. While the violinist matched Radha in most aspects, the laya vidwan was able to gel with the main artiste to a nicety and gave a thani that covered varying dimensions of laya patterns.
Radha Parthasarathy deserves special praise for including in her concert two compositions of Mannargudi Sambasiva Bhagavathar.
aarvalan(aarvalan@yahoo.com)

About
Sabhash
- Everything about classical music, dance, drama and a platform for inclusive entertainment
Sabhash.com is the one-stop destination for the latest news and information on the performing arts of India - classical music and dance, theatre, bhajans, discourses, folk performances, and other lesser known art forms. Institutions that revolve around the performing arts have exploded in numbers, and thanks to the Internet which has made information easily accessible, the number of rasikas has grown too. Corporate patronage has played a big part in increasing the world-wide reach of the Indian arts. Sabhash wishes to be a platform for inclusive growth giving an equal opportunity and recognition to not only the main performer but also the artistes who accompany them on stage, and the people who work backstage and play the role of unsung heroes.