World Music Day Celebrated - June 21st
24 June, 2014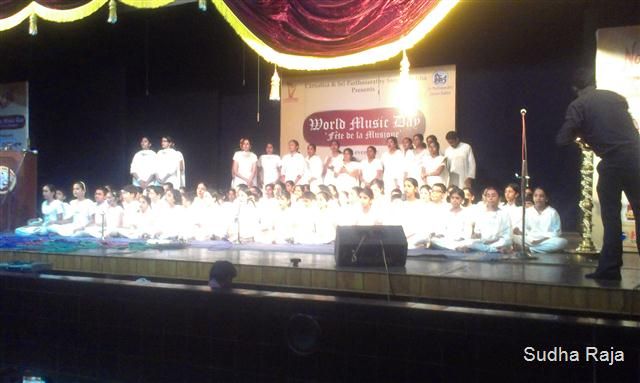 Sri Parthasarathy Swamy Sabha and Carnatica had organized World Music Day, where thematic performances were presented at Narada Gana Sabha Main Hall. The celebration began at many other places as early as 6 a.m.on this day, 21st June, 2014, and lasted till 12 noon. It recommenced at 5 p.m. and concluded at 9.30 p.m.
The evening session saw the participation of Chevalier M Balamuralikrishna who had conceived a raga, Sidhdhi. It took Mohanam's swaras but was without the pa.(Sa Ri Ga Dha Sa) He had made his own composition with his murali-mudhra. It was a fine gesture on his part as he opted to teach the assembled children this composition and the children were fortunate enough to sing-along with this genius of a musician.
Children from as many as 13 schools participated in the two events that were got up - Sudha Raja's choir, Sargam and Radha Ramji's TKG Gurukulam(various centres). The student strength pitching at a new high of 350, this became a grand event. The involvement and enthusiasm of the children had to be seen to be believed.
Many eminent front-ranking musicians rendered the SriRaga Pancharathnam, Entharo MahanuBhavulu led by Sri Neyveli Santhanagopalan. Anil Srinivas on the piano and N Ravikiran on the Chitravina together played Oothukadu Venkatakavi's Asaindhadum set in Simhendramadhyamam. Then came OS Arun who delighted the audience with his genre of music. Rithwik Raja and and G Ravikiran then joined together and rendered the Javali, Modi Jese in Khamas
A host of other artistes participated : Gayathri Venkatraghavan, Carnatica Brothers, Chinmaya Sisters, Nisha Rajagopalan, V Sankaranarayanan, Ramakrishna Murthy, Deepika, Sathyanarayana, Sriranjani Santhanagopalan, Maalavika, Cuddalore Janani, Kumbakonam Anantharama Bhagavathar.
They were enriched by Narmadha, Ananthakrishnan and V V S Murari on the violin and by mridanga vidwans Thanjavur Murugaboopathi, Kumbakonam Swaminathan and Trivandrum Balaji, and K V Gopalakirshnan (Khanjira) and Chandrasekara Sarma (Ghatam) and Ghatam Karthik's Heartbeat ensemble.
aarvalan (aarvalan@yahoo.com)
For more photos : http://www.sabhash.com/music/events/7698/world-music-day.html

About
Sabhash
- Everything about classical music, dance, drama and a platform for inclusive entertainment
Sabhash.com is the one-stop destination for the latest news and information on the performing arts of India - classical music and dance, theatre, bhajans, discourses, folk performances, and other lesser known art forms. Institutions that revolve around the performing arts have exploded in numbers, and thanks to the Internet which has made information easily accessible, the number of rasikas has grown too. Corporate patronage has played a big part in increasing the world-wide reach of the Indian arts. Sabhash wishes to be a platform for inclusive growth giving an equal opportunity and recognition to not only the main performer but also the artistes who accompany them on stage, and the people who work backstage and play the role of unsung heroes.