A mellifluous flute recital
16 July, 2014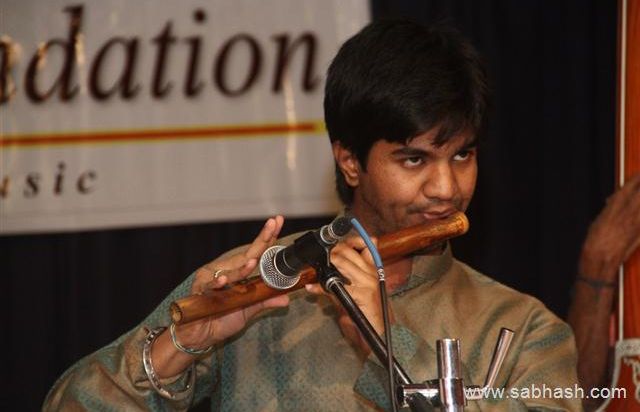 - Lakshmi Venkatraman
The flute recital of J.Jayanth under the auspices of Charsur was an engaging programme. Fortunately the high volume in the auditorium was brought down to a reasonable level soon after the beginning. After the mood setting Varnam in Vasantha, came Nammazhwar Pasuram "Pallandu Pallandu" set to Natta Ragam followed by 'Varanarada' in Vajayasri. All these prepared the audience for a lively evening of music. The Raga Alapana of Todi had some very unusual prayogams in addition to the expected characteristic sangatis. The chosen song was 'Kotinathulu' of Thyagaraja with Kalpanaswaras, again with some intelligent suites.
A vibrant composition of Ramanathapuram Srinivasa Iyengar 'Raghunatha nannu' in Swararanjani preceded the main Raga Kamboji; this magnificent Raga was explored in depth by Jayanth, touching some subtle nuances. Dikshitar's 'Subrahmanyaya Namaste' was the tour de force of the concert. It was rendered in an unhurried manner. The line "manasija koti koti lavanyaya" was taken up for handling in different speeds of the Tisra Eka Talam. The Swara segment indeed was very lively manipulating the notes in clever combinations. Varadarajan on the violin was extremely good; he seemed to have a great memory of the way the Raga was handled by the flautist and could often repeat the same in his turn. Able percussion support was provided by Neyveli Venkatesh on the Mridangam and Chandrasekara Sarma on the Ghatam. They also played an interesting fast paced Thani.
The final items were 'Oruthi maganay pirandu' in Behag and the Tillana in Sindubhairavi. Both had brief Raga essays; nevertheless they had a touching quality.

About
Sabhash
- Everything about classical music, dance, drama and a platform for inclusive entertainment
Sabhash.com is the one-stop destination for the latest news and information on the performing arts of India - classical music and dance, theatre, bhajans, discourses, folk performances, and other lesser known art forms. Institutions that revolve around the performing arts have exploded in numbers, and thanks to the Internet which has made information easily accessible, the number of rasikas has grown too. Corporate patronage has played a big part in increasing the world-wide reach of the Indian arts. Sabhash wishes to be a platform for inclusive growth giving an equal opportunity and recognition to not only the main performer but also the artistes who accompany them on stage, and the people who work backstage and play the role of unsung heroes.