Svanubhava
04 August, 2014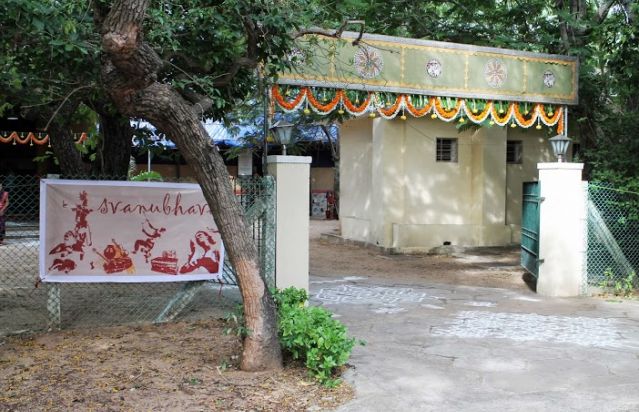 A team of youngsters are gathered around a table brainstorming. They have their individual opinions and ideas but when it comes to the final product there is total consensus. Every bit of work that goes behind organizing Svanubhava, the three day long cultural fest is tabulated and scheduled with impeccable detail.
The spade work begins three months ahead of the scheduled dates. Deciding on the art forms and artistes, booking hospitality venues, travel, pickup and drop arrangements, food and beverages, list of schools to be invited, the technical and stage requirements of each program, their rehearsal slots, brochure, invitation and poster designs, identifying and approaching sponsors : the volunteers take up the responsibilities and execute them in a meticulous manner.
"The journey that each of us have had working as a part of Svanubhava has been extremely humbling. We have constantly found ourselves amazed by the richness of our country's heritage, the response and the receptiveness of youngsters across various backgrounds and the magnitude of support we have received from those who believe in our cause. Of course the friendships we have built along the way are invaluable," says VidhyaRaghavan, budding singer.
"There is so much on the job learning. It is the right kind of exposure to us youngsters who are aspiring artistes, to understandwhat goes behind every stage show. It is interaction at its best, with our peers and seniors. The vibration that is produced is contagious and positive. We develop a feeling of togetherness and mutual respect, drawing from each other's experience and growing in the process" says Sukanya Kumar, upcoming Bharatanatyam dancer.
"The entire expense is met with the support of corporate sponsors, crowd funding and personal donations," informs RamyaKannan, an executive with World Bank well equipped to manage the finance and accounting of Svanubhava.
That is the secret of this team work. Each volunteer uses his potential and contributes on a non- hierarchal pattern.
Concept Svanubhava was flagged off in the year 2008 and has been growing in magnitude with their presence extended to other cities like New Delhi, Trichy, Bangalore and Jaffna, Sri Lanka.
What is important is the trust that is reposed in the youngsters to handle the logistics which motivates them to work towards results. What better way to ensure involvement of youngsters in carrying on our cultural tradition than by giving them the mantle. This makes them work towards cherishing and nourishing our art forms.
Hosted with the support of Kalakshetra, this year's Svanubhava is from August 6 to 8 at RukminiArangam, Kalakshetra, Chennai.
The events are open to all. Curious questions by students and rasikas and the cognizant answers by the performing artistes make the interactive sessions after each program very interesting and informative.
This year's schedule is:August 6 Morning: Inauguralperformance byKalakshetra artistes,percussion ensemble 'LayaAdvaitam' followed by RudraVeena by Shri MohiBaha'uddinDagar. The afternoon session will feature Parikshai, a Tamil drama by Dummies Troupe and Odissi solo by Smt. SujathaMohapatra.
On the second day Western Classical Piano concert by Shri Anil Srinivasan, Harikatha by Kalyanapuram Sri Aravamudachariar, Percussion solo by Smt. SumathiRammohan Rao, contemporary dance production by Samudra is the scheduled fare.
On August 8, Carnatic Vocal by Smt. Pantula Rama, Percussion solo by Umayalpuram Shri K Sivaraman, EkataraBaulSangeet by Smt. ParvathyBaul and NangiyarKoothu by Smt. ShaliniVijayan from Kerala will conclude the three day festival.
"All the events will be web cast live on our website. This facilitates worldwide viewership," informs ChiragShah, from team Svanubhava.
"Svanubhava draws huge crowds that include rasikas, students of art forms and students who are invited from different schools. It is an event we youngsters look forward to year after year," says Bhavajan Kumar, Bharatanatyam dancer and volunteer.
For registration and details do visit www.svanubhava.com
For more photos : http://www.sabhash.com/music/events/7841/svanubhava.html

About
Sabhash
- Everything about classical music, dance, drama and a platform for inclusive entertainment
Sabhash.com is the one-stop destination for the latest news and information on the performing arts of India - classical music and dance, theatre, bhajans, discourses, folk performances, and other lesser known art forms. Institutions that revolve around the performing arts have exploded in numbers, and thanks to the Internet which has made information easily accessible, the number of rasikas has grown too. Corporate patronage has played a big part in increasing the world-wide reach of the Indian arts. Sabhash wishes to be a platform for inclusive growth giving an equal opportunity and recognition to not only the main performer but also the artistes who accompany them on stage, and the people who work backstage and play the role of unsung heroes.