Maharajas and Music
04 August, 2014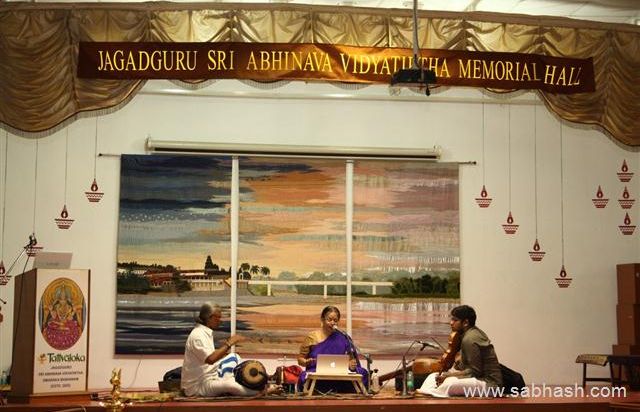 An informative and engaging presentation was made about The Maharajas and the Music of South India by Dr. Sumathi Krishnan. She was assisted in this historical journey by Rajiv on the violin and Mannarkoil Balaji on the mridangam.
The evening's proceedings was presided over by Sri K Ayyanar, Regional Officer, ICCR. Sri Vikram Sampath, E. D., IGNCA, Southern Regional Centre, was the guest of honour and the programme was supported by The Ministry of Culture, Govt. of India. This memorable peep into history took place at the Tattvaloka Auditorium, Teynampet, Chennai.
We were at first given an introduction to those past years of the Maharajas by Vikram Sampath, who did ample justice in trying to capture the 600 odd years in a matter of a mere half-an-hour. Some of them are mentioned here. Saying that reassessment of the royal family's deeds and "re-contextualizing" Indian history will be an attempt to "view history through multiple prisms" the speaker brought to light the fact the Rajas of Mysore had a deep association with both the musical and musicological traits of carnatic music and thus Mysore was in the forefront when it came to the level and volume of musical contributions. The Wodayar kings, who often traced their lineage back to Lord Krishna, became the main participants in making their immense share towards music. Vikram, for the purpose of his analysis divided these 600 years into 3 periods - the early, the middle and the later. The kings and composers of Mysore were instrumental in getting the ragas depicted as pictures, highlighting their very swaroopams and were adept in using the familiar ragas like Khambodhi, Useni and Panthuvarali down to the even less familiar ragas like Pasupathipriya. The Muslim invasion saw a lull period in the musical output but nevertheless even in these circumstances, their passion for music remained unabated and their work towards this end continued even when they were imprisoned or were in hiding.
Vikram made a pertinent point when he mentioned that the Mysore Bhani and the very structure of the vina associated with this method of playing was not in favour of the gamaka-oriented usages, say like that of Sri S Balachandar. The appearance of the Mysore vina, as opposed to that of the Tanjore vina, was less ornamental and Mysore's vainikas' playing was fret-based and the plethora of vina players had concentrated more on the "shuddha nada of music that had to resemble the voice of the cuckoo." Another mentionable aspect of their vina playing was the playing of the vina holding the instrument in its vertical position. Mysore has honoured these vainikas by naming many streets after these vina vidwans.
Ragas they classified as purusha and feminine and the thalas were explained to possess several lakshanas. The compositions included special thalamalikas, javalis, pancharathnas and many devotional numbers. The krithis also had the stamp of Dikshithar in their forms and the guiding principles headed towards revealing finer aspects of "Srividya", a form of meditative practice that would lead you to eternal bliss. Speaking about the nature of compositions Vikram added that some scholars opine that the javali itself originated from Mysore though that is very often contested. Vikram also added that Sri Jayachamraja Wodayar, who was the Governor of Madras, had once paid his tribute to his Guru, Mysore Vasudevachar that was broadcast by All India Radio. This address was played for the benefit of the listeners. In his truly stentorian voice that was at once kingly, the disciple pays his tribute to the Guru --the reproduced recording had exemplary fidelity that had the effect of listening to a live broadcast.
When Dr. Sumathi started her interpretation of the songs with attendant anecdotes it appeared that she was continuing from where Vikram had left. The only difference was her session was studded with songs that were not popularly sung/heard and deserve praise especially on that count. Varnams, kirthanas, jathiswaras, swarajathis, thillanas and devotional numbers came in quick succession (some of them sung in parts and some others were clippings of recordings) that fell on the ears of rasikas as sweet music, as they were rendered with both feeling and commitment.
Sumathi concentrated on the contributions of the rulers Krishnaraja Wodayar (early 19th century) and Chamaraja Wodayar (mid 19th century). The former composed javalis (javadis) emphasizing on the vyragya aspect that contrasted with the sringara rasa that javalis are known for. His other main work was the Svara Cudamani.
One of the earliest composers was Mysore Sadasiva Rao who was the court musician of Mummadi Krishnaraja Wodayar. He had composed a varnam in Dhanyasi replete with quintessential phrases of this raga. This varnam was rendered by Sumathi. Apart from this Rao had also composed krithis on Ekamresa Nayaka of Kanchi and Kothandaramaswami of Walajapet that had 4 charanas. Another composer, Basavappa Sastri was the Asthana vidwan and apart from his accomplishments in the music field, had also translated the works of Shakespeare into the Kannada language. Other composers that shone with their works were Veena Venkatasubbaiah, Aliya Lingaraj Urs, Chinnaiah (of the Tanjore quartette), Veena Chikki and Pedda Lakshminaranappa.
Another category of composers, the "visitors" group had also been in existence. They were Pallavi Gopala Iyer known for his Ata tala Varnam in Kambhoji, Veenai Kuppayar who was a vainika and a disciple of Tyagaraja. Next in order came Tiruvottriyur Tyagayyar who was the son and disciple of Veenai Kuppayar and Surapurada Ananda Dasaru with the ankita of Kamalesa Vittala.
After this absorbing narration, Sumathi mentioned about Chamaraja Wodayar who reigned from 1881 to 1894, and added that he had sponsored Mysore Vasudevacharya to learn music from Patnam Subramania Iyer for a period of 6 years at Thiruvayyaaru. This king had Veena Subbanna and Veena Seshanna as his court musicians. These two had learnt vocal music from Mysore Sadasiva Rao and their veena padams were done with Dodda Seshanna. Veena Seshanna had the distinction of having played in the presence of Mahatma Gandhi, Jawaharlal Nehru, Sarojini Naidu and also before Rabindranath Tagore when Tagore visited Mysore. He had also composed 9 varnams in different talas, 11 swarajatis, 16 tillanas and 16 kritis. Talking about Veena Subbanna, Sumathi told the audience that his compositions were basically veena oriented. He had composed a swarajathi in Karnataka Kapi and a krithi, Dasarathe' in Dhenuka. (Sumathi then sang this krithi).
Another of those visiting composers was the famous MahaVaidhyanatha Iyer (1845-1902) who had made the evergreen filler Pahimam Sri RajaRajeswari in Janaranjani. Incidentally, as he was steeped in orthodoxy the prevailing ruler adorned him with a silk turban and coat specially made for him to satisfy his "madi" and "acharam" needs in order to have his presence at the royal court.
Dr. Sumathi before concluding her presentation thanked all those who had contributed to the forming of this tale of music from annals of history and specially thanked her Guru Sangita Kalanidhi Vedavalli and Dr. Nandini Ramani for their blessings and guidance.
aarvalan (aarvalan@yahoo.com)
For more photos : http://www.sabhash.com/music/events/7842/maharajas-and-music.html

About
Sabhash
- Everything about classical music, dance, drama and a platform for inclusive entertainment
Sabhash.com is the one-stop destination for the latest news and information on the performing arts of India - classical music and dance, theatre, bhajans, discourses, folk performances, and other lesser known art forms. Institutions that revolve around the performing arts have exploded in numbers, and thanks to the Internet which has made information easily accessible, the number of rasikas has grown too. Corporate patronage has played a big part in increasing the world-wide reach of the Indian arts. Sabhash wishes to be a platform for inclusive growth giving an equal opportunity and recognition to not only the main performer but also the artistes who accompany them on stage, and the people who work backstage and play the role of unsung heroes.