Bharatiya Vidya Bhavan commences Cultural Festival - 2014
22 November, 2014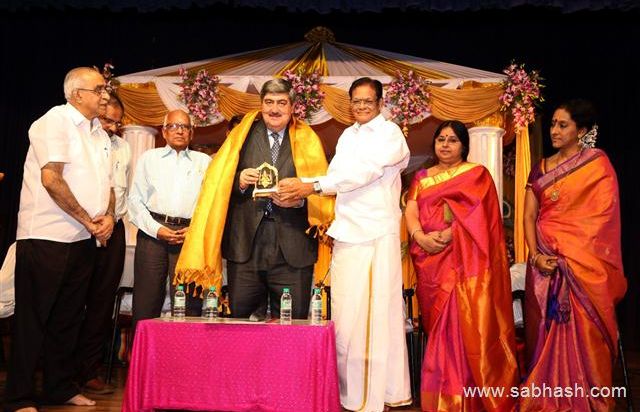 Bharatiya Vidya Bhavan's season of music commenced yesterday, 21st November, 2014, with the lighting of the Kuthuvilakku by eminent dignitaries, at Dr. Preetha Reddy Auditorium, Mylapore. This festival of music was inaugurated by the Chief Justice of the Madras High Court, Sri Sanjay Kishan Kaul who was also the chief guest. The function commenced with a Nagaswaram recital by Seshampatti Sivalingam and the prayer "Poornamadham" followed by a welcome address by Sri S S Rajasekar, Chairman, Bhavan's Kala Kendra Committee. He highlighted how the Bhavan's name has become synonymous with various kinds of activities and made special mention about the care being bestowed on children who had special needs as they were with certain disabilities. He also mentioned how the auditorium in which the function was happening had acquired a new look. It was also acoustically well equipped with the state-of-the-art technology being put to use.
Sri L Sabaretnam, Chairman, Bhavan's Chennai Kendra presided over the function and said that the Bhavan was fortunate to have The Hon'ble Chief Justice, as the chief guest, who had made the evening more auspicious by his presence. He talked of Justice Kaul's sense of integrity and his penchant for freedom of the mind and even quoted from his judgment in the landmark case in which world-renowned artist M F Hussain became the beneficiary. Of the guest of Honour Dr. C V Krishnaswami, he mentioned that a house of theirs which was nearly 100 years old was the famed nest where musicians of yesteryears would stay while in Chennai (Madras). He also added that Bhavan had increased its network to cover many action-plans and had won for it many prizes and was at the same time a giver of many prizes too. He further said that the Bhavan had many plans on the anvil and no efforts would be spared to take it further on its well-chartered path. He also congratulated the award winners, Smt. E Gayathri, veena exponent and Smt. Bombay Jayashri Ramnath, carnatic vocalist.
Chief Justice of the Madras High Court, Sri Sanjay Kishan Kaul gave away the P Obul Reddy and P Gnanambal Memorial awards for Lifetime Achievement to E Gayathri and Bombay Jayashri. In her acceptance speech Gayathri said veena playing itself was a form of meditation for her where she could play this divine instrument at her pace without any pressure being put on her. She said playing for nearly four or five decades with ample stress on janaranjakam was not an easy task for her and she felt honoured to receive the award from this prestigious institution. Bombay Jayashri felt deeply humbled on receiving this award and said she was awe-struck to occupy the dais and be seated next to Vidushi Gayathri whose veena she had a chance to listen to when she herself was a mere child. She remembered her gurus, Smt. Balamani, Sri Lalgudi Jayaraman and her mother who was there when she received the award. She also acknowledged with gratitude the support given by her dear rasikas who have waited patiently for her to blossom to become an artiste.
Dr. C V Krishnawami, Chairman, TAG VHS Diabetes Research Centre, recalled the days on which he used to function as a member of the "boys scout" team at the Music Academy and also made mention about the continued relationship Bhavan had with Justices, mentioning Justice M M Isamil and K S Bhakthavatsalam as examples. For Krishnaswami, the plurality of India was best represented by the concept contained in Vasudeva Kutumbakam. He wanted both the awardees to continue their journey with music and wished them many more years of achievements to come.
In a speech that was part-prepared and part-impromptu, Justice Kaul, said he was happy to be at the cultural capital of India, Chennai and was proud to be part of Bhavan's inauguration festival that was now 75 years young/old. This institution lay its attention at not merely academics but other allied projects as well and thus gave importance to the role of culture in the fabric of life itself. He said our culture has many aspects that continue to attract westerners even to this day. He also remembered that he himself was an artiste but had to give it up when he took up law, but still retained a keen interest in art festivals of this kind. Art was a vehicle for personal expression to be manifested and these two artistes best represent that expression coming true in real life, he promptly added.
In proposing a vote of thanks, Sri K N Ramaswamy, Director, Bhavan's Chennai Kendra acknowledged the willingness expressed by the awardees when approached to accept the awards and also thanked the Chief Justice Sri Kaul for consenting to inaugurate this festival. He also thanked each member on the stage for their gracious presence and the entire team at Bhavan for making this function a grand success. He also patted Ms Swetha who did the job of a compere with a sense of adequacy.
Curtains went down but went up again as Bombay Jayashri began her concert. Her first piece was a varnam in Nalinakanthi. A brief alapana of Amirthavarshini followed. The krithi was Dikshithar's Anandamruthakarshinim, which had captivating swaras at the pallavi line. Then she studded her alapana for Nadaloludai of Thyagaraja (Kalyanavasantham) with characteristic glides which suited her singing style and smoothness of voice. Here and during her alapana of Mohanam, this artiste sounded this. Jayashri, by now has become the master of voice-modulation probably next only to Sangeetha Kalanidhi, Sri M Balamuralikrishna. This she must have truly imbibed from her guru Lalgudi, whose violin-nadha-modulations have acquired a legendary status. The krithi in Mohanam was Nanu Palimpa of Thyagaraja. She also did include SakalaGrahaBala of Purandara Dasa in Atana and had the customary rounding off with ChinnanChiru Kiliye (Bharathiyar) and a Thillana. She was accompanied on the violin by H N Bhaskar, on the mridangam by Ramana Murthy and on the ghatam by Giridhar Uduppa. All the accompanists acquitted themselves creditably and the concert apart from being a crowd-puller (Jayashri's concerts always are!) satisfied the rasikas fully.
(The present music series will be held up to December, 12th 2014. This will be followed by a Natya Utsav, from December, 13th, whose venue would be the TAG auditorium, Kilpauk. Bhavan's second edition of music will be from December 26th 2014, at PAC Ramasamy Raja Hall and would go up to January, 12th 2015)
aarvalan
(aarvalan@yahoo.com)
For more photos : http://www.sabhash.com/music/events/7954/bhavans-cultural-festival-2014.html

About
Sabhash
- Everything about classical music, dance, drama and a platform for inclusive entertainment
Sabhash.com is the one-stop destination for the latest news and information on the performing arts of India - classical music and dance, theatre, bhajans, discourses, folk performances, and other lesser known art forms. Institutions that revolve around the performing arts have exploded in numbers, and thanks to the Internet which has made information easily accessible, the number of rasikas has grown too. Corporate patronage has played a big part in increasing the world-wide reach of the Indian arts. Sabhash wishes to be a platform for inclusive growth giving an equal opportunity and recognition to not only the main performer but also the artistes who accompany them on stage, and the people who work backstage and play the role of unsung heroes.