Young brigade excels all the way
01 December, 2014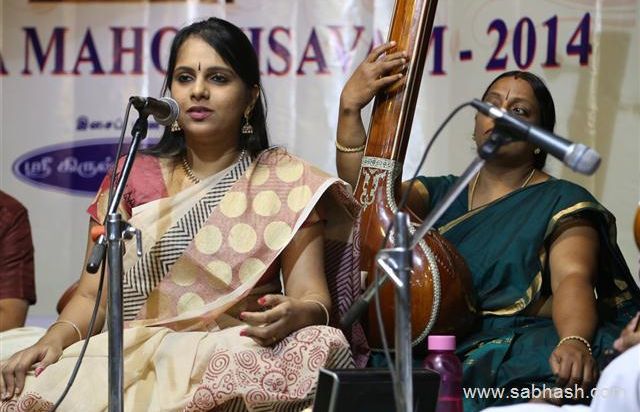 Sriranjani Santhanagopalan is a star that has already risen and deserves to be counted as one who would be making it big soon. This was evidenced in two of her alapanas prefacing two Thyagaraja krithis, Shobillu Sapthaswara and Bagayanayya . While the former, Jaganmohini, was brief and meaningful, the second for Chandrajothi was delineated with vigour and ease that combined vidwat of stupendous proportions. The chittaswaram that comes along with the former krithi Shobillu, was sung in an exhaustive manner and what followed was an engaging flurry of swaras for the line "Dhararuksamathulalo." Contrastingly the way in which the Chandrajothi krithi was dealt with, served to create the apt mood as it was sung at the right pace exercising immense control over the many sangathis. The pristine glory was there for you - presented in full - as she wisely avoided swaras for this song.
The main happened to be ThulasiBilva a definition piece of Thyagaraja, in Kedaragowlai. Here too one could measure the musical stature of the artiste by her involved alapana and swaras that came in abundance. There was a fulfilling neraval that covered all aspects of this segment and came at "Karunatho Nenarutho Paramanandhamutho". But one's heart, one should admit, was taken away by Chandrajothi. It often happens in concerts. The main item does not really become the central piece. Sriranjani also included Paramapurusham, a krithi in Lalitha Panchamam that lent an element of variety to the concert, being that of Swathi Thirunal and set in Khanda Chapu. This was rendered as briskly as it could be.
While she drew deep appreciation for her all-round performance, the discerning rasika may have felt that she tried to "over-kill" during the swara segments. Her passion for swara korvais of fine and multivarious combinations at this age is understandable. And time will tell. It will.
She was accompanied by Rajeev on the violin who excelled particularly during the alapana of Chandrajothi with fine modulation touches on the violin. His answers during the long-winding swaraprastharas were on a par with that of Sriranjani and were after the manner of the main singer.
Bharadwaj on the Mridangam and Chandrasekara Sarma who was on the Ghatam matched one another and alternated their playing well. Their sense of anticipation was truly on the spot. During the thani they produced superb sollus that were suited for each of these instruments and took care to limit their rounds, thereby help sustain rasikas' interest in the whole concert.
One can perhaps put the average age of the performers on stage to be under 25 and that explains the title of this review, its intention. All this essentially means that carnatic music will certainly live long.
This concert was organized by Sri Radhakrishna Sankeerthana Samajam Trust, Pozichalur and was held at Ragasudha hall, as part of their Geetha Mahothsavam, 2014.
aarvalan (aarvalan@yahoo.com)
For more photos : http://www.sabhash.com/music/events/9452/sangeetha-mahotsavam-2014.html

About
Sabhash
- Everything about classical music, dance, drama and a platform for inclusive entertainment
Sabhash.com is the one-stop destination for the latest news and information on the performing arts of India - classical music and dance, theatre, bhajans, discourses, folk performances, and other lesser known art forms. Institutions that revolve around the performing arts have exploded in numbers, and thanks to the Internet which has made information easily accessible, the number of rasikas has grown too. Corporate patronage has played a big part in increasing the world-wide reach of the Indian arts. Sabhash wishes to be a platform for inclusive growth giving an equal opportunity and recognition to not only the main performer but also the artistes who accompany them on stage, and the people who work backstage and play the role of unsung heroes.