Youth at the helm, yet again
06 December, 2014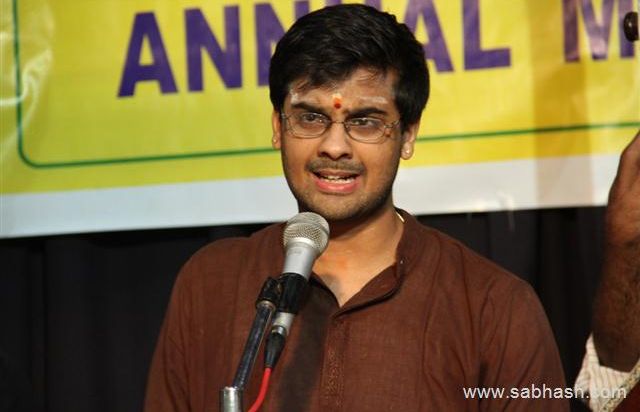 It had given this reviewer wholesome pleasure to see a Sanjay, a Sowmya, a Jayasri or a Sudha perform as "youngsters". Yes. One had experienced sheer joy in listening to them and with them, when they were torch-bearers of an ongoing tradition. The concert of Ramakrishna Murthy for RR Sabha at the TAG-Dakshinamurthi Auditorium, created the same feeling. The audience was vidwans-studded, dynamic men of the present day - Bharath Sundar, Vignesh Iswar, Palakkad Ramprasad, Sunil Gargyan (represented by his father), Sruthi Kumar and a senior in the form of Mrs. Aruna Ranganathan.
Ramakrishna Murthy did full justice to them and the others by giving them his informed choice of krithis and covering the Trinity's compositions in the process. There was fervor in the rendering of songs and his raga alapanas (there were 3 - Bilahari, Malayamarutham and Shubapanthuvarali) had those exquisite cadences combined with a proportionate mix of brigas and other sangathis. Yes. If your voice is your asset and is endowed with a manly sweetness then you can stretch it to reach all limits. It is svanubhava too. While it is true that Ramakrishna Murthy realized the full potential of his voice, he never resorted to meaningless acrobatic exercises in order to achieve this. No distortions. Everything was musical.
If "O Jagadamba" in AnandaBhairavi of Syama Sastri had swaras it was done without spoiling the continuous unwavering course of the song. In the same manner Malayamarutham (Manasayetulo, Thyagarajar) exhibited class in tune with the ragas key-phrases. Shubapanthuvarali and Bilahari raga essays had plenty of zaru sangathis that made him strike a purple patch easily. Papanasam Sivan too figured with the inclusion of Thunaipurindharul (Varamu).
With the risk of being subjective one remark is warranted here: Shubapanthuvarali for the main item was not perhaps the perfect choice. This raga has been proverbially (and which is true to a great extent) associated with pathos from start to finish. The performer has to rely heavily on the inclusion of phrases depicting this emotion if the raga identity is to be retained
With Charumathi Raghuraman on the violin one could not have asked (or liked) a better "second fiddle". All her raga alapanas gelled well with that of the main artiste and swara answers were on the dot. But was the volume of her mike rather loud? One keeps wondering!
It was a rare privilege (or surprise) to see Anantha R Krishnan (Bombay Anand) in his most subdued form as an accompanist on the mridangam. He together with Chandrasekara Sarma (on the Ghatam) showed how they had adopted and mastered anticipation not only sangathis that are in-built into the songs, but during the swaraprastharams too.
Ramakarishna Murthy is drawing audiences, even full-houses. He should not lose himself to self-deception. He has miles to go before he can even assume to have achieved something substantial. In the same vein he should not submit his art to craft. Art is long, longer than life. (The last few comments does not in any manner distract from the quality of his performance at this and his other concerts)
aarvalan (aarvalan@yahoo.com)

About
Sabhash
- Everything about classical music, dance, drama and a platform for inclusive entertainment
Sabhash.com is the one-stop destination for the latest news and information on the performing arts of India - classical music and dance, theatre, bhajans, discourses, folk performances, and other lesser known art forms. Institutions that revolve around the performing arts have exploded in numbers, and thanks to the Internet which has made information easily accessible, the number of rasikas has grown too. Corporate patronage has played a big part in increasing the world-wide reach of the Indian arts. Sabhash wishes to be a platform for inclusive growth giving an equal opportunity and recognition to not only the main performer but also the artistes who accompany them on stage, and the people who work backstage and play the role of unsung heroes.