The story of Gajendra
08 December, 2014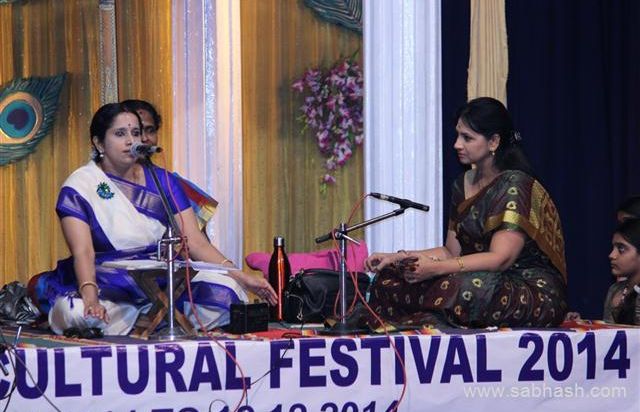 Visaka Hari was all vitality, verve and vivacious in her rendition of the GAJENDRA MOKSHAM last evening.
She performed to a overflowing hall at the Bharathiya Vidya Bhavan, enthralled the audience, who truly felt privileged to have attended the program.
The story of Gajendra or the elephant in the clutches of the crocodile, came to life in her kadha kalatchebam.
Vishnu comes down to earth to protect Gajendra from the crocodile and awards him moksha or salvation.
The crocodile who is actually HuHu the Gandharva king plays a little prank which results in a tussle between Gajendra who is the great king Indradyumna.
It is believed that the Gajendra Moksha Mantra is a very powerful one in the world and gives the chanter the power to face difficulties and come out of challenging situations.
Visaka's earnest storytelling interspersed with her mellifluous singing and the occasional poke at present day affairs kept the rasikas in rapture.
Visaka is undoubtedly blessed and she passed on her radiance and glow to each and everyone present there.
The performance ended with many a rasika anointing the stage and left the hall feeling blessed!
For more photos : http://www.sabhash.com/music/events/8882/bhavans-cultural-festival-2014.html

About
Sabhash
- Everything about classical music, dance, drama and a platform for inclusive entertainment
Sabhash.com is the one-stop destination for the latest news and information on the performing arts of India - classical music and dance, theatre, bhajans, discourses, folk performances, and other lesser known art forms. Institutions that revolve around the performing arts have exploded in numbers, and thanks to the Internet which has made information easily accessible, the number of rasikas has grown too. Corporate patronage has played a big part in increasing the world-wide reach of the Indian arts. Sabhash wishes to be a platform for inclusive growth giving an equal opportunity and recognition to not only the main performer but also the artistes who accompany them on stage, and the people who work backstage and play the role of unsung heroes.