Nanganallur rasikas were drenched in the music
31 December, 2014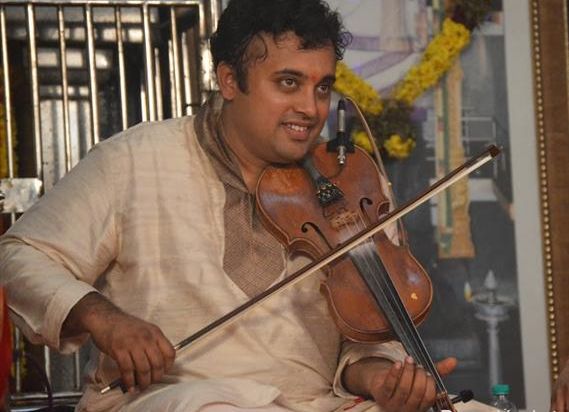 It was an interesting concert at Nanaganallur Anjaneyar Temple held as part of Sri Hanumanth Jayanthi festival.
Mysore H N Baskar held the audience in raptures with his classical Violin concert. Krithiga from London was on Violin Support, Shiva Bharadwaj on the Mridangam, Trichy Murali on the Ghatam, Harihara Sharma on the Kanjira and Shankar Viswanathan on the Morsing.
The big team had an impressive start with Vatapiganapathim in Hamsadhwani ragam with swara improvisations in Tisram and chatusram. Anupama Gunambudhi in Atana quickly followed with brisk swarams. The lilting item next was Seethamma in ragam Vasantha, set to Roopaka talam with extended tala improvisation in kanda nadai.
One of all time and all rasikas' favourite, Raguvamsa Sudha in ragam Kadanakudookalam brought in fresh spirits to maintain the tempo of the concert. Main krithi of the concert was Vasudeva in Kalyani ragam with swarams in misram and a grand thani avarthanam by the large percussion team. It resembled a tala vadhya kacheri and hooked the audience who were spell bound.
Baro Krishnaiah and Kurai undrum illai followed and were enjoyable numbers to all the rasikas, Krishna NeeItem and ThaviThavi, ragamalika piece by Baskar and rhythmic arrangement by Shankar Viswanathan in Misra Chapu Talam brought the concert to an end. The local rasikas couldnt have asked for more!
For more photos : http://www.sabhash.com/music/events/10157/hanumath-jayanthi-festival.html

About
Sabhash
- Everything about classical music, dance, drama and a platform for inclusive entertainment
Sabhash.com is the one-stop destination for the latest news and information on the performing arts of India - classical music and dance, theatre, bhajans, discourses, folk performances, and other lesser known art forms. Institutions that revolve around the performing arts have exploded in numbers, and thanks to the Internet which has made information easily accessible, the number of rasikas has grown too. Corporate patronage has played a big part in increasing the world-wide reach of the Indian arts. Sabhash wishes to be a platform for inclusive growth giving an equal opportunity and recognition to not only the main performer but also the artistes who accompany them on stage, and the people who work backstage and play the role of unsung heroes.