SIFAS Festival 2014
17 January, 2015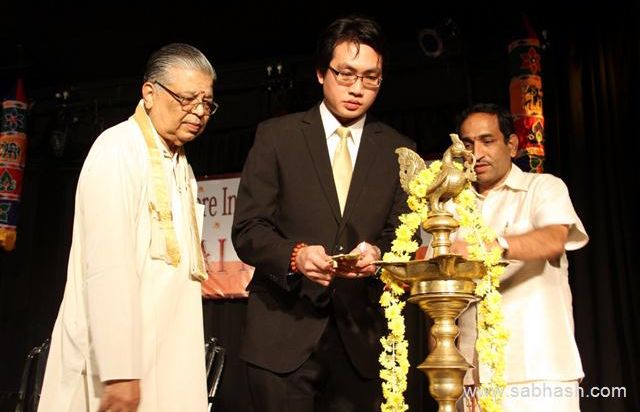 It was the pride of Singapore and the Singapore Indian Fine Arts Society (SIFAS). Three young Singaporeans, completely trained and nurtured in the carnatic tradition in Singapore, taking to the stage in Chennai, the Mecca of South Indian Classical Music, in the august presence of His Excellency the Vice-Consul General of the Republic of Singapore in Chennai. And what waves this trio sent across the auditorium!
Nishanth, a young medical undergraduate at the National University of Singapore, was perhaps the best choice for the opening concert. Trained at a very young age by the (late) Mrs Saradha Shankar, an eminent singer and teacher from Singapore, Nishanth's skills were honed by Guru Poorna Pragna Rao of SIFAS where he graduated with a Diploma and the Sangeetha Visharad title, given only to outstanding graduants. He is currently under the tutorship of Sri Venkat Muthukumar. As a SIFAS alumnus, Nishanth participated in the prestigious "Spirit of Youth Concert" conducted earlier this year by the Music Academy, Chennai and was awarded "Best Vocal Artiste (Male)". He is the FIRST Singaporean to win this award which will be presented to him on 1st January 2015. With this award Nishanth joins the league of leading carnatic singers like Nithyashree Mahadevan, Sanjay Subramanian and Abhishek Raghuram. A great achievement for a Singaporean artiste! .Nishanth has become a well-sought after musician in Chennai and will be presenting a total of 5 concerts during the Chennai Music Festival 2014/2015. Wow!
Accompanying him on the violin was Kumari Shreya, another SIFAS Diploma graduate and winner of the title of Vadya Visharad. She was trained by Gurus N.Venkatalakshmi, Thiruvarur Balam and K.Sivaraman at SIFAS. It was Sivaraman, principal disciple of famed carnatic violinist, Padmabhushan Sri T.N.Krishnan ,who brought out the best in Shreya. Currently under the tutelage of Guru Nellai Ravindran of SIFAS, Shreya has played for several SIFAS performances , including SIFAS Alumni concerts and is performing as soloist and accompanist to several concerts in Chennai for this season.
Akileshwar was originally trained by the Temple of Fine Arts in Singapore where he had his arangetram. He has performed at various festivals including WOMAD Singapore and at ASEAN Festivals in Bangkok, Vietnam, Kuala Lumpur etc often under the banner of the National Arts Council (NAC), the governing arts body of Singapore. He completed the SIFAS diploma in mridangam and received the prestigious Vadya Visharad title. He is the proud recipient of the NAC Postgraduate scholarship for 2012 and has completed M.A (Rhythmology) at the University of Madras. A regular concert artiste for both carnatic concerts and bharatanatyam performances , Akileswar has accompanied stalwarts like Smt Sudha Raghunathan, Smt Sikkil Mala Chadrasekhar, Sri Sikkil Gurucharan, Dr R. Ganesh etc as a graded artiste of All-India Radio.
With a formidable line up like this trio, one cannot go wrong.
Nishanth started with a slight sore-throat but was able to overcome this before the ending of his opening Kalyani Varnam in Ata Talam. He went on to Shivakama Sundari by Gopalakrishna Bharathiyar. This is one of the finest compositions in the raga Jeganmohini , the other being Sobillu Saptaswara by Thyagaraja. Jeganmohini is a derivative of the 15th mela Mayamalavagoula which omits the Ri and the Dha on the ascending scale and the Dha on the descending scale and brings out a special serenity in one's mind when one listens to it. And what great exposition by Nishanth. The song is set to Rupaka Talam (or more correctly Tisra Eka talam).
A quick Anupama Gunabuthim, a composition of Saint Thyagaraja in Atana Raga and Khanda chapu talam, gave the necessary momentum to the concert.
In Mamava Meenakshi, (Varali-MisraChapu-Muthuswami Dikshitar) Nishanth began exhibiting his prowess in raga alapana. Clear enunciation of the lyrics and crisp kalpana swara passages are also Nishanth's forte. The piece was rendered with the right amount of melodic contours. Shreya and Akileswar kept pace at soothing levels.
Muthiah Bhagavathar's Vanchatonuna in karnaranjani and tisragathi adi talam was very touching. This raga has the distinction of bringing out the devotional aspect of carnatic singing and Nishanth did just that with aplomb.
The piece de resistance must surely be Evarimata, Thyagaraja's famous composition in Kambhoji. The raga alapana was superb with Nishanth traversing 3 octaves and the rendering of the lyrics and neraval were tastefully done. Perfect sruti alignment and laya suddham are his strong points. Shreya showed her kalpana skills in the raga alapana and in the responses to Nishanth's swara calculations. Akileshwar, who had throughout accompanied the artistes with just the right amount of playing and never dominating, was at his best in the tani avartanam. His deft handling of the topi (the mridangam base) reminded me of his guru Sri T.R.Sundaresan – his gati changes and the mohra/ korvai were outstanding. This lad has very good fingers and will go places in the mridangam world.
The tiruvaasagam virutham and Enraikku Shiva Kripai , Neelakan Sivan's master-piece in Mukhari, were very soulful pieces that were rendered with just the right amount of emotion showing. What followed was a delightful Engal Kannama of Subramania Bharathiyar. Presented in a ragamalika format that had been set to tune by Sri T.N.Seshagopalan, the vocalist was able to exhibit his skill in thukada singing. This was quickly followed by Mayilmeedu Virainthodi in Charukesi raga.
With strong applause following the Mangalam, it is obvious that it is not mangalam but a great music future for Nishanth. I am sure he will learn to divide his time between music and medicine effectively.
All of us Singaporeans left the hall with a fulfillment that cannot be easily explained. A truly captivating experience!
Review by Shankar Rajan, Musician and (Retd) Principal of SIFAS
Carnatic Vocal: Sri Nishanth Thyagarajan
Violin: Kumari Shreya Gopi
Mridangam: Sri VMS Akileshwar
Fore more photos : http://www.sabhash.com/music/events/8046/singapore-indian-fine-arts-society-inauguration.html

About
Sabhash
- Everything about classical music, dance, drama and a platform for inclusive entertainment
Sabhash.com is the one-stop destination for the latest news and information on the performing arts of India - classical music and dance, theatre, bhajans, discourses, folk performances, and other lesser known art forms. Institutions that revolve around the performing arts have exploded in numbers, and thanks to the Internet which has made information easily accessible, the number of rasikas has grown too. Corporate patronage has played a big part in increasing the world-wide reach of the Indian arts. Sabhash wishes to be a platform for inclusive growth giving an equal opportunity and recognition to not only the main performer but also the artistes who accompany them on stage, and the people who work backstage and play the role of unsung heroes.