VeedhiBhajans - Singing in the streets
20 January, 2015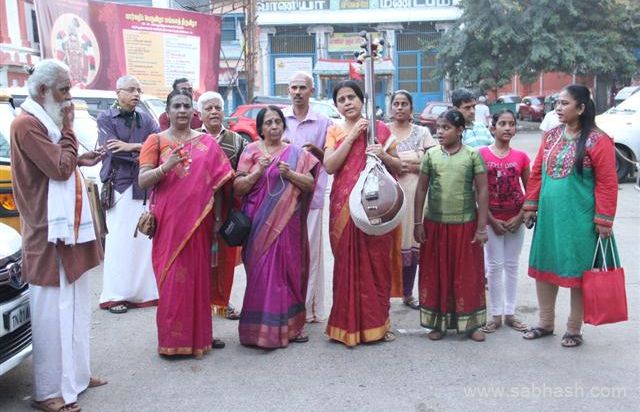 - Sukanya Kumar
Mythology goes that Saint Andal got up at pre- dawn and gathered her friends from their homes to sing the praise of the Lord.Tiruppavai as we all know are the verses sung by the saint poetess in praise of Krishna whom she weds. It is considered auspicious to sing these verses early in the morning in the Margazhi month as the Lord himself has professed that he isMargazhi among the months.
Papanasam Sivan whose 125th anniversary is being celebrated this year pioneered the custom of singing Veedhibhajans in Mylapore.
Dr.RukminiRamani, daughter of Papanasam Sivan is keeping this seventy year old tradition alive and each morning as early as five o clock she is at the mandapam near Kapaleeshwara temple with a devotee gathering, singing bhajans.
"Except for a couple of days, when I had to visit Thiruvaiyaru for the Thyagaraja festival and Karoor for receiving an award on thiruvadarai day, I was able to make it to the mandapam to lead the bhajan mandala" says Dr. RukminiRamani.
With a bunch of enthusiastic musicians following her, she goes round the Maadaveedi, singing bhajans and other kritis, creating an atmosphere of devotion and adding to the pleasant sounds characteristic to dawn.
Tiruppavai, Tiruvempavai, songs composed by Sivan and othersfind a place in the repertoire.
"It is freelance singing and there are sometimes instruments but it does not follow kutcheri pattern. It is devotion springing from the soul and is elevating and healthy as the morning air," says Vasanta S who is part of the singing group.
"I was just five, when my trips round the Mylaporemaadaveedhi began, sometimes I would be carried, now I am 75 and all I pray is God give me the strength and energy to keep this tradition going," says Dr.RukminiRamani, going down a nostalgic lane.

About
Sabhash
- Everything about classical music, dance, drama and a platform for inclusive entertainment
Sabhash.com is the one-stop destination for the latest news and information on the performing arts of India - classical music and dance, theatre, bhajans, discourses, folk performances, and other lesser known art forms. Institutions that revolve around the performing arts have exploded in numbers, and thanks to the Internet which has made information easily accessible, the number of rasikas has grown too. Corporate patronage has played a big part in increasing the world-wide reach of the Indian arts. Sabhash wishes to be a platform for inclusive growth giving an equal opportunity and recognition to not only the main performer but also the artistes who accompany them on stage, and the people who work backstage and play the role of unsung heroes.