BEAT CHOIR
01 June, 2015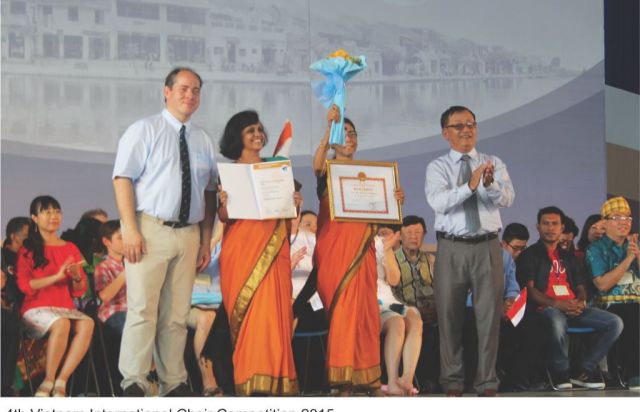 Bank employees Art Troupe (BEAT CHOIR) participated in the 4th Vietnam International Choir Competition - Hội An 2015 organised by INTERKULTUR Management GmbH, Germany and the Government of Vietnam between 29th April 2015 and 2nd May 2015. BEAT was the only Choir participating in the Competition, representing India. 49 choirs from various countries including Germany, Australia, Indonesia, Malyasia, Singapore, China, Hongkong, Finland, Phillipines , Japan took part in the competition.

The BEAT Choir participated in two categories i.e. Mixed Choir Difficulty Level II and Folklore category. The Jury consisted of 5 very eminent judges from various countries and the ranking and grades are meticulously awarded according to the strict international Grading system. BEAT secured Silver Award in both the Categories.

The programme included singing by all Choir Groups in the market places of Hoi-An city under the Friendship Choir category. In this BEAT choir sang songs from Tamil, Hindu, Marathi and Bengali languages. The BEAT Troupe formed in the year 1991 consists of about 25 men and women who practices Choral Music as a Hobby. The troupe is conducted by Mrs.Raja Rajeswari an eminent Music Teacher and a prominent disciple of late Shri.M.B.Srinivasan who has chorolized many songs in various languages that reflect Indian ethos.

On the final day after the award ceremony all the 3000 participants marched in a rally in the streets of Hoi-an. The people of Hoi-An city alongwith the school students greeted the rally.
For more photos : http://www.sabhash.com/music/events/10502/beat-choir.html

About
Sabhash
- Everything about classical music, dance, drama and a platform for inclusive entertainment
Sabhash.com is the one-stop destination for the latest news and information on the performing arts of India - classical music and dance, theatre, bhajans, discourses, folk performances, and other lesser known art forms. Institutions that revolve around the performing arts have exploded in numbers, and thanks to the Internet which has made information easily accessible, the number of rasikas has grown too. Corporate patronage has played a big part in increasing the world-wide reach of the Indian arts. Sabhash wishes to be a platform for inclusive growth giving an equal opportunity and recognition to not only the main performer but also the artistes who accompany them on stage, and the people who work backstage and play the role of unsung heroes.