Captivating Jugalbandhi - Abhisekh Raghuram with Kunnakudy Balamuralikrishna
05 November, 2015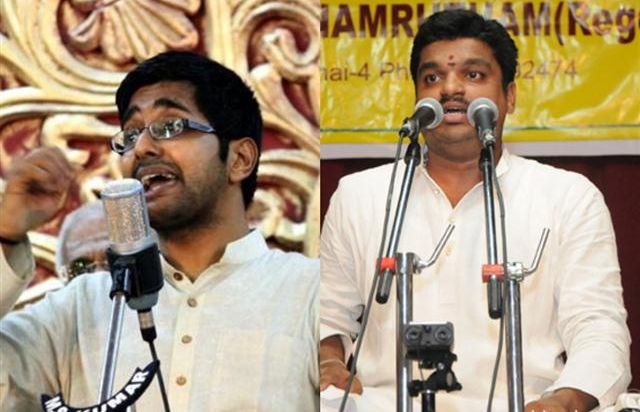 As one entered to enjoy Bharat Sangeet Utsav 2015 at Sadguru Gnananda Hall (Narada Gana Sabha) a lilting Thiruvembavai, Moyyar Thadam Poigai was running in Poorvikalyani. It was a near-packed house notwithstanding the inclement weather outside and the singers on stage were two redoubtable youngsters, Abhishek Raghuram and Kunnakudy Balamuralikrishna. Their aim was to provide captivating music and that came about for sure with all its verve. One could sense it from the first song that was listened to. Kannathandri Napai in Devamanohari of Thyagaraja came next and it was certainly a ride on a galloping horse, a style that perhaps fitted the tempo of the song itself.
Thodi raga alapana for Ninne Namminanu of Shyama Sastri was judiciously divided between the two. Abhsihek handled the raga till he reached the top shadjam and the baton then was passed on to Balamuralikrishna. Both dealt with the raga according to their capacities and propensities; Abhishek was a tad like Mangalampalli Balamuralikrishna at times (not to take away Abhishek's originality by any means) and Balamuralikrishna did credit to his soul by traversing the top octaves with considerable effort, yet gave his best with his natural husky voice. Half way through Balamuralikrishna gave more than a glimpse of Kalyani (in Thodi) and Abhishek contributed his part by giving a finishing stroke that had its landing in Sankarabaranam (in Thodi). All of this was done by intent, design and with colour.
Akkarai Subbulakshmi on the violin had well crafted answers during the swara alangaram sections and chose to play a sedate but fulfilling Thodi. The fact that she chose to present Thodi alone, at its purest, without detours spoke well of her grit.
Anantha R Krishnan on the mridangam and Sree Sundarkumar on the Khanjira adopted their own methods while accompanying for the songs and together gave a thani that became a compelling laya exercise and drew kudos from the informed young thala vidwans present among the audience. The laya duo was also treated with a thunderous applause as they terminated their thani with a long korvai. In this the audience was joined by the two vocalists on the dais who were performing laya vidwans in their own right.
The advertisement had the caption"Method and Madness - Carnatic Jugalbandhi " by these two front-ranking young stars in the firmament of carnatic music. There was certainly Method in their approach and Madness was left to the audience that turned ecstatic at the end of this jugalbandhi of sorts.
aarvalan (aarvalan@yahoo.com)

About
Sabhash
- Everything about classical music, dance, drama and a platform for inclusive entertainment
Sabhash.com is the one-stop destination for the latest news and information on the performing arts of India - classical music and dance, theatre, bhajans, discourses, folk performances, and other lesser known art forms. Institutions that revolve around the performing arts have exploded in numbers, and thanks to the Internet which has made information easily accessible, the number of rasikas has grown too. Corporate patronage has played a big part in increasing the world-wide reach of the Indian arts. Sabhash wishes to be a platform for inclusive growth giving an equal opportunity and recognition to not only the main performer but also the artistes who accompany them on stage, and the people who work backstage and play the role of unsung heroes.