Subashri bore the Sowmya stamp - all the way
06 November, 2015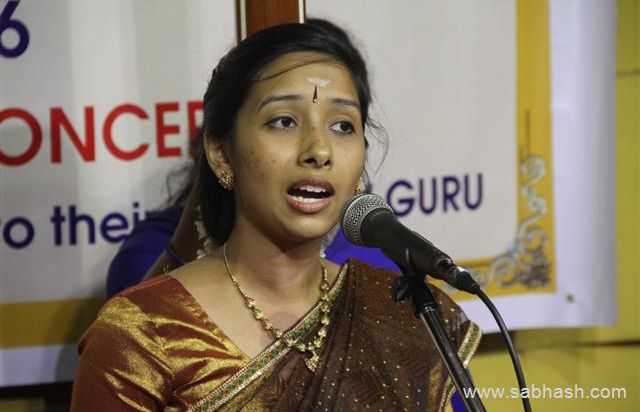 Subashri, as she sang for Association for Promotion of Talents (APT), at Arkay Convention Centre, quietly made a statement that she was a faithful disciple of Vidhushi Sowmya. One level of listeners were able to realize this by the songs selected by Subashri, as these belonged to "Sowmya". For the others who were more discerning, one could see that she had ingrained many of the musical traits that would surface in most of her Guru's concerts.
For Mayamalavagowlai krithi of Dikshithar, Sri Nadhadhi Guruguho, orderly swaras came up for the line Mayamalavagowlathi Desa, whereas for Madhyamavathi her choice was a serene neraval at the line Payojaksha Sri Thyagarajanutha Charana, the song being Nadhupai. Subashri carried this poise further by beginning Eppadi Manam Thunindado (Useni, Arunachala Kavi) where the bard conveys the song to become a combination of both pleading and questioning of Ramas decision to flee to the forest (Vanavasam). These two moods were effectively conveyed by the singer which speaks much of her internalization. The main was Kalyani and its entire range was explored with easy-paced brigas, competent akara movements and staying at landing notes to align with the sruthi with a good deal of comfort. The song was Bajare ReChitha Balambikam of Dikshithar. Neraval for this song had to happen at Devim Shakthi Bijothbhava Mathrukarna Sareerinim. It did and was done with ample confidence, together with kalpana swaras that had a flow marked by a sense of self-assurance. Azhagu Deivamaga Vandhu, a Kavadi Chindhu with a perceptible folk slant came towards the end lending variety to the fare.
Shraddha Ravindran on the violin was equal to the task and her raga alapanas for Madhyamavathi and Kalyani had an original glow and were played to enhance the aura associated with each raga. Swara answers were on the spot that spoke of a good grasp.
Bharadwaj's mridangam accompaniment was marked by its adherence to the required pace of the songs. Whenever sangathis were rendered he impressed by following them and also presenting nadai variations that were appropriate. His thani saw many soothing idadhu prayogams and combinations that stood out for their arithmetical accuracy.
APT has been an initiative of Sri Vedanth Ramanujam. It is presenting a series called "Parampara" seeking to present disciples of senior vidwans for six days.
aarvalan (aarvalan@yahoo.com)

About
Sabhash
- Everything about classical music, dance, drama and a platform for inclusive entertainment
Sabhash.com is the one-stop destination for the latest news and information on the performing arts of India - classical music and dance, theatre, bhajans, discourses, folk performances, and other lesser known art forms. Institutions that revolve around the performing arts have exploded in numbers, and thanks to the Internet which has made information easily accessible, the number of rasikas has grown too. Corporate patronage has played a big part in increasing the world-wide reach of the Indian arts. Sabhash wishes to be a platform for inclusive growth giving an equal opportunity and recognition to not only the main performer but also the artistes who accompany them on stage, and the people who work backstage and play the role of unsung heroes.