Vedavalli is 80 years young
20 November, 2015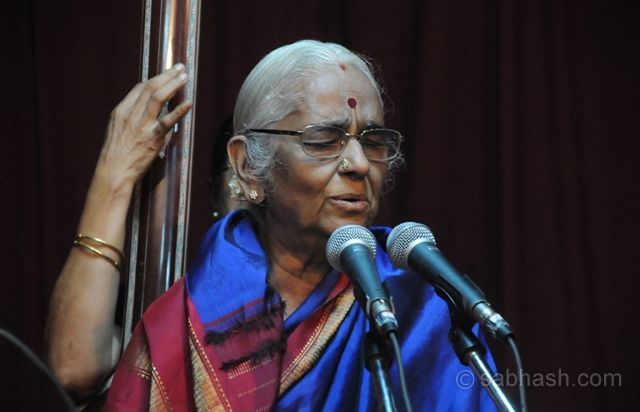 Sangita Kalanidhi Vedavalli is an octogenarian now. She has at this juncture completed six decades of a life dedicated to music. These six decades had the "elements mixed in her" - performance, teaching and administration and above all an approach which relied on classicism, a gift handed-down to her by the Gurus who had shaped her musical career. All along she had adopted the traditional means to carnatic music and held aloft its purity, in thought, word and deed. Like Pandit Ravishankar who told the Beatles group who wanted to learn our music, for Smt.Vedavalli, our kind of music is a kind of yoga and had to be done "through and for a lifetime."
Her way of imparting lessons to her disciples was always a treat to watch, something worthy of imitation. By way of example, she would put to play her invaluable experience and sagacity and encourage students to involve themselves in the art of swara singing and make them perform in an effortless manner. She would at times want them to limit these kalpanaswaras to only five swaras even in a sampoorna raga that easily affords more. This in her opinion would help students to deal in swaras with an enviable degree of comfort and confidence - any set of swaras in any raga. Further this would simultaneously improve swara knowledge abundantly.The emphasis would be to always follow a non-repetitive model (vandhadhu varaamal) and with unique stress on impromptu achievements, which forms the cornerstone of manodharma.
In addition, this mentor-of-many would ask students to completely avoid shaking of the swara(s). This would needlessly put you at a disadvantage of not staying at a particular swara-sthana perfectly. While she would strongly prescribe that your swara-termination would always depend on the note with which the line chosen would begin (the concept of min swaram or pin swaram), she always agreed that this customary practice had its exceptions. She reminded learners, the mandatory requirement of singing alankarams and all varisais, those fundamental lessons, in all kaalams. Revisit the basics time and again - that was her watchword.
The beginning of the seventh decade of her successful and purposeful career in Carnatic music was celebrated in a fitting manner on 13th of November, 2015, at Sivakami Pethachi Auditorium. It was well-organized, had the title "nivedanam" and was of three stages, GitaRasa, NadaRasa and Kirthi Rasa.
GitaRasa had thematic productions of Smt.Vedavalli that featured student groups. Following this it had fine compositions of Smt. Vedavalli set to a ragamalika and sung again by a group of students of Smt. Vedavalli's disciples, all children and had the familiar tune of children's songs (paappa-paattu). For these presentations Mrs. Sumathi Krishnan, a disciple of Smt. Vedavalli, spoke by way of introduction. NadaRasa was an audiovisual presentation that sought to highlight on the manodharma of Smt. Vedavalli with focus on thanam and neraval. A Pallavi in Simhanandana thalam on Vedavalli Amma came as an offering composed and presented by Mrs. Sumitra Vasudev, her senior student.
As part of KirtiRasa Sri N Murali, President, Music Academy, Madras, Padmashri Aruna Sairam, Vice-Chairman, Sangeet Natak Akademi, New Delhi, Smt. Bombay Jayashree, Member, Sangeet Natak Akademi, New Delhi and Sri V Ramnarayan, Editor, Sruthi, who were invited as Guests of Honour, spoke felicitating Smt. Vedavalli.
aarvalan(aarvalan@yahoo.com)

About
Sabhash
- Everything about classical music, dance, drama and a platform for inclusive entertainment
Sabhash.com is the one-stop destination for the latest news and information on the performing arts of India - classical music and dance, theatre, bhajans, discourses, folk performances, and other lesser known art forms. Institutions that revolve around the performing arts have exploded in numbers, and thanks to the Internet which has made information easily accessible, the number of rasikas has grown too. Corporate patronage has played a big part in increasing the world-wide reach of the Indian arts. Sabhash wishes to be a platform for inclusive growth giving an equal opportunity and recognition to not only the main performer but also the artistes who accompany them on stage, and the people who work backstage and play the role of unsung heroes.