Bhavans is more than an institution, it is a movement
23 November, 2015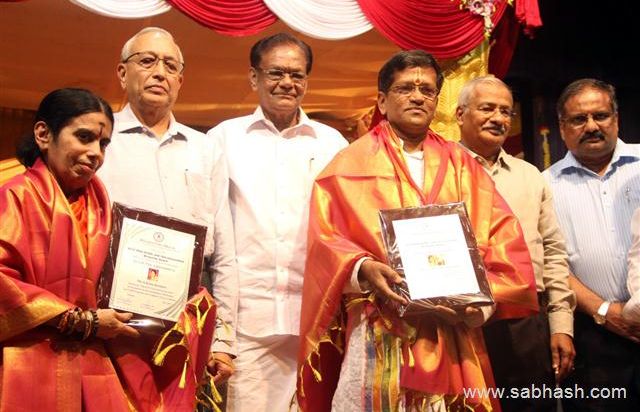 Inaugurating Bhavan's Cultural Festival 2015, Sri N.Murali, President, Music Academy, who was the Chief Guest, proclaimed that the Bhavans is more than an institution; it is a movement, that is continually recharging itself. He said that the Chennai Chapter of the Bharatiya Vidya Bhavan is a vibrant one under the dynamic leadership of Sri L Sabaretnam who is the nerve centre and driving all its activity. This auditorium has turned into its present state-of-the-art shape, renovated and modern in its nature, under his stewardship. This auditorium can be ranked as one of the best in the City. Bhavans visionaries apart, all those who have followed them have put tireless and ceaseless efforts in carrying forward its vision. Its activities are also multidimensional and they have always given prominence to fine arts in their noble endeavours. Moreover all its performances are accessible to all, in the sense they are non-ticketed. He commended the Bhavan for all such sustained activity.
On this occasion the Obul Reddy and Gnanambal Memorial Life Time Achievement Awards were presented to Violinist Ms. Avasarala Kanyakumari and Vocalist Sri Neyveli R Santhanagopalan at Bhavan's Dr.Preetha Reddy Auditorium. Murali while talking of the awardees said that Kanyakumari was a violinist par excellence, a disciple of Sri Ivaturi Vijayeswara Rao, had accompanied Sangita Kalanidhi Smt. M L Vasanthakumari and was also a music composer. Neyveli Santhanagopalan was an erudite man besides being a great teacher.
In his welcome address Sri Rajasekar, Bhavan's Kala Kendra Sub-committee Chairman, said the programmes to be held during this season totalled to an impressive number of 58 that included the customary dance and music events besides accommodating Tamil Dramas and Religious Discourses in its fare.
In his Presidential address, Sri L Sabaretnam, Chairman, Bhavan's Chennai Kendra, traced the proud history of the Bhavan and remembered Sri C Subramanaim, who had served as Chairman of the Bhavan and his many deeds. Bhavans is into activities at many levels catering to almost all sections of the society, both the young and the old. He complimented Bhavan's Rajaji Vidyashram, Kilpauk and its Principal Sri Jain for the high standards set and maintained. He congratulated the awardees Kanyakumari and Neyveli Santhanagopalan.
Justice Sri S Jagadeesan, Former Judge, said the awardees were not new to everyone here. They have performed all over India and in many foreign countries. Kanyakumari holds a record of having played the violin continuously for 29 hours and Santhanagopalan has established the Neyveli Sishyakulam (Gurukulam).
Dr. Jayanthasri Balakrishnan, Professor, Department of English, PSG College of Arts and Science, enthralled the audience with her speech. To her Bhavans was like a grand old Banyan tree that personified our culture. She exhorted all parents to bring their children compulsorily to musical and other cultural events.
In her acceptance speech Kanyakumari remembered her parents, her Gurus,(Sri Ivaturi Vijayeswara Rao Garu, Sri M Chandrasekaran) Smt M L Vasanthakumari, and Kadri Gopalnath, the saxophone exponent. She also remembered the many rasikas without whom she would not have attained this present position as a musician.
Speakers time and again made mention of the meticulous planner, Sri K N Ramasamy, Director, Chennai Kendra who proposed the vote of thanks.
The event had an admirable compere in Sri Chandra Mohan, whose power of expression in Tamil was apt and went fully with the context.
The event began auspiciously with Mangala Isai by Sri Seshampatti Sivalingam and his group. The presentation of the awards was followed by a concert by Sri Abhisekh Raghuram who was accompanied by Sri Ganesh Prasad (violin) and Sri Sumesh Narayanan (mridangam).
aarvalan (aarvalan@yahoo.com)
For more photos : http://www.sabhash.com/music/events/10717/bhavans-cultural-festival-2015.html

About
Sabhash
- Everything about classical music, dance, drama and a platform for inclusive entertainment
Sabhash.com is the one-stop destination for the latest news and information on the performing arts of India - classical music and dance, theatre, bhajans, discourses, folk performances, and other lesser known art forms. Institutions that revolve around the performing arts have exploded in numbers, and thanks to the Internet which has made information easily accessible, the number of rasikas has grown too. Corporate patronage has played a big part in increasing the world-wide reach of the Indian arts. Sabhash wishes to be a platform for inclusive growth giving an equal opportunity and recognition to not only the main performer but also the artistes who accompany them on stage, and the people who work backstage and play the role of unsung heroes.