Children's performance holds the audience in a trance
25 November, 2015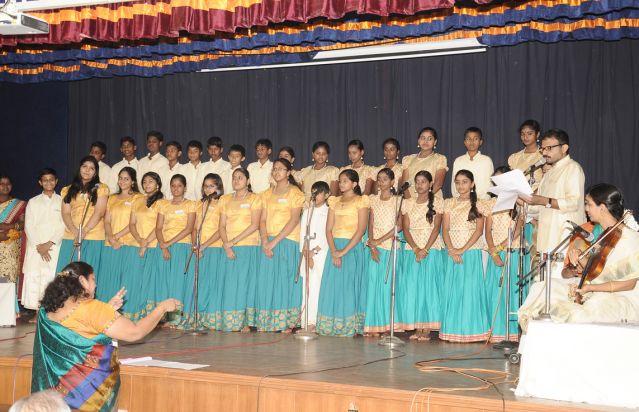 Muthuswami Dikshithar's Nottusvara Sahithyas, nearing 40 in number were presented by groups of children dressed conventionally in the South Indian mode. These children belonged to Vidyavanam, Anaikatti. They with their gentle voices captured your hearts and occupied one's minds too. Reputed carnatic musician Sri T M Krishna did the job of a compere and also joined the groups as they performed. He also chose to render some numbers individually. The groups of children together with Krishna were conducted in their act by Dr. Sudha Raja who had also involved students from her own Sargam Choir, as able companions to complement the band. Ms. Chitra, the teacher of the group from Vidyavanam formally received a copy of the album that had these Nottusvara Sahithyas from Krishna.
By way of introduction, Krishna said that the first time we hear about the Nottusvarams was through a manuscript (year 1833) created by a scribe and titled "Jathiswarasahithyamulu." However, the person to call these by their present name was, Chinnaswami Mudaliar. That being so, the music fraternity owes a great debt to Prof. Sambamurthy. Based on this manuscript and working further on it he had made an article in the Music Academy's Journal according seriousness to these compositions.
Next focusing on Subbarama Dikshithar, Krishna called him a magician for many reasons. He with all his integrity readily shared his musical knowledge and thus we have 33 of the Nottusvarams in his Prathama Abhyasa Pusthakam, Krishna added. The tunes in these Nottusvarams have parallels in Western system (Irish or Scottish, for instance) based on which they have been made with the lyrics part bearing the unique mark of Diskhithar. The presentation had as its highlight the playing of these near identical melodies of Western origin before the Nottusvaras were sung. It helped members of the audience who had a discerning ear to easily relate these two.
On the Nottusvarams themselves Krishna categorically stated that they could not be classified under Sankarabaranam as they mainly involved plain notes. They were not even restricted to any thala, say a rupakam or adhi either, but had a sense of nadai, thisram or chatusram. In addition to all this all of them did not terminate at the sa or the pa, as songs in carnatic music do. He admitted that some reconstruction work of these nottusvaras had to be done on various grounds.
The groups were accompanied by Dr. Hemalatha (violin), Sri Melakaveri Balaji (mridangam), Sri Guruprasad (ghatam) and Sri Purushothaman (khanjira). They fully understood the roles expected in such group-singing and provided support accordingly.
Krishna took time to individually introduce each one of the children and paid rich tributes to them by mentioning that all these Nottusvarams had been learnt by rote by them in the prescribed order.
Towards the end and even while the programme was in progress Krishna said that he was grateful to Sudha Raja and her coordinating effort which had made this event a possibility. He thanked Sri Balasubramaniam of Brahma Gana Sabha for the interest shown in this programme and also all those who provided technical assistance. The event was held at TAG-PS Dakshinamurthi Auditorium.
aarvalan(aarvalan@yahoo.com)

About
Sabhash
- Everything about classical music, dance, drama and a platform for inclusive entertainment
Sabhash.com is the one-stop destination for the latest news and information on the performing arts of India - classical music and dance, theatre, bhajans, discourses, folk performances, and other lesser known art forms. Institutions that revolve around the performing arts have exploded in numbers, and thanks to the Internet which has made information easily accessible, the number of rasikas has grown too. Corporate patronage has played a big part in increasing the world-wide reach of the Indian arts. Sabhash wishes to be a platform for inclusive growth giving an equal opportunity and recognition to not only the main performer but also the artistes who accompany them on stage, and the people who work backstage and play the role of unsung heroes.