Bharat Sundar carries Rishabhapriya with grace
22 December, 2015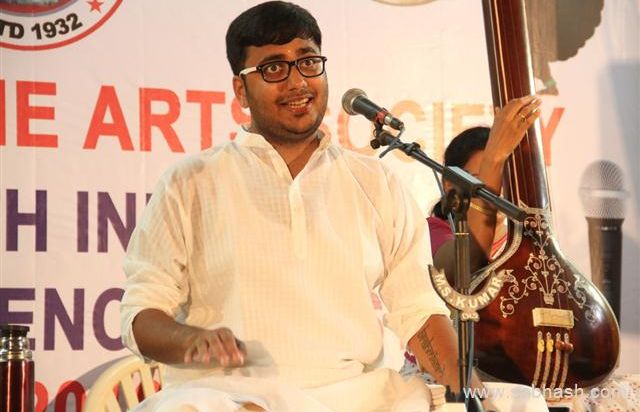 Bharat Sundar has grown to become a musician endowed with immense confidence and has extraordinary talent. This became self-evident by the manner in which he handled the raga Rishabhapriya as he sang for Indian Fine Arts Society at Ethiraj Kalyana Mandapam during the afternoon session. While exploring the contours of the raga Bharath showed how he had followed closely and assimilated the structural capacity in him that is much needed to handle such a vivadhi ragam, which can be termed as one of the many twins of Shanmukhapriya. That this formed the main raga on which was hinged the whole concert speaks volumes of how he had over the years acquired the fascinating art of both sensitively reflecting and responding to finer aspects of music. Glides, well-rounded brigas and karvais with required emphasis all belonged to this alapana. Even during the swaraprastharams Bharat took adequate care to channel his imagination to bring out the shades this raga uniquely possesses and is replete in the krithi chosen -- Gana Naya Desika of Kotiswara Iyer. There is a particular line in this krithi that spells the Arohanam and Bharath rendered it exquisitely to bring out each swara perfectly here.
He began his concert with the Tiruppavai of the day (3) Ongi Ulagalandha in Arabhi and sang Bhuvinadusadane (Sriranjani, Thyagaraja) that had a copious flow of swaras at Padhamule Gathi but all that was dwarfed by the manner in which he handled Rishabhapriya.
L Ramakrishnan on the violin was equal to the task and gave a raga exposition of Rishabhapriya that matched that of Bharat. He followed a clear line that helped him to play with incredible ease and grace. His answering during the swara sessions exhibited astuteness and his bowing retained its sweetness always.
Vijay Natesan on the mridangam fitted the slot exceptionally well. His accompanying style for songs was purely on a need-based approach. He gave a thani of substance that had a combination of strokes and nadais of absorbing variety and quality.
aarvalan(aarvalan@yahoo.com)

About
Sabhash
- Everything about classical music, dance, drama and a platform for inclusive entertainment
Sabhash.com is the one-stop destination for the latest news and information on the performing arts of India - classical music and dance, theatre, bhajans, discourses, folk performances, and other lesser known art forms. Institutions that revolve around the performing arts have exploded in numbers, and thanks to the Internet which has made information easily accessible, the number of rasikas has grown too. Corporate patronage has played a big part in increasing the world-wide reach of the Indian arts. Sabhash wishes to be a platform for inclusive growth giving an equal opportunity and recognition to not only the main performer but also the artistes who accompany them on stage, and the people who work backstage and play the role of unsung heroes.