Hyderabad Sisters - fine chemistry on stage
30 December, 2015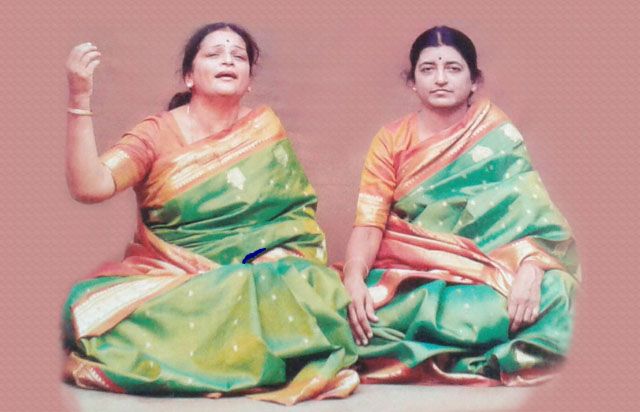 As the Hyderabad sisters, Lalitha and Haripriya performed at Bhavan's PAC Ramasamy Raja Hall in the late evening session for Kartik Fine arts, one could gather two things for sure, their natural feel for ragas and their being subjected to a common regimen during their learning process. The fine chemistry they have cultivated and continues to this day on stage could be witnessed in their sharing of alapanas and the clinching swara patterns they were able to present. It is always a pleasure to listen to duets when the beginner's impromptu accomplishments are sought to be matched by the one who follows. The sisters took enough care to achieve what they could in these areas without being monotonous.
The main ragam of the evening was Poorvikalyani taken up by Haripriya and the krithi that flowered in all its glory was Parmapaavana by Ramanathapuram Srinivasa Iyengar. Here during its alapana and for Hindolam that was taken up by Lalitha earlier, they were able to draw portrayals that were interspersed with gamakas that gave full vent to their imagination keeping well in mind the requirement parameters meant for the respective ragas. The song for Hindolam was the ever popular Maa Ramanan of Papanasam Sivan.
They also included two Thyagaraja krithis, SriRama Padhama (Amruthavauhini) and Ninnaada( Kannada) and began the concert with a bang with Ninnujuchi (Sourashtram) of Patnam, adding towards the end the philosophical Thelisithe Mokshamu (Hamsanadham) of Annamacharya and thereby did justice to composers in a concert.
Usha Rajagopalan on the violin gave convincing alapanas of Hindolam and Poorvikalyani dotting her style with raga moorchana phrases. While answering swarakalpanas she was able to prefigure in her mind the emerging configurations, applied herself and responded with a certain degree of quickness.
K Ashok on the mridangam teaming with Madipakkam Gopalakrishnan on the Khanjira gelled well when they followed the sangathi-filled pallavi of the Hindolam krithi and the chittaswaram for the Poorvikalyani krithi to perfection. Their thani though tended to be a tad long and yet had invigorating finishes that were well received by the rasikas.
aarvalan(aarvalan@yahoo.com)

About
Sabhash
- Everything about classical music, dance, drama and a platform for inclusive entertainment
Sabhash.com is the one-stop destination for the latest news and information on the performing arts of India - classical music and dance, theatre, bhajans, discourses, folk performances, and other lesser known art forms. Institutions that revolve around the performing arts have exploded in numbers, and thanks to the Internet which has made information easily accessible, the number of rasikas has grown too. Corporate patronage has played a big part in increasing the world-wide reach of the Indian arts. Sabhash wishes to be a platform for inclusive growth giving an equal opportunity and recognition to not only the main performer but also the artistes who accompany them on stage, and the people who work backstage and play the role of unsung heroes.