Sanjay's concert carries its customary elements
30 December, 2015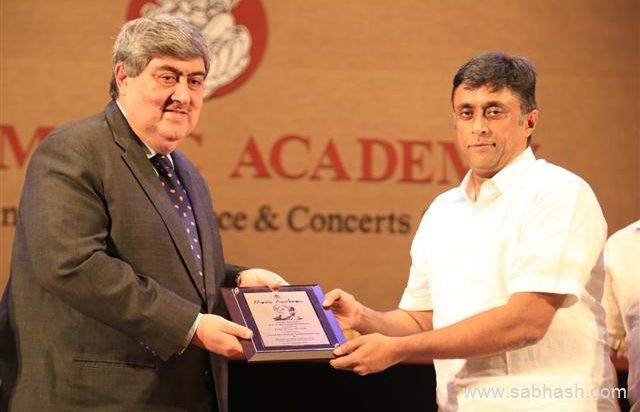 Sangeetha Kalanidhi designate, Sanjay Subramaniam's concert for The Music Academy must have aroused everyone's interest as was seen by the audience beyond the full-house that had gathered to listen to him. Special chairs had to be fetched and placed to accommodate the overflowing crowd. He did not disappoint; he rarely does. He chose Sankarabaranam, one of the strong foundation ragas in the carnatic music system, to present a ragam thanam pallavi (RTP). It was set in Roopakam, 8 kalai and had the simple lyrics "Sri Saraswathi Namosthuthe Paradevathe Varadhe".
His other main item was Sukhi Evaro in Kaanada, a Thyagaraja Krithi in which the bard wonders "who are those who are fortunate enough to derive sukham out of the Rama Nama, those whose faces acquire a glow?" The singing of this song requires the invocation of bhava that would evoke the right rasa in you. Sanjay accounted for this as observed by the kind of audience response. He tread the path throughout this krithi with singular care and even the first kalam swaras were designed to retain the mood this krithi is supposed to create.
Another mentionable aspect noticeable in Sanjay's kutcheris is the exceptional alignment to sruthi especially at the top shadjam which he relishes most and makes this obvious by "staying put" at this alignment point for a considerable while. This occurs often and when the audience too identifies these moments they tend to applaud. This has become the rule in his concerts and this "oneness-moments" occurred many times at this concert too.
One got a sample of his wide repertoire when he sang Dikshithar's Kamalamba in Anandhabhairavi, followed it with Anumane of ArunachalaKavi in Malayamarutham. Vandesadha Padhmanabham in Navarasa Kanada (of Swathi Thirunal) came before the RTP and a Tamil composition, Enthai Vaazh Enum Mandira Nadhame Inabathai Ootudhamma, (by Bharathi Dasan) came at the finishing stages of the concert. The rasikas were in raptures over this particular song.
S Varadarajan's violin accompanying style as usual was the best of its kind. He is faithful to the main artiste yet shows his prowess at many desired places quietly. His raga essay for Kaanada had fine soft embellishments and the Sankarabaranam alapana had some of single note holds and spectacular combinations that brought out the raga vividly.
The thani avarthanam by the laya twosome Neyveli Venkatesh (mridangam) and K V Gopalakrishnan (Khanjira) had plentiful moments where there was a good deal of understanding and hence fitting short and long exchanges between them to make it a purposeful exercise.
aarvalan (aarvalan@yahoo.com)

About
Sabhash
- Everything about classical music, dance, drama and a platform for inclusive entertainment
Sabhash.com is the one-stop destination for the latest news and information on the performing arts of India - classical music and dance, theatre, bhajans, discourses, folk performances, and other lesser known art forms. Institutions that revolve around the performing arts have exploded in numbers, and thanks to the Internet which has made information easily accessible, the number of rasikas has grown too. Corporate patronage has played a big part in increasing the world-wide reach of the Indian arts. Sabhash wishes to be a platform for inclusive growth giving an equal opportunity and recognition to not only the main performer but also the artistes who accompany them on stage, and the people who work backstage and play the role of unsung heroes.