Manda Sudharani - Interpretation of Krithis
19 February, 2013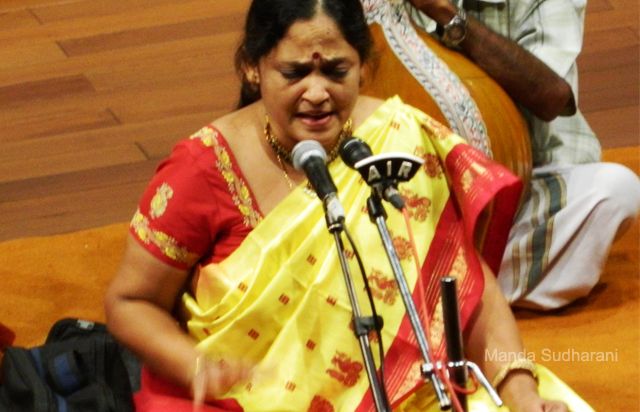 Manda Sudharani's interpretation of Nee Bakthi Bagyasudha, a krithi of Thyagarajar in Jayamanohari, exhibited the stamp of class. This raga is a via media between Sriranjani and Abhogi. The special aesthetic glory of this krithi lies in reverting to the pallavi line, in an ecstatic flash, after holding a long note in the anupallavi and charanam (Janichina, Aprameyasadha). These joyous moments, one was able to live fully with Sudharani, as she rendered these combinations many times faithfully. Its potential beauty came through with all its finesse. Here the teacher and the taught have to experience and be at the "same page", and be one with the vaaggeyakara too. The last line in the charanam of this song, was rendered as Nadha Aprameya, to convey that Lord Rama transcends comprehension (aprameya); one who does not reveal himself completely to anyone. Sahithya division at the right points to convey the right meaning.
The other mentionable highlight then belonged to another Thyagaraja Krithi, Sarasasama Dhana, structured in Kapi Narayani. This is used as a filler or a reliever or a speedy number by many singers. This artiste decided to sing an elaborate neraval at Hithavu Matalentho Baga Balkithivi - the first line of the charanam. This neraval was as exhaustive as that could happen to a main number in any concert. Then, as is customary with Sudharani's kutcheris, we were witness to a pallavi. It was set in the regular adhi thalam in Sankarabaranam, that had both sahithya phrases and swaras that came about in a pace that ranged from the ultra to ultra-ultra (thuritham, athi thuritham to athi athi thuritham). And what was even more baffling was the amazing nonchalance with which Sudharani executed all these. No stress either for her or for the audience!
Charumathi Raghuraman on the violin seemed to enjoy every bit of the concert while doing her accompanying which was carried with a great degree of competence. Rajasekar on the Mridangam and Sethuraman on the Kanjira proved their adequacy by quickly understanding the complexities involved in the pallavi and playing in a manner that sought to enhance its value.
This concert formed part of the series organized by Nadopasana - that indefatigable Srinivasan whose name is eponymous with this outfit - and was held at P S Dakshinamurthy Auditorium last week.
aarvalan
(aarvalan56@gmail.com)

About
Sabhash
- Everything about classical music, dance, drama and a platform for inclusive entertainment
Sabhash.com is the one-stop destination for the latest news and information on the performing arts of India - classical music and dance, theatre, bhajans, discourses, folk performances, and other lesser known art forms. Institutions that revolve around the performing arts have exploded in numbers, and thanks to the Internet which has made information easily accessible, the number of rasikas has grown too. Corporate patronage has played a big part in increasing the world-wide reach of the Indian arts. Sabhash wishes to be a platform for inclusive growth giving an equal opportunity and recognition to not only the main performer but also the artistes who accompany them on stage, and the people who work backstage and play the role of unsung heroes.