Bharat Kalachar's Margazhi Mahotsav inaugurated
01 December, 2013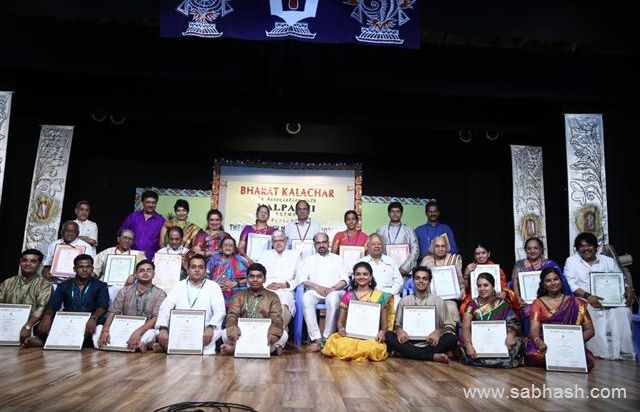 Bharat Kalachar's 27th Margazhi Mahotsav, started on December 1, at Sri YGP Auditorium, T Nagar, Chennai.
The festival was inaugurated by R. Seetharaman, Doha Bank Group's chief executive officer. Former West Bengal Governor Gopalkrishna Gandhi presided over the inaugural function and released the annual souvenir, and Nalli Kuppuswamy received it.
Senior Carnatic musician Madurai T.N. Seshagopalan was conferred the title of Gnana Kala Bharathi; violinist A. Kanyakumari, veena player Rajesh Vaidhya and dancer/choreographer Anita Ratnam received the titles of Viswa Kala Bharathi; film director S.P. Muthuraman was presented the Natya Kaladhar title.
Percussionist Guruvayur Dorai and carnatic music singer Charumathi Ramachandran were conferred the title of Acharya Kala Bharathi; Radha Bhaskar and Sunil Kothari received the title of Kala Seva Bharathi; and drama artist K.S.N. Sundar bagged the title Nadaga Kala Bharathi.
Special commendation awards were presented to B.K. Shafeekudeen. Natya Sangeetha Kala Bharathi titles were conferred on Radha Badri (vocal) and Veda Krishnaram (Mridangam).
Ten junior artistes were presented with Yuva Kala Bharathi awards. They were Sandeep Narayan (vocal), Chaitrra Sairam (vocal), G. Abilash (vocal), R. Raghul (violin), M.S. Venkatasubramanian (Mridangam), S. Sunil Kumar (Kanjira), Pallavi Sriram, Bhavajan Kumar, T.M. Sridevi and T.N. Saranya (bharathanatyam).
The concerts and dance performances will be held for 45 days, till January 15, 2014.
For more photos : http://www.sabhash.com/music/events/5237/bharat-kalachars-margazhi-mahotsav-inaugurated.html

About
Sabhash
- Everything about classical music, dance, drama and a platform for inclusive entertainment
Sabhash.com is the one-stop destination for the latest news and information on the performing arts of India - classical music and dance, theatre, bhajans, discourses, folk performances, and other lesser known art forms. Institutions that revolve around the performing arts have exploded in numbers, and thanks to the Internet which has made information easily accessible, the number of rasikas has grown too. Corporate patronage has played a big part in increasing the world-wide reach of the Indian arts. Sabhash wishes to be a platform for inclusive growth giving an equal opportunity and recognition to not only the main performer but also the artistes who accompany them on stage, and the people who work backstage and play the role of unsung heroes.