Soul-stirring Subhapanthuvarali
19 December, 2013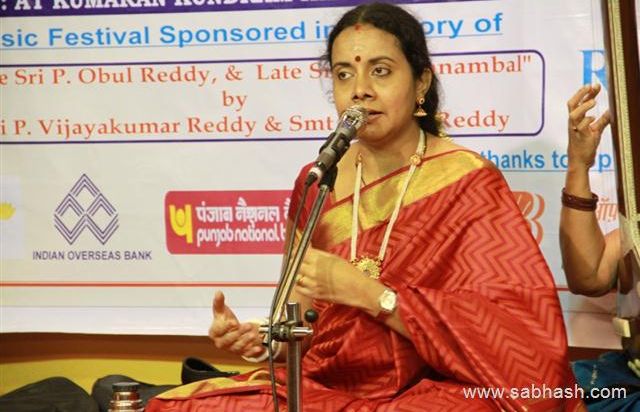 - Vidya Raju

Smt.Gayathri Girish, she is a name that needs no introduction to carnatic music lovers. We were fortunate to listen to her concert for Hamsavinodhini at Arkay convention center yesterday (16/12/2013). The brilliant ambience, amazing acoustics added more color to the concert.

Subha panthuvarali is generally associated with melancholy which is set to evoke extreme pathos in the rasikas. But, after hearing Gayathri Girish's alapanai in this ragam the rasikas could feel the mind calm down slowly and get into a kind of meditative state. The not so heard Subapanthuvarali krithi Ennalu of Saint Thiagaraja was the main piece. Smt. Gayathri's Subhapanthuvarali essay was more detailed and well handled,which started as a small drizzle and continued to a seasonal downpour..she sang very effortlessly, glided from the lower to the higher octaves with ease. The violin support by Sri. B. Ananthakrishnan was excellent with beautiful brugha phrases.

The vibrant vasantha, astonishing abhogi, majestic nattai, honey dipped thenuka, dazzling dwajavanthi, stunning sudha dhanyasi, wonderful varamu, superfluous Subhapanthuvarali, remarkable karnaranjani and splendid sindhubhairavi...what more does a rasika need?

Smt. Gayathri started the concert with a varnam in Abhogi ragam, an energetic start for a power packed performance.
The next one was a Thiruppavai, Margazhi Thingal, (being the first day of Margazhi) in nattai, this added more freshness to the evening.
Theliyaleru rama in Dhenuka was rendered in a very soothing way. O lord Rama, people are not aware of the path of bakthi says Saint Thiagaraja. a divine composition rendered with utmost devotion.

Was wondering why Smt. Gayathri, who is an expert in singing Muthuswamy deekshithar krithis, hasnt sung one till now in this concert and lo !..there came Akilandeswari in dwajawanthi ragam, ..she pampered Akilandeswari Devi beautifully.

Azhaga Azhaga in sudha dhanyasi composition of Ambujam krishna after a brief alapanai and swarakorvais were praise worthy. An energetic vasantha raga krithi seethamma mayamma followed sudha dhanyasi.

Pachai ma malai pol meni a Pasuram and Om Namo Narayana in karna ranjani was the thukkada to follow the main piece. The last one was Tamboori meetidhava in sindhubhairavi. Never even realised that two hours have passed by. The mrudhangam by Sri. B. Ganapathiraman, was an exceptional support.

The variety of thalas, ragas and composers show the mastery and deep knowledge of Smt. Gayathri in this field.
For more photos : http://www.sabhash.com/music/events/5723/hamsavinodhini.html

About
Sabhash
- Everything about classical music, dance, drama and a platform for inclusive entertainment
Sabhash.com is the one-stop destination for the latest news and information on the performing arts of India - classical music and dance, theatre, bhajans, discourses, folk performances, and other lesser known art forms. Institutions that revolve around the performing arts have exploded in numbers, and thanks to the Internet which has made information easily accessible, the number of rasikas has grown too. Corporate patronage has played a big part in increasing the world-wide reach of the Indian arts. Sabhash wishes to be a platform for inclusive growth giving an equal opportunity and recognition to not only the main performer but also the artistes who accompany them on stage, and the people who work backstage and play the role of unsung heroes.