Concert by O S Thyagarajan, H K Venkatram, K V Prasad, Trichy Murali
19 December, 2013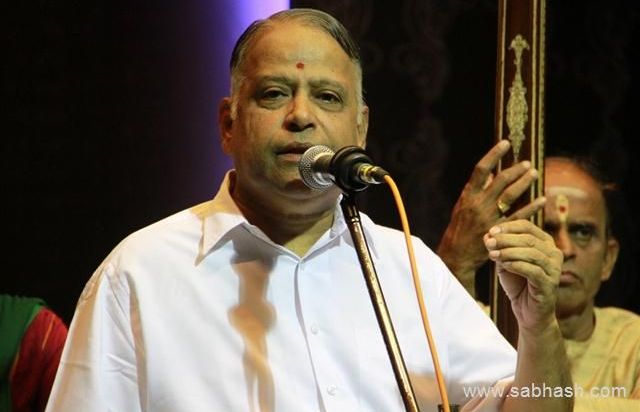 - Janaki Lakshman
Ohhh....Yessss....!
If it is a concert by OST! If for nothing else, at least for the Thyagaraja Krithis rendered so well with pristine Patantharam! This disciple of T M Thyagarajan holds close to his heart the chaste style of rendition that his Guru imparted to him and is so justly and understandably proud of the fact. And today's concert was particularly special with a good strong team of Pakka(a) Vadyams,with H K Venkatram on the Violin,and K V Prasad and Trichy Murali on the Mridangam and Ghatam respectively. What more could one ask for! Right from the word GO it was vigor and energy throughout the performance.
OST started with the Dikshithar Krithi Vallabhaa Nayakasya in Begada and went on to embellish it with brisk Swara elaboration. In Evarani Nirnayinchira Thyagaraja asks Rama what did the learned people determine as to who He was... Shiva or Vishnu or Brahma!This Krithi in Devamritha varshini was rendered at a suitable tempo without marring the sahithya Bhavam. It is a huge advantage if the percussion artist knows singing! K V Prasad's musical awareness shone through the entire concert.His anticipation of Sangathis and nuances in the composition was delightful.
Next was another Thyagaraja Krithi Ilalo Pranatharthiharudanuchu in Atana. Impressive Swarams at the Pallavi brought out the liveliness of this Ragam. A detailed Aalaapana of Abhogi triggered off expectations for Sabhapathikku today being Aardraa darshanam! But it was an even more lovely GNB composition Thamasamika Thalanu. The Swarams at the Pallavi were sung impressively enough to land in the Dhaivatham with ease every time. Blissful Kuraippu exchanges between the singer and the Violinist provided some exciting listening experience.
The 61 st Melakartha Ragam Kanthamani is very rarely heard and Palinthuvo Palimpavo in this Ragam was full of melody.In this song Thyagaraja asks Rama," would you protect me or not, speaking nice words to me!" This heralded the main Krithi for the evening in Sankarabharanam. Step by step,note by note OST constructed a sound and stable structure of the Ragam,without resorting to any shortcuts. The Ragam took shape gradually into a colossal figure, and he did a brilliant Grahabhedam smoothly and seamlessly gliding into YamunaKalyani and out of it so much so that most rasikas were not even aware of the tonal shift that took place! No acknowledgement for that from them. H K Venkatram too presented an enticing portrayal of Shankarabharanam, leaving no shades of it unturned! Its quite some time since we heard Eduta Nilachithe. NuduTi Vraata Gaani was the point of Neraval and Swaram elaboration. And what a Neraval that turned out to be! Sung at slow medium and fast tempos,in a studied and methodical manner, it was ecstasy for the listeners! With K V Prasad's prowess and experience I feel even a beginner can do Kalpana Swarams so well taking timely cues from him! Not to speak of a veteran like O S Thyagarajan! The Thani was unique,with both Trichy Murali and Prasad rounding off all their essays with Porutham. Only that the decibel levels had touched the sky by the time they finished the dazzling Korvai together.
Thiruvathirai prompted the singer to render three Gopalakrishna Bharathi krithis in succession, Aadum Chidambaramo in Behag, a less heard soothing Kanden Kali Theerdhen in Kalyani and the Jonpuri classic Eppo Varuvaaro. The concert ended fairly early considering the fact that MFAC concerts went on till 9-30 PM. Vinayaguni in Madhyamavathi is the usual final piece OST sings before Pavamana Suthudu. A power packed performance...with not a single dull moment!

About
Sabhash
- Everything about classical music, dance, drama and a platform for inclusive entertainment
Sabhash.com is the one-stop destination for the latest news and information on the performing arts of India - classical music and dance, theatre, bhajans, discourses, folk performances, and other lesser known art forms. Institutions that revolve around the performing arts have exploded in numbers, and thanks to the Internet which has made information easily accessible, the number of rasikas has grown too. Corporate patronage has played a big part in increasing the world-wide reach of the Indian arts. Sabhash wishes to be a platform for inclusive growth giving an equal opportunity and recognition to not only the main performer but also the artistes who accompany them on stage, and the people who work backstage and play the role of unsung heroes.